1623 / 110
(CUCC-2017-04)
Kein Hubschrauber Höhle
1/S/T +
Explorers
CUCC 1978 - Team Supersmooth/Supercool
Underground Description
Insignificant low entrance with icy draught is marked with number in red paint. Through boulders leads to an 8m drop and walking passage ending in a collapse chamber with draught emerging from the choke. Needed digging to get in.
Survey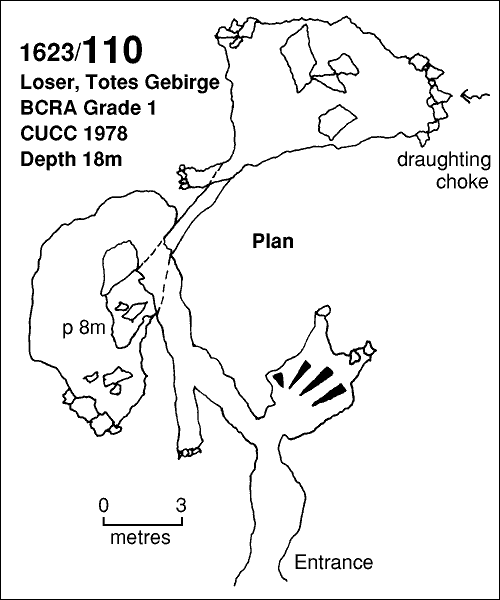 Scanned survey notes
1623-110
Notes
Name comes from logbook comment "helicopter failed to turn up".
Entrances
Kein Hubschrauber Höhle Edit

Marking

Tag

Marking Comment

Tag says CUCC-2017-04 (placed, not bolted) (2017)

Findability

Lost

Location

On the plateau, about 2km (sic) beyond

Eislufthöhle

towards

Schönberg.

The cave is on the Stone Bridge side of the ski pole line by 100 - 150m, maybe 1.1km from the Stone Bridge

Approach

We headed off beyond the cross country ski-pole line after refinding 2010-07 and 2010-01

Photo

Description

Low (crawling) entrance with strong draught out.

Location

47.693408, 13.812227, m
New Entrance