| 1623 / 96 | Bräu Schacht 96 | 3/S + |
| --- | --- | --- |
Explorers
CUCC 1977 - Team Enthusiast.
Underground Description
Open shaft of 15m leads to a descending rift. Next pitch of 25m, then a short climb, 6m pitch and 15m pitch into a chamber where the water sinks. The upper level of a small rift leads to an abandoned passage and a series of increasingly muddy freeclimbs to a final squeeze and 5m pitch into a sordid little sump.
Survey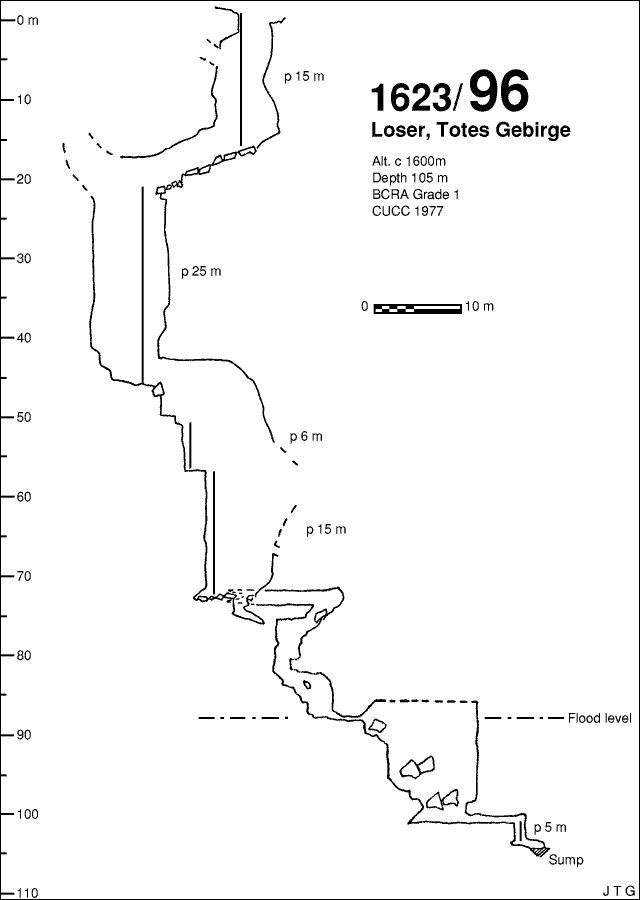 Scanned survey notes
1623-96
Entrances
Edit

Marking

Tag

Marking Comment

Original 1976 number in red paint, refreshed in orange in 1990. Tag added 2005-07-28.

Findability

Coordinates

Location

In grassy pasture east of Bräuning Alm, next to CUCC's high-level camp of 1977 (camp 1). Relocated 2005, near part-built new shepherds' hut.

Photo

Tag Location

p96 , , m
New Entrance