Surveys and Rigging Guides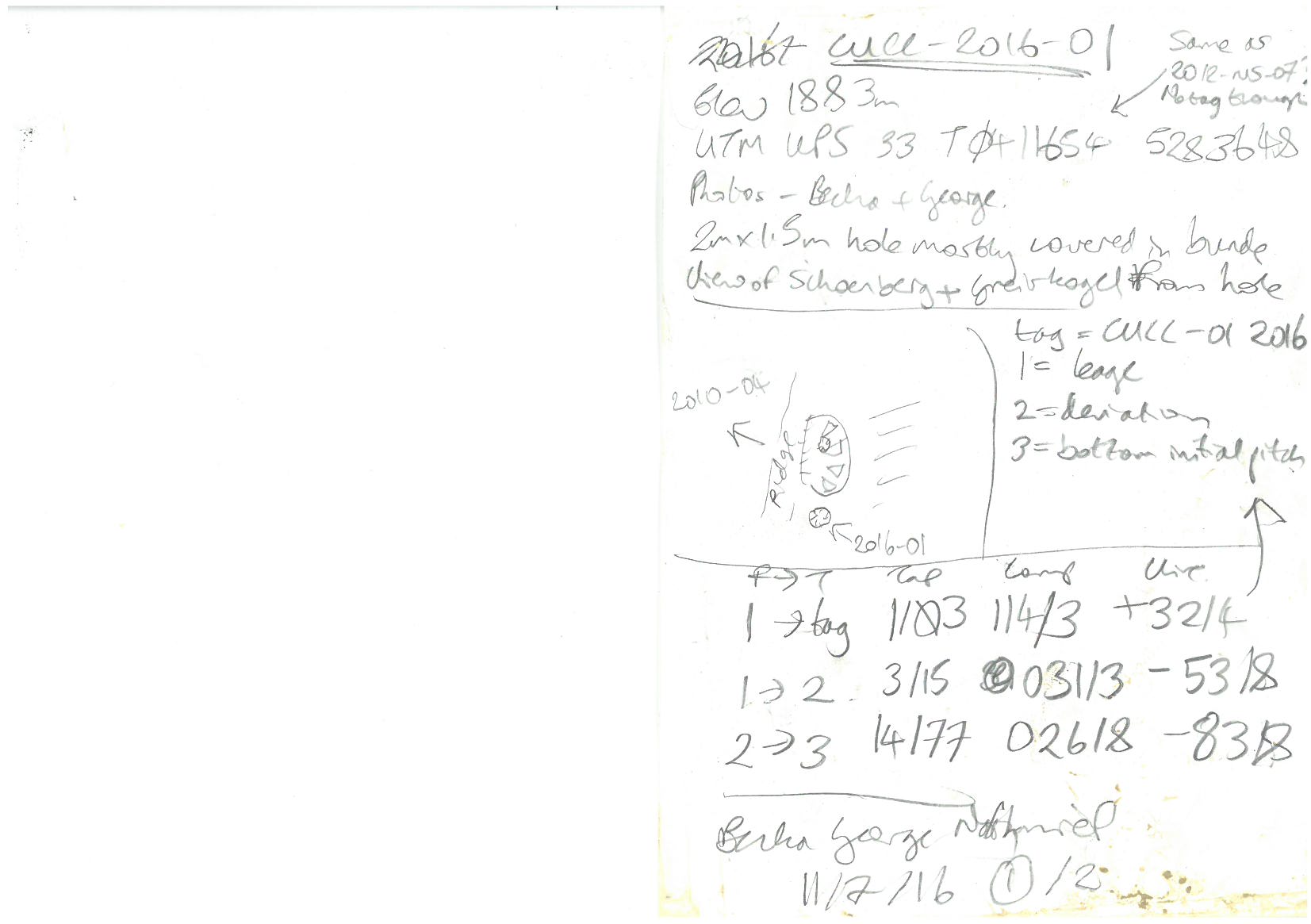 Underground Description
Awkward climb down into greasy surface cavity onto gently sloping muddy floored hole approx 3x2m. Obvious hole (excavated to make larger) leads to immediate P20 to a small ledge with visible continuation downwards - requires rope.
2016#49 which has location coordinates as 2016-01, coordinates are within 3m so must be the same cave.
Equipment
Initially rigged with 35m rope, single bolt ~2m above pitch lip, backed up onto bunde branches directly above.
Explorers
CUCC, Ian Walker, Noel Snape in 2012, and in 2016: George Breley, Nat Dalton, Becka Lawson
Scanned survey notes
1623-2012-ns-07
(if any)
Entrances
Id letter: '' Edit this entrance

Marking

Unknown

Marking Comment

tag 'CUCC-01 2016'

Location

View of Schonberg and Grieskogel from hole.

Photo(s)

Photos: Becka and George 2016

Description

2x x 1.5m hole mostly covered with bunde.

Tag Location

1623.p2016-01 47.70017N 13.82246E (UTM33 411654, 5283648), 1883m (SRTM is

+44

m, distance from reference: 30m)

Other Station

1623.p2012-ns-07 47.7001439N 13.8224791E (UTM33 411655, 5283645), 1876m (SRTM is

+46

m, distance from reference: 31m)
New Entrance
Survex File(s)
All survexfiles for this cave (if any)
Primary survex file for this cave
Download .3d file 1623-2012-ns-07.3d
cave survex path '1623/2012-ns-07/'