| 1623 / 186 | Rosenkavalierhöhle | 2/S + |
| --- | --- | --- |
Surveys and Rigging Guides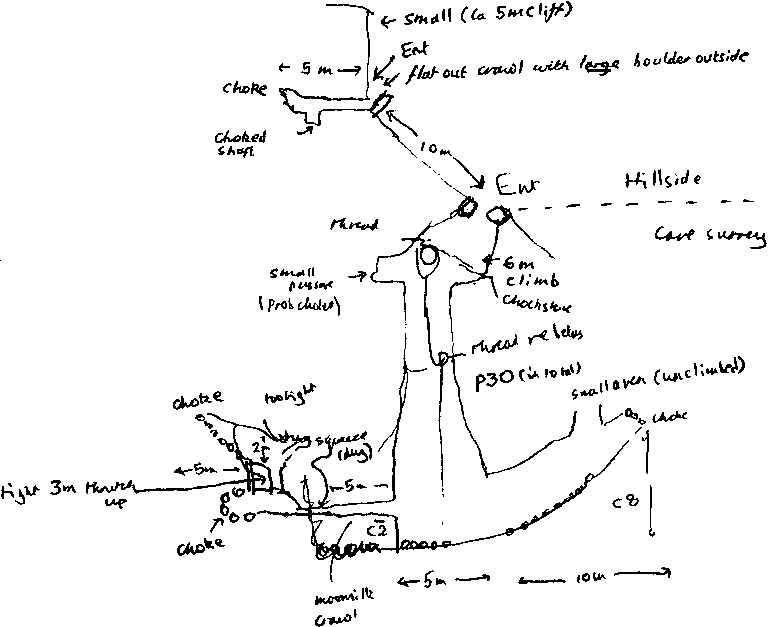 sketch survey by William Stead from 1990 logbook
Underground Description
Cairn built by entrances. There are three entrances investigated:
Highest is really tight flat out crawl leading to a tightish but passable rift, draughting. Abandoned in favour of a newly collapsed small hole 10m below, at the foot of a small (5m) cliff. This had a very big rock blocking the entrance and rewarded the huge effort required to move it with nearly 5m of passage to a choke and a choked shaft.
10m further down still is the third entrance. A 6m climb down to a large ramp and a rebelay is the start of a 30m pitch. One way at the bottom is an 8m boulder slope climb up to a choke and small aven. The other way is a 2m climb into moonmilk crawl and some tight thrutching and chokes. All thoroughly investigated and not going anywhere.
Explorers
CUCC 1990
Scanned survey notes
1623-186
Entrances
Id letter: '' Edit this entrance

Marking

Tag

Marking Comment

This was numbered 185 at the entrance, but this was fixed in 1997, and a metal tag "CUCC 186" bolted on.

Findability

Coordinates

Location

Near

Schwarzmooskogel

just before top camp, 50m higher than path and on opposite hillside, where path by

Bräuning Nase

meets fault running up the mountain.

1994 log shows location (note that the arrow labelled "approx north" is very approx, as it is actually roughly east):

Following the route depicted, if you reach a sandy depression, you have gone too far.

Photo(s)

Lower entrance
Upper entrance
Approach route
View of lower Kratzer valley
and Bräuning Alm area

Photos © Olly Betts 2006

Bearings

(1994 bearings

Bräuning Zinken

284.5°,

Loser

235°)

Other Station

1623.p186 47.67700N 13.80891E (UTM33 5281088, 410598), 1748m
New Entrance
Survex File(s)
All survexfiles for this cave