| 1623 / 163 | Schwa Höhle 163 | 2/S + |
| --- | --- | --- |
Surveys and Rigging Guides
1990 plan, Cambridge Underground 1991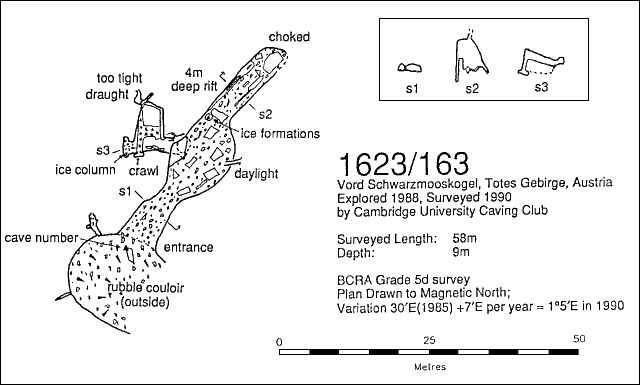 Underground Description
This is a fairly small cave remnant, but it does have a draught at the end suggesting more passage beyond.
The entrance is low and wide (3.5m) and descends down a rocky slope for 20m to some impressive ice stals. There is a small tube in the roof on the right through which daylight can be seen. The cave extends another 10m past the ice stals in fossil passage until it chokes. A 3m climb up on the left allows access to a tiny rift which can be climbed down for a few uninspiring metres.
5m back from the ice stals, towards the entrance, there is a stoop under a massive boulder forming the left wall. Here is a 3m climb down into the second part of the cave. Downslope from here is a chamber with a small frozen stream running through it and a choked alcove containing another ice stal beyond the stream. The chamber through which the stream 'flows' appears to have been formed by the entire roof falling about 1.5m in one piece and it is possible to climb beneath this huge rock near the way in. Over on the right is a climb through an eyehole to a 3m climb down into a stream rift. This has a howling draught coming out of it but it is too small to get down - although the heavy application of a hammer might do the trick.
Explorers
CUCC 1988
Scanned survey notes
1623-163
(if any)
Notes
The
1988 log book
refers to this cave as "Adam's Hole (1)".
Entrances
Id letter: '' Edit this entrance

Marking

Tag

Marking Comment

this used to have fixed point 1623.gps00.163 to locate it, but this seems to have been removed from the fixedpts list.

Findability

Coordinates

Location

In the right hand side of a 15m diameter couloir near 162.

Photo(s)

Tag Location

1623.p163tag 47.67667N 13.81844E (UTM33 411312, 5281040), 1727m (SRTM is

+47

m, distance from reference: 20m)
New Entrance
Survex File(s)
All survexfiles for this cave (if any)
Primary survex file for this cave
Download .3d file 1623-163.3d
cave survex path '1623/163/'