1623 / 242
(2002-04)
Tropfelhöhle
1/S/W +
Surveys and Rigging Guides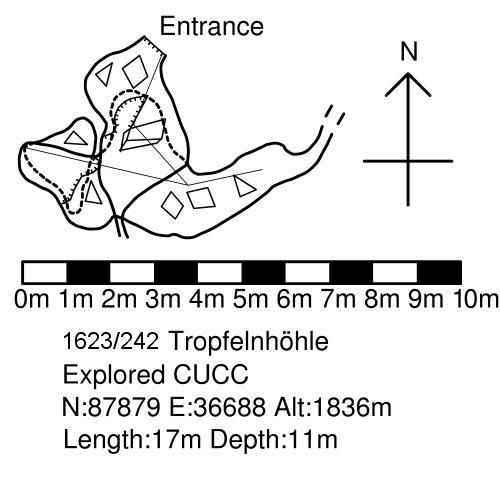 Notes in 2003#22
Underground Description
Square hole at the end of short gully looks out onto a drop of 3m (spit placed for ladder) to a false floor with a further similar-sized drop by a large boulder (continue the same ladder). Landing in a rift, east quickly becomes too tight, while west leads to a 3m free-climbable drop which is choked at the bottom.
Explorers
Tagged CUCC 2002 (culprit not known).
Explored + surveyed CUCC 2003, Anthony + Julia.
Scanned survey notes
1623-242
(if any)
Notes
Kataster Form sent 2004.04.30. Number 242 allocated by Robert TWC at 2004 expo dinner
Entrances
Id letter: '' Edit this entrance

Marking

Tag

Marking Comment

Tag on LH wall of gully approaching entrance. Tagged as 2002-04 by original discoverers; retagged with final kataster number 2004.07.31.

Findability

Coordinates

Approach

Go to 204C and stand facing the stone bridge. The entrance can be seen ~60m away {might be wise to check surface survey if bothered} at the end of a short gully.

Other Station

1623.p242 - pitch head bolt 47.6925822N 13.8213089E (UTM33 411554, 5282806), 1835m (SRTM is

+64

m, distance from reference: 21m)
New Entrance
Survex File(s)
All survexfiles for this cave (if any)
Primary survex file for this cave
Download .3d file 1623-242.3d
cave survex path '1623/242/'