CUCC Expedition Handbook - Online systems
Expo Online Systems Overview
The cave data and online publishing system (aka "the website") is now large and complicated. This page is the overview. The online systems manuals are split into these sections:
How to use basecamp computers and networks, how to configure your phone for GPS, how to use your own laptop and "how to expo" in general are all part of the handbook content:
Surveying and recording survey data is the reason all this exists. The "survey handbook" part of this handbook gives instructions to beginners for how to record discoveries and surveys.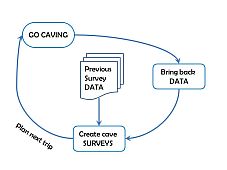 The "data maintenance" manual is where to look for help when things go wrong: the data has been entered incorrectly, or software has crashed due to corrupt input data.
The "system maintenance" manual may of interest to a caver who wonders how it is all put together but should not be needed by most people.
A fuller list of "How do I..." instruction pages are on the handbook opening page. If you are new to this you may need a beer. A very fine place for a beer is the Panorama Restaurant at the top of the toll road - as illustrated.
---
We have an Overview Presentation (2015: many parts out of date) on how the cave data, handbook and public website are constructed and managed. It contains material which will be merged into these online manuals.
Return to the handbook index.
Return to Expo published reports, Austrian caving area, handbooks and main index.
---