fishface - Connecting FF to SMK: a step further
Thu 10 Aug 2023
Rob Watson
Blog Author: nobrotson
Connecting FF to SMK - a step further
Two weeks really isn't long enough to spend on a caving expedition. You really have no chance to think, it's all just go. Well, that was certainly Stangroom's approach to driving anyway, reaching giddying speeds on the Autobahn as we pressed on towards Bad Aussee. We had chosen a poor weekend to depart, the first of the school holidays, and so despite arriving in Dover two hours early we had to settle for a ferry two hours later than planned, which also stank of fish, in a bad way. One absolutely mad woman chose to embrace the stench and tucked into fish and chips at 2:30 am! This experience caused us to want to move away from Dunkirk at great speed, with only a brief stop en route in the Frankenjura to go for a swim in a very fast flowing river.
So it was that on Saturday evening we found ourselves alongside the river Traun and rolling into the usual gravelly expanse opposite Gasthof Staud'n'wirt which is almost a home from home for me in Austria now. Chips on the go in the Bier tent, Wiessbier in the fridge - always nice to return. Though the real home from home is on the sea of late Triassic limestone 1000 m higher, among which hide many alpine plants (about which I learnt a lot this year from Botch) and below which hopefully we would be able to connect Fish Face to the main SMK system via a nasty bit of passage called Razordance. This would not only increase the length of the system by around 7 km, but would also provide much easier access to some tantalising leads which had been left in the Silk Road, just above Razordance, 15 years before. However, this year the weather had other ideas...
Straight up the hill the next day, and after a couple of days fixing rigging in both FF and Homecoming it began pissing down again so we headed down to make a plan in the relative comfort of the potato hut. Nadia and I decided we would camp with Botch and Kai, it being the first underground camp for both of them. I won't repeat the story of the freezing cold and forgotten utensils, though the shuffle across the '
Delicate Steve
' traverse was a highlight of the expedition (even if it was derigged prematurely due to miscommunication from Luke and Becka about the quality of the leads left on the branch that Nadia and Hannah didn't visit). Less ideal was the discovery that Kai was much more dyslexic than I had thought, to the point that when we returned from the camping trip and were typing in the data it transpired he had got '7' and '0' the wrong way around on clino readings multiple times. Either way, between us Luke (caving on the bounce) and I rigged Clap My Pitch Up and Apis Medicus, though I had to fix a lot of my slap-dash rigging from last year (I blame Makita 14 V drills and modified cells - I bought a new Bosch ahead of this trip, best decision of the year alongside quitting that PhD).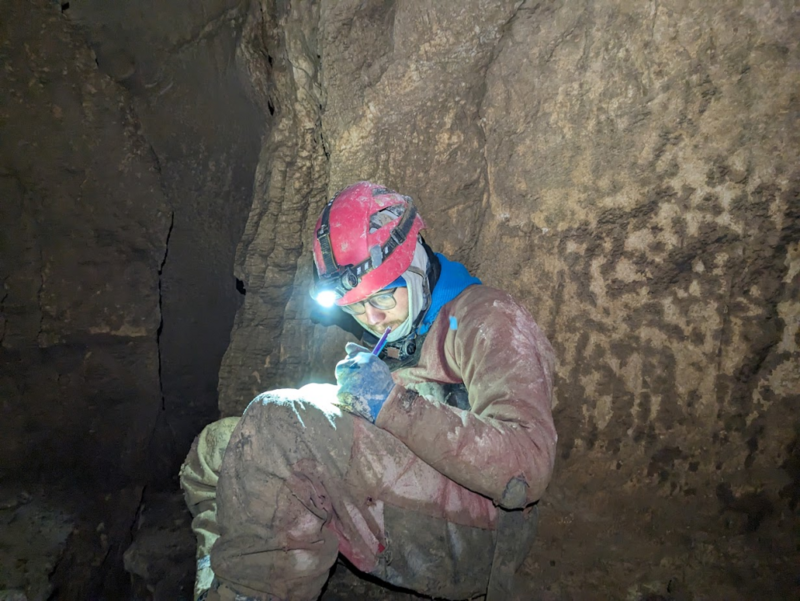 Me (re)surveying beyond Delicate Steve. Why are so many cavers dyslexic?
After another night at base camp sitting out some rain, we returned the next evening and departed for camp that night to beat the faff, arriving just after midnight. Tomorrow was the only definite good weather day before I returned to the UK, so if we were to make the connection it had to be then. A team of five this time: myself, Luke, Becka, Botch and first-time (very) happy camper Lea, who was hoping to go further than her previous deepest point in FF, reached at the 'flaque verte' or 'green puddle' which was the anticlimatic end to Perseid Showers. Next morning we tried hard to stay in bed, but at around 10:30 Luke, Lea and I were on our way towards the pushing front, Botch and Becka going to look at another wet lead left last year, Keanu Breeze, which seemed to be heading towards Homecoming (see Harry's post - sadly it was too wet for them to make any progress, so they surveyed in northern FF instead). Although no rain was forecast for the day, it was significantly wetter in the stream passage which followed the big pitches than it had been during last years drought, so my hopes weren't particularly high for the connection. After a bit of sniffing around in the rift after the final pitch we dropped last year, we noticed it was much larger passage a bit higher up, though much muddier. I crept along the sticky mess above the yawning slit below to reach a large pitch, and decided we should stick a rope in, so retreated and began bolting across while Luke headed back to the pitch for the extra rope we had left there.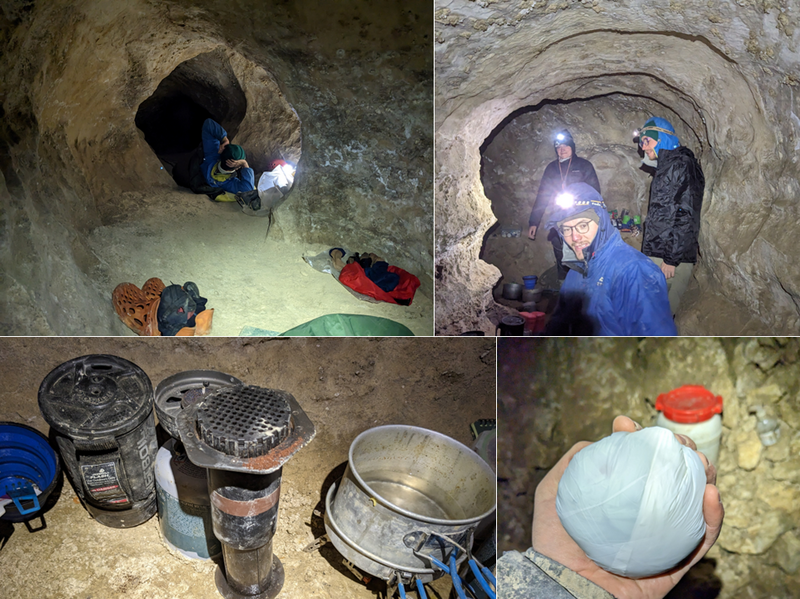 A morning at Camp Kresh. First, wake up, though preferably after Becka has already been awkwardly prowling around for 40 minutes waiting for you to pay heed to your alarm. Take some more time in bed to admire your camp crocs, if you have them (well done Luke and Me), then eventually spring into action on the coffee (we only accept freshly ground at this camp). Once you have fulfilled your caffeine needs, tend to your other needs and pack them away carefully in the Jape drum. Luke was very proud of how small his was.
Soon I was dangling above a drop into a very noisy, wet chamber formed along a big fault. Partway down, I decided that I needed to put in a rebelay to bring the rope out of the spray behind us, so climbed out left some distance and flicked my skyhook over a small knob of rock. While I was hammering to find good rock for the next bolt this popped off and sent me swinging at speed about 15 m across the shaft. Without thinking, I decided to use my hand to stop the swing, which really hurt. Skyhook held next time though and the bolt went in to land us on a large ledge with many enormous car-sized boulders upon it. The streamway slunk off out of sight in a small canyon formed in bedrock below the bouldery matrix.
A cautious inspection of the very mobile and friable surroundings in which we found ourselves revealed that there was basically no solid floor to stand on. We considered beginning to bolt around the side of the shaft, but decided that we could spend days doing that (it seemed to have no end, and we only had the one day), so I decided to embrace the misery and follow the water beneath the huge mound of choss we had been standing on just before. I hammered the flaky rock gingerly: the knowledge of the size and precariousness of the boulders above, combined with the constant noise of the stream, was quite disquieting. I could almost feel the rocks pressing down upon me and the water rising up my spine. On beginning to abseil down the drop, it became clear that there was no way of avoiding the water entering from an inlet on my left, though I put in a pathetic deviation anyway to stop myself from landing in the pool at the bottom. Ever since I first caved in the Alps, the dangers of water and associated hypothermia had been repeatedly drilled into me, as had the dangers of loose rock. For good reason. At the bottom of the pitch my 'exploration fever' ebbed away and I realised I was cold and wet, could barely use my right hand now after the skyhook smash incident, and was far from home. Another 5 m drop headed down to a calmer looking streamway below, willing me on towards Razordance. We had to be close! But I had already decided that we had come far enough and that I couldn't risk dampening (literally) Lea's psyche and potentially getting everyone, rather than just me, into a shivering mess. So I derigged and left the lead for a year where it doesn't rain as much.
Luke already had the Jetboil on for me like the sweetie he is, so I was soon treated to some noodles eaten with a pencil, luxury! We then started the tedious process of pulling all the gear out. We filled a bag with rope, maillons and hangers, then I took that and the drill back to camp while Luke and Lea began to PAELLA the rope out from the bottom of Apis Medicus. We returned to finish the job the next day after a small bit of exploration beyond Delicate Steve, and headed out to arrive at the surface at around 11:30pm. My hand appeared to just be badly bruised, so that was a bonus. I would need it when derigging some particularly interesting rigging in Homecoming the next day, but that's a story for another time...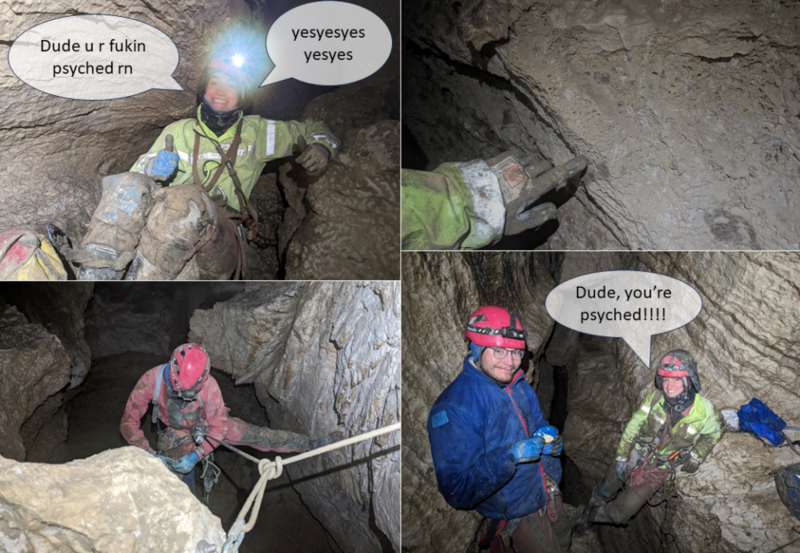 New passage 'Dentelle de Caca' in FF. Lea was fuckin psyched about the lacy textures on the cave walls. Possibly because she was dressed like she was working at a festival and was channelling the energy that comes when you're doing the litterpick at the end, pocketing all the bags of treasure the rich punters have left... Finding big caves is better though.
And that was it for my exploration in FF. Lea continued the trend of french names for our new passage with 'Dentelle de Caca', named as the walls of the passage had thin lattices of calcite which looked like lace, covered in a veneer of shitty mud. 8 m vertically and 50 m horizontally to make that connection now. Luke and I have almost definitely decided we won't be back next year, but we'd like to connect the caves before we're 30, so it all hinges on 2025...
All photos: Stangroom.