Homecoming - Pushing Watershed
Mon 17 Jul 2023
Harry Kettle

Blog Author: Harry Kettle
Pushing Watershed in Heimkehrhohle
I got back from 2 weeks in Austria yesterday and spent much of that time pushing Homecoming (Heimkehrhohle). Homecoming was discovered in 2018 and was last visited in 2019. A key interest of Homecoming is it sits a long way west of the main SMK system, so connecting it to SMK would move the expedition closer to a long term goal of connecting to the Schoenberg-Hohlenen system to make one of the longest caves in the world.
The Schwarzmooskogel (SMK) system (right) shown in relation to the Schoenberg-Hohlenen (SH) system. Homecoming is labelled 359, sitting just west of this year's other main objective, Fishface (290).
I spent this years expo pushing Watershed, a piece of passage found by Dickon, Becka and myself in 2019. Looking at the survey data, Watershed appears to offer the best hope of connecting to Fishface, which when Fishface (hopefully!) gets connected to the main SMK system would in turn connect Homecoming to SMK.
At it's closest point, Watershed sits just 300m horizontally and in the same vertical plane as Keanu Breeze, a pitch in Fishface bolted and surveyed by Jonty, Joel, Luke and myself last year, named for its strong draft. The hope this year was we may find passage in Watershed that could move Homecoming closer to Fishface.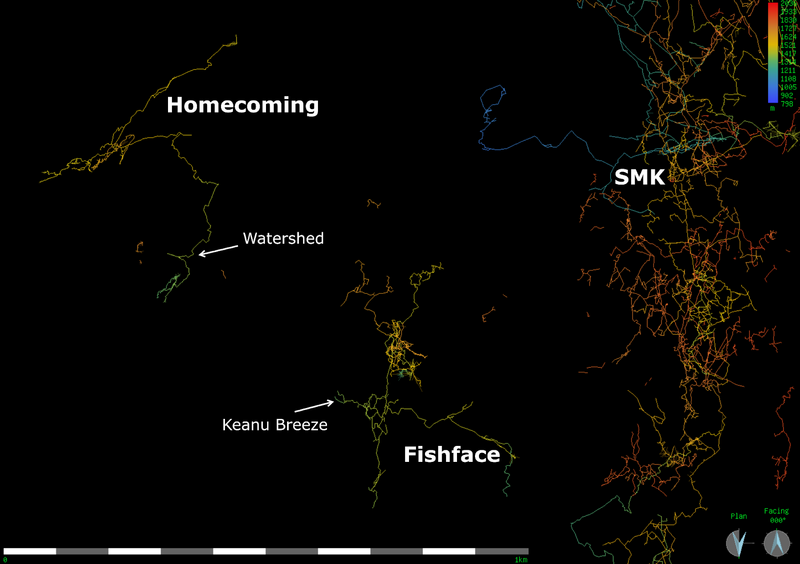 Homecoming survey next to Fishface and SMK
It took two long rigging trips and ~600m of rope to get from the Homecoming entrance to the pushing front. From the bottom of the entrance series, a small up pitch is climbed to access some small phreatic fossil passage named Propane Nightmares. This is followed for a few hundred metres via a series of small pitches, climbs and pleasant sandy crawls to the head of Strained by Gravity, a 75m pitch series that drops via 3 large ledges into a large wet chamber and the start of Watershed.
Rebolting the second pitch of Strained by Gravity to give a better hang.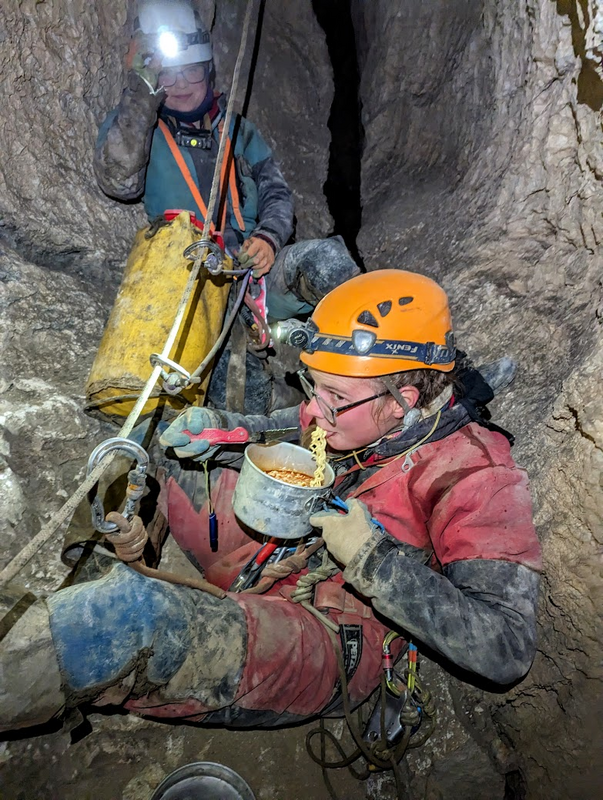 Emily eating noodles after the second rigging trip with a rope knife as we forgot to bring a fork.
Watershed was named as we had to run through several wet drips to access the ongoing passage, though thankfully water levels seemed lower this year and we were able to stay relatively dry. The ongoing passage is a lovely phreatic tunnel with a significant active streamway and many excellent stalactite and helictite formations in the roof, both unusual for caves in this area.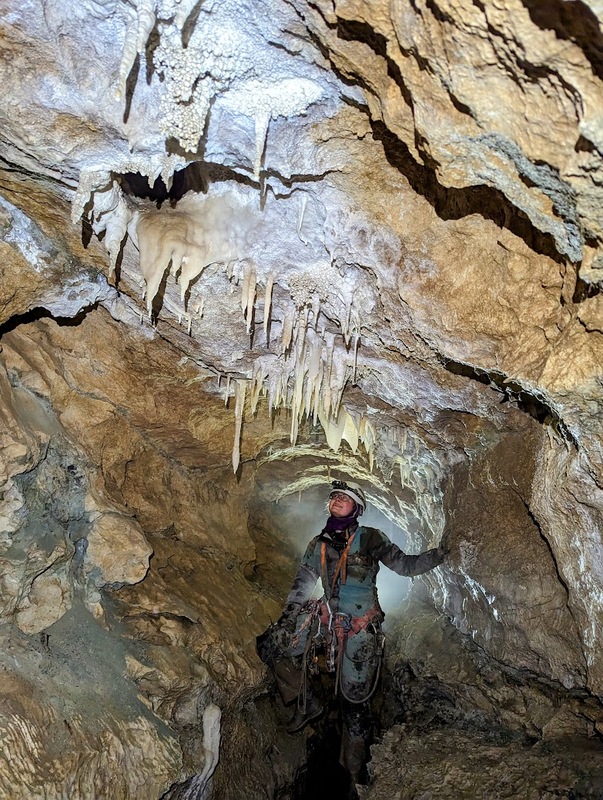 Charlotte looking at some of the Watershed formations.
On the first pushing trip Charlotte, Sarah and myself surveyed ~100m along a sandy downwards rift. This was again well decorated with some lovely flowstone and stalactites, and passed several tight thrutchy down climbs that were good fun coming back up. At the end of the rift a small pitch was reached so without bolting gear we turned round for the day. This passage seems like a good option for a camp, which may be necessary soon as the pushing front gets further from the entrance.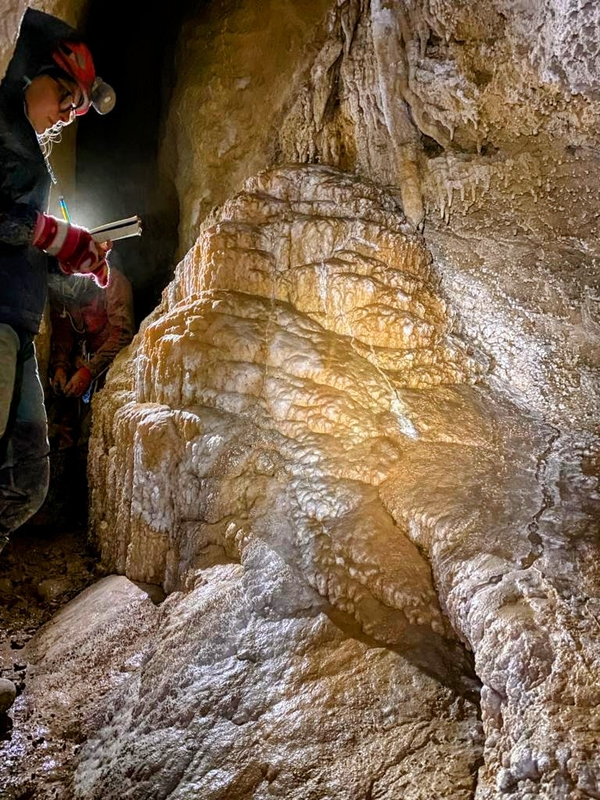 Sarah surveying by some nice flowstone.
Thunderstorms halted progress but three days later Charlotte, Becka and myself returned. Charlotte hadn't bolted before but after a quick lesson went bolting down the pitch whilst Becka and I surveyed more horizontal passage. My book work was quite rusty but Becka is an excellent teacher and I soon got back into it. The passage consisted mainly of tall narrow rifts with several passages lying on top of eachother. The day finished with 6 drafting A leads to come back to.
Annoyingly further thunderstorms were forecast but three days later we returned again. This time Charlotte, Becka and myself were joined by Jono and James, with a plan to split to two teams at the pushing front. In a streamway at the base of the previous pushing trip, Jono and Becka went upstream looking to experiment with photogrammetry on Jono's phone whilst Charlotte, James and myself went downstream. Following the narrow rift and streamway a series of small pitches were reached which James bolted and rigged. After the second pitch the tight rift opened up into huge passage and a further 20m pitch to the floor. Sadly by this point we had run out of rope so had to turn round. Annoyingly on turning round I realised half the survey notes had been rubbed off the notebook in my oversuit so we had to resurvey some of the passage heading out.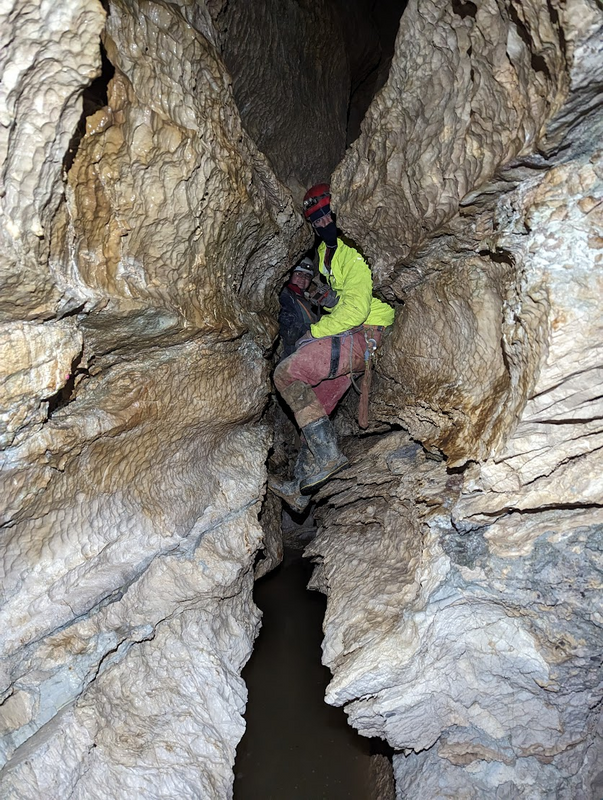 James and Charlotte surveying in the narrow rift.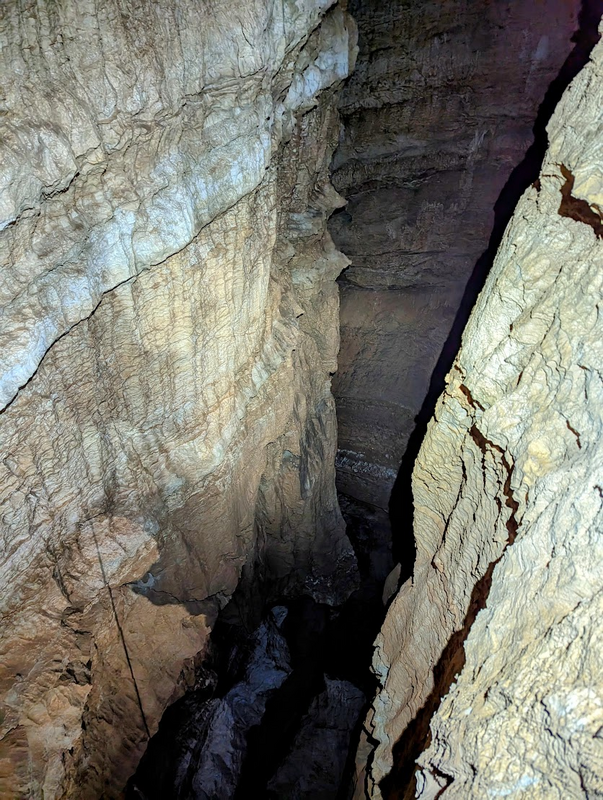 Huge rift passage at the current pushing front.
Despite ~300m of passage being surveyed minimal progress was made in getting closer to Fishface but there are lots of excellent leads to explore and four weeks left of expo so hopefully lots more cave will get found

.