Tunnocks - Determination
Tue 06 Aug 2013
Holly


The last trip down Determination saw us dropping two more pitches deeper down in this part of the system. No major comments for the journey in except that I'll quote Becka who said the following about the Flap (rift): "this is lovely" – Yes that's right – my rift is lovely! Ha! You're all wimps!

[Ed: One para crossed out] (Sorry this didn't make sense! It's too early after expo dinner)

Previously Anthony + I hadn't managed to finish surveying out so whilst Becka + Fleur finished this I headed to the pushing front.(That's better!) Chris D had already placed 3 bolts so I commenced rigging. But before heading down I noticed that large parts of the wall had long cracks. After taking a hammer to these some fairly large boulders fell down the pitch + I carried on. About 10m down I landed on a ledge + needed to put a rebelay in. But this would cause a rub point further up the pitch and there I prussicked back up the pitch a few meters to place a deviation. This took me ages as I kept swinging off around the pitch where my sky hook kept falling off. Eventually after drilling 2.5 holes (oh dear) I had my deviation + headed down to place my rebelay, It would actually be much better (+ easier) to place a deviation much higher up.

Eventually I headed down + landed in on another ledge with a rift in the right hand corneer which opens out onto a second ledge, 3(ish)m down. After placing a couple of bolts I landed on this ledge and discovered a couple of horizontal tubes which led off from here. Whilst I paced a Y-hang + dropped the next Becka + Fleur had a look in here. One is a QMA (though quite small) with strong draft heading into cave + very squelchy mud lining the bottom.

At the bottom of the pitch I landed in a small chamber with another rift on the left. I quickly placed a last bolt whilst Becka + Fleur came down to join me and I abseiled the last mini-pitch (down this rift) of about 3m landing in a puddle. Here is a QMC with a slight draft heading up the pitches. It is another rift which starts with a pinch point that requires SRT kit removal. With time passing by + fear of thunderstorms (this would not be a good section of cave to be in during a thunderstorm) we headed out, derigging along the way. By the time we exited the rift we were knackered. We had 4 uber tacklesacks filled with 6 bags worth of rope (calculated from the number of bags that brought it into the cave). Becka had done the rift 3 times lugging the bags through!

The three of us managed to drag the bafs to March of the Penguins where we then dumped some weight to collect another day & also make our call out!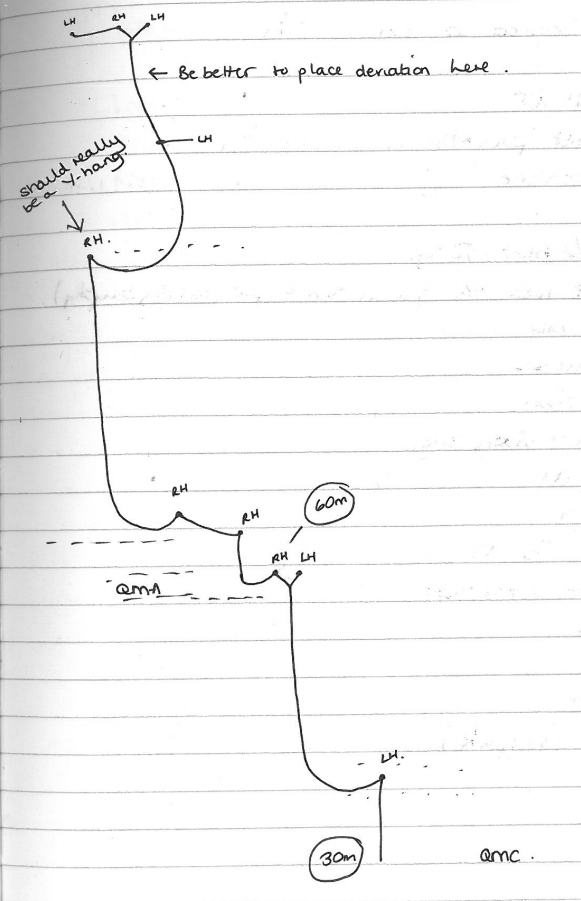 [Trip dated 3rd in Logbook, but 6th in callout book and survey data: 3rd must be a mistake]