Expo 2011
---
2011-07-18
Chris Smith
Chris Rescues a sheep
On our first carry up we heard distressed sounding bleating from a sheep that had fallen down a grike next to the path on the col. Heroically, Chris clambered down into the grike to effect a dramatic rescue. Noone quite knows what happened down there, but some time later Chris, looking a little sheepish, emerged clutching a grateful-looking and apparently unharmed sheep.
T/U: 2mins
---
2011-07-19
Djuke Veldhuis, Kathryn Hopkins
204 rigging
Our intrepid explorers carry another load up the hill – and get the easy ride really, because as Jess, Nial and Edvin went back down to get load 2 (after a quick noodle, mash and chilli sauce stop) we went into 204e to rig the entrance pitch and gaffered. It was surprisingly warm and there was no snow plug at all. All went well erm... well Djuke rigged the entrance pitch, sort of, and ended up 4m above the bottom at the stopper knot. Caught high and dry, I wandered onto the ledge, hunkered down and waited for Kathryn to re-rig the rebelay on one bolt rather than 2. That worked and with stretch the rope now reaches the floor :) (or hangs at waist height, unloaded). Kathryn then rigged to the y-hang of gaffered. We came out to find Nial, Edvin and Jess returning to the bivi with their second load. We played/fought with the tarps for a while, sorted rope, got bored and walked down. YAY CAVING = GREAT.
T/U: 3.5 hrs
---
2011-07-21
Nial Peters, Edvin Deadman
Rigging down 204e
Up at 5.45am after a drippy night in the bivy. Underground at 7.10 am – some kind of CUCC record perhaps?! With 2 bags of rope each, we made slow progress to Gaffered, which Nial finished rigging. The 200m of 11mm saw us all the way to the bottom of Cerberus in the Underworld, with 10-15m spare which we used on sirens traverse. Couple of rigging points:
The 1sttraverse bolt below eyehole pitch and above trihang is shagged - might need an extra one.
The deviation on Cerberus is better as a rebelay.
Then continued through the Underworld to Gardener's world and Universally challenged – heres a rough rigging guide:

Finally down chalk and cheese and our campsite. Mission accomplished. Prussiking out was tiring with tacklesacks full of tacklesacks in tow!
T/U: 11 hrs
---
2011-07-21
Djuke Veldhuis, Kathryn Hopkins, Jess Stirrups
Campsite kit carting trip
We stirred in our damp sleeping bags as Nial and Edvin got up and set off for their rigging trip (see previous trip report). By this time (7ish) Kathryn was awake and shortly we all got up (slowly). Wetness was reduced as we hussled packing loads of camp kit. With 2 tacklesacks each we entered Steinbrucken at 10.15am. The entrance crawl with tackle was most awkward. As we descended gaffered, the pitch series Cerberus and so forth we were reminded how far it would be to prussik out and how AWESOME it would be to camp and not have to do gaffered everyday.
On the plus side also we stayed completely warm through the whole trip and as long as I didn't sit on my right buttock or knee (which were a bit worse for wear after a spectacular fall on the plateau). Before long we could hear Nial at the bottom of tri-hang. Upon hearing us the boys – not wanting us to catch up – put in a difficult deviation on purpose and we subsequently didn't catch up with them until the campsite. Going down chalk and cheese was like driving up your driveway – you knew you were going home sweet home, or as it is now known, BUTLINS HOLIDAY CAMP :) :) :)
---
2011-07-22
Chris Smith, Robert Adams, Jon Hauser, Andy Chapman, Noel Snape
Tunnockschact Entrance Series
Rob and I headed off to Tunnockschact ahead of the main party to continue with the previous day's rigging (entrance pitch pre-rigged to the first deviation). I continued with the rigging, whilst rob sheltered on the surface.
Beneath the first deviation it was necessary to rig a Fig-8 rather than a Y-hang due to the thread on the right hand spit being damaged (needs re-bolting). Two further rebelay's to the first scree slope were rigged without incident. No snow was present on the scree slope making it extremely unstable
I undertook a spot of gardening, but my efforts were ineffectual as kicking down the loose choss seemed to further destabilise the remaining scree. At this point Rob descended the first main pitch and waited at the top of the scree slope
A "traverse line" was rigged from the bottom of the first pitch to the small pitch above the second scree slope. The entire traverse needs re-bolting as the anchor points are at ankle height, meaning that any falls taken on the rope will result in considerable shock loading. Rigging round the traverse and short pitch gave access to the second scree slope, where again no snow was present (in stark contrast with the previous year). Again, this slope is extremely unstable.
Had difficulty finding bolts for the traverse to the second Y-hang, however I suspect this because there are no bolts besides the one back-up point to the Y-hang. Needs re-bolting to make safe in low/no snow conditions.
Rigging the second Y-hang was a complete arse as the two bolts in the far wall were nearly unreachable. Rigging this section took much faffing, by which point Andy had joined me at the top of the pitch. Descending the pitch to the next floor and set of rebelay's took place without incident, although I did miss out the bolt for the deviation (oops!). By now Rob, Jon, and Noel were waiting around the top of the first scree slope and traverse line.
Descending the rebelay's below the second Y-hang and (missed) deviation gave access to the top of the old snow slope; however instead of being greeted by several tonnes of snow there was a gaping crevasse where top of the old snow slope used to be. Evidentially the cave has warmed up considerably since last year. Descending the snow slope beyond this point was impossible. Andy came down for a second opinion and concluded much the same as myself. At the point I turned around and started to ascend, so that Noel could come down for a third opinion. Rob, Jon and I headed out whilst Noel and Andy made one last inspection of the snow slope before heading out in tat order.
Summary
Scree slopes extremely unstable due to major snow melt

Entrance Y-hang needs re-bolting for right hand spit

First traverse needs re-bolting to raise the height of the traverse line

Traverse to second Y-hang needs additional spits, to improve safety under loose scree conditions

Bottom pitch above snow slope needs completely re-bolting to enable safe crossing of the crevasse in low snow conditions
---
2011-07-24
Djuke Veldhuis, Jess Stirrups, Nial Peters
204 camping
Sun 2011-07-24 to Tue 2011-07-26
In preparation for the day-shift of the Butlins camping team (the night-shift consisting of Edvin, Kathryn and Holly), we walked up (again, in the rain) on Saturday night. By Sunday morning rain had turned to snow :-s hence giving us all the more reason to get underground pronto.
Despite having already carted down all the camping gear in a previous trip (see Djuke, Jess, Kathryn trip on 21 July), we still had two tackle bags full of food, rope and other fun heavy stuff each. Going down Gaffa'd and the rest of the pitch series, Gardener's World, Chalk & Cheese reminded me of just how much prussiking up there would be in a few days time and how pleased I was not to be doing it on a daily basis. We lugged the gear into Dead Good Bat Chamber and while Jess and Nial proceeded to calibrate survey gear and set up camp, I went along to our prospective hole, now known as "That Stupid Hole" (courtesy of Kathryn who originally referred to it as "That silly hole").
A few slings on naturals got us down the first 15 meters or so of a steeply sloping pitch onto a big axe like boulder. A short climb below all the boulders choke. On the left however, a thin, steep, muddy climb up opens up into an eyehole which overlooks another steeply sloping shaft (an aven onto the left and continuing down to the right). As Nial and Jess surveyed down I started bolting the pitch head and remembered how enjoyable this was–keeping you warm and filling your nose with lime. As we continued a further 20 meters down, landing on a small ledge, a dark cavernous rift continued below and we realised we had found yet another pitch series. Having only hand-bolting kits we didn't get much further before we were due to turn in for the night (it was approx. 7 pm)
Our first night at Butlins Holiday Camp (aka "Dead Good Bat Chamber") was warm, surprisingly so, it was also much drier than top camp (there was no snow, no rain – also no sunshine, but hey that's life). I rolled around for a bit in a thermals, a (clean) furry, a fleece liner and Tony's buffalo bag, but drifted in and out of sleep fairly well. We were rudely awoken at 5 am by the nightshift who made themselves dinner and us breakfast and a hot drink. They looked very ready for bed (note: for those doing underground camping, the nightshift probably has a rougher deal, though the first night they said they fell asleep very quickly, their body clocks are obviously rather messed up).
I winged too much getting into wet wetsocks, but actually, getting into caving gear was fine. A warm drink and some mediocre porridge later we were talking to the nightshift about where they had gotten with our pitch series. Having had a drill, they had dropped it another series of pitches, but had to eventually turn around being too cold surveying (they re-rigged Chalk & Cheese Pitch to get warm). As they crawled into the tent, warm sleeping bags awaiting them and taunting us, Kathryn we 'kill' that silly hole and so we set-off once again. They had been right. It did get increasingly wet and a few more handbolts down we decided that the rest of the pitch should be named Goretex is a lie – because it is— Eventually the stream disappeared into a thin rift (QM-d at best, probably nothing) while a mud choked hole on the left told us it was time to go back up having indeed 'killed' this lead. I offered to de-rig. It seemed like a good idea, until I realised the other group had taken one of the tackle sacks, which left one tackle-sack to put 200 meters of 9mm in to prussic out with. Splendid. I was knackered towards the end and Jess really appreciated it when I gave the bag to her for the top section J I can't remember where we went then. I think it was the Wares. We only had time to rig into it a little bit before magically it was once again bed time.
After arriving late (around 8pm) and hence giving the others a lie in, making us dinner and them breakfast, we snuggled back into the sleeping bags. Nial and I apparently curled up next to Jess who was left immobile until kicking Nial in the head (at which point he moved). I think she was dreaming it all up really… Our last cycle started, wet wetsocks, damp caving gear and a distinct itchy feeling, especially on my chin which felt like I'd just been kissing a guy with stubble for the last 3 days (in reality it was a helmet strap rubbing against my chin with added lime dust/dirt/mud and moist air). Anyway, as you can probably tell, I was dreaming of a warm shower at this point and something to untangle the rat's nest that was my hair.
As the nightshift had killed off the Wares QMc's bar two vertical leads, Nial decided to introduce Jess and I to the wonderful world that is the Convenience Series. He seems to love it; I think it's a bit gnarly and squeezy, I preferred the Wares. But I digress…In Nial's defence, he didn't make us follow him down the wet / tedious pit to check out the even wetter QMc in a 6 inch deep puddle (--- fill in name I've forgotten of this area---). While it sounded like Nial was swimming/drowning in a Yorkshire stream way, Jess and I sat at the top trying not to freeze discussing what we'd do with Nial should we drown. It was innocent Black Adderesque humour really. Needless to say, that lead crapped out too L Thus, on we went to Channel Five where Nial and I (re-)bolted an incredibly dodgy, loose pitch; one of those where you can't tread without sending rocks hurtling down. Depressingly, we didn't even get time to survey as it was about time to head out if we wanted to walk down the hill that same night.
Maybe it was because I'd been underground for several days, maybe it was the 200 m of 9mm I dragged up the previous day, or maybe it was because I managed to get the donkey's dick of the drill bag caught in my foot jammer on the very first pitch back up to the surface (Chalk & Cheese) –hence, left swinging around trying to tug it loose, like one of those annoying zips on a cheap sleeping bag—but in any case I have never been that slow prussiking out. Nial kindly offered / pleaded to take the drill bag, but NO way was I going to give in, never. Selfish? Foolish? Stubborn? All of the above, yes probably, but my fight with the drill bag had become a personal battle of strength and will. I won. But didn't get out until 8 pm or so. But at least it was SUNNY J J J on the surface. We had a relaxing dinner on the rocks. Went to bed. Heard the nightshift coming back around 3 or 4 am and walked back down the next day. All round, a superb first camping trip. (Climbing Trisselwand with Jess the next day didn't happen – we drank instead. It didn't happen the next day either, it rained, but more on that later).
Note to self: you write way too much when you type…
---
2011-07-28
Djuke Veldhuis
- VIA FERRATA - Grober Donnerogel, 2054 m, Grade D (Intersport Klettersteig, Tour 28, p 120 Klettersteig book).
It was raining at 4.45am, which meant that Trisselwand was going to be wet and Jess and I wouldn't be going up. Rubbish. Having already sat still on Wednesday, I decided I wanted to go and do something active. Weather was very overcast and looked like rain, but hey, what's a girl to do?!
I settled on a Klettersteig on a side of the Dachstein Expo doesn't often visit and I can thoroughly recommend it. Coming in at the same grade as the Loser Via Ferrata (not yet in guide book as it's too new – but I've checked the Loser grade in the new version in the bookshop), it is about a 40 minute drive (towards Bad Goisern and then Gosau) if you don't get stuck behind a string of caravans. It has the advantage that apart from the via ferrata, all the height gain is via a cable car (Gosaukammbahn) where a return costs €12 – the last car goes down at 17.20 in the summer. It also has a lot of bang for your buck. The initial walk up from the cable car (listed as ½ hr in the book), took more like 10 minutes. The via ferrata itself takes about 3 hours and the walk down one to two hours depending on how much you value your knees.
The Route finding is simple; follow the path numbered 611, up a little hillock. Just before a turny gate thingy the via ferrata (signed) goes off to the left. The route is superb and actually quite suitable for beginners as it is interspersed by sections which are effectively just walking (though the cable is present throughout for protection) which is at times less steep than the muddy / slippery path of doom on the way upto Top Camp. Note however, that this is a fairly prolonged via ferrata which would take longer in the wet. It was incredibly cloudy / overcast when I did it, but I was still in shorts and a T-shirt for most of the way. Bring plenty of water if it's sunny. As with all via ferrata's, avoid if risk of thunder (or be walking down by then).
Anyway, there was I, starting out just above the cable station at the designated Hutte from which the path to the klettersteig goes and a random Polish bloke comes up to me and says, "You must be an experienced mountaineer, you walk fast". Well, no actually, it looks like it'll be pissing it down any minute and the cloud is coming in and I'm sorta hoping there's not going to be a thunderstorm. His backpack and helmet shiny, with an axe to boot, I eyed the Polish man somewhat warily. People on the hills with shiny gear are either very good and well off that they can get new stuff, or they've just started doing it. On the other hand I was also by myself (not something I generally do) and he seemed to have done some routes in the Dolomites. Anyway, a climb up to the start of the Via Ferrata with my newfound friend put my harness on --- shit --- helmet left down by the Hutte. Run back down and up again and my Polish friend awaits me patiently.
Despite the clag, I immediately loved the route. Divided into 4 main stages (Etappes) "Enzianwandl", "Ziehkogelgrat", "Kleiner Donner Kogel" and "Grober Donner Kogel" varying in grades from B to D. There are plenty of wider, path-like sections en-route to sit and have lunch and admire the superb view (which I got only occasionally). As we moved up and my well-geared up friend fed me energy drinks and chocolate (I think my one piece of flapjack and slice of bread with Nutella didn't look like 'proper' mountain food). There is a nice balance of exposure with sections which are more scrambly and places where you can have a choc bar and take in the view.
Route finding is easy BUT – about ¾ of the way along a big green arrow points left (it says "Links") FOLLOW it – don't be tempted by the shoddy wire that appears to go straight up on your right – the latter is an old section of Via Ferrata that has been dismantled after the locals apparently complained about it ruining their view from the valley. The main route contours round over some awkward tree roots—which have become exposed and now hang above the limestone where the soil has become completely eroded—and ultimately comes to a col. Moving left the final and steepest stage of the via ferrata, the "Grober Donnerkogel", now awaits. It looks very imposing, but is in no way technically challenging.
To my sheer amazement, as I climbed the last steep section high on the Chai tea that my Polish friend insisted I drink. By this point I'd decided this chap was fully competent, if over-geared for the trip in question and while he chattered away happily in broken English about how his brother should have been on his expedition with him, but he'd not communicated this with his wife etc etc, I noted to my surprise that the sky was clearing. As I reached the top, two old codgers who had laughed at me on the way down when I'd gone back for my helmet, were sitting at the massive cross. They waved and my Polish friend took out the biggest camera lens I'd ever seen and started snapping as we were "blessed by God" as all three of them put it at different times, to have sun at the top. I don't believe in God, but the sun was fantastic and the atmosphere up there with the four of us great.
At some point I started talking about Gosser, which led the two old codgers (each just off the phone to their respective wives – mentioning something about a Dutch lady they'd met) to ask whether I drank schnapps. "Yes," I replied, "but I try not to drink too much before a long climb". Would I like some they asked I wasn't going to say 'no' J And thus it was that I found myself on the top of the Grober Donnerkogel drinking schnapps and chai tea in the sunshine. By now it was about 15.15 hr or so. We'd taken it pretty easy and the guidebook time are about right, though you could do the route notable faster if you're rushing.
An hour's walk down or so found my Polish friend and I at the Hutte drinking a coffee (which he kindly bought for me for my services as a guide, lol) and at 16.15 we picked the cable car back down. A great day, despite the clag and a trip I would recommend to those interested in ferrata.
---
2011-07-26
Neil Pacey, Aiora Zabala and Fernando Abarquero
Tunnockschact Entrance Series up to the Balcony
Neil showed Fer and Aio the secrets of Tunnocks labyrinth. The newcomers were even able to find the way out. Short trip up to the Balcony. We took away many of the dangerous rocks we saw on the entrance, so it looks safer now.
T/U: 8hrs
---
2011-07-27
Aiora Zabala and Fernando Abarquero
Tunnockschact Entrance Series up to the Balcony
Aio and Fer reviewed the secrets of Tunnocks, going down to the top of String Theory and back. We brought 60m rope to help others to keep going down
T/U: 6 hrs
---
2011-07-29
Kathryn Hopkins, Aiora Zabala and Fernando Abarquero
204 Sandpit
Kathryn showed us the secrets of taking survey notes. Short trip to Sandpit practising some tight surveying. Found Jess and Alex on the way out and after some problems with the carbide we came out
---
2011-07-30
Holly, Aiora and Fer
Tunnockschact up to Crossword passage
A nice caving trip finding our way to this Crossword. We practised hand bolting for a hand line before throwing the pitch. Holly tested how warm a storm shelter is with a candle inside.
T/U:
2011-07-31
Neil Pacey, Aiora Zabala, Fernando Abarquero, Rob Adams
Tunnockschact up to Crossword passage
Trip to finish bolting the pitch. It turns out that once we descended the little pitch, Rob appeared from within a small and tight passage he had gone through to get warm. Thus 08-38C and Crossword are connected.
---
2011-08-01-
Becka Lawson, Aiora Zabala and Fernando Abarquero
204 Pingu pitch - bottom left
Hand bolting and abseiling the left pitch, finding very nice shell fossils and ammonites, but with an unfortunate end covered by mud and sand.
---
2011-08-02
Olaf Kahler, Aiora Zabala and Fernando Abarquero
204 Pingu pitch - bottom right
Hand bolting and abseiling the pitch on the right hand side (small). We abseiled a little bit down the parallel little hole below the horn, which could be continued. But it was drippy and cold, and there was too much friction on the rope, so we didn't continue that way. We were amazed at the potential deepness of the main pitch but decided that we didn't have enough experience (neither a drill to keep bolting) to throw that pitch down. Turned back.
---
2011-08-03
Olaf Kahler, Gareth, Aiora Zabala and Fernando Abarquero
204 Pingu pitch - bottom right
Back in Pingu Pitch with the drill and lots of rope ready to do the bolting and abseiling of the central pitch. Gareth bolted an impressive free hanging belay. Unfortunately it ended in a little sump and going nowhere else. We did all the surveying and the de rigging until Pingu's rope decided that it wanted to stay there for a little bit longer :(
---
2011-07-23
Andy Chapman, Neil Pacey
..rigging to start of Caramel Catharsis..
Neil rebolted and adjusted entrance, including rebolting traverse on left hand wall at scree level. We then continued to start of snow slope (melted) and swapped 11mm rope used for entrance with 9mm. Andy rebolted slope, ensuring cavers could not slip down chasm. CARE!!! Continued rigging to start of Caramel Catharsis (short rope needed for small pitch before CC) Large boulders moved during ascent CARE REQUIRED!!!! One person on pitch at a time, moving together.
T/U: ?
---
2011-07-24 to 2011-07-27
Edvin Deadman, Kathryn Hopkins, Holly Bradley
the butlins night shift
Underground at 3.30pm for 1st day of 3-day camping trip. Down to camp at 6.30pmish for a quick cuppa. Then met Nial, Jess and Djuke who's lead was still going - the hole in the floor near Dead Good Bat chamber. Continued drill bolting down a series of cold and drippy cascades. Finished of the original 100m bag of rope, then started on another. Left the lead still going, at the top of another pitch, by which time we were very cold. Headed to camp round 5am and having been up for 23hrs got to bed at 7am for a well earned rest and toasty warm "nights"sleep.
Slept will from 7am till 5pm, as we'd been very tired. Decided on a day out in the wares to look at some tantalising QMs:
2007-204-71A: choked after about 15m
2007-204-55A: choked after about 10m!
2007-204-57C: went until we found another survey station in a sandy tube. Turns out this is a connection into Hippocratic Oath.
2007-204-56B: ended in a small aven after 5m
2004-204-40C: died instantly
2004-204-47C: died instantly
Finally some that went:
2007-204-62A: led, past nice mud, to a sloping chamber. Above, a ramp up led to a pitch down. Almighty freezing draft coming up. 18 rope wasn't enough to get to the bottom. This seems like a good place to look for Tunnocks, given the draft.
2005-204-75A: steeply sloping bedding plane, with 2m deep stream canyon, - it went! Led down to a sand floored passage which eventually led back to the stream which then choked as it descended into mud. Left a QM up chossy climb.
Back to camp for 5am, where we attempted, and failed, to sleep until 6pm.
Final day of the camp saw us back at yesterdays QM, to put a rope on the climb. Two ways - both eventually choked, but not before we'd got about 180m of survey for a new ware: warefor art thou Tunnocks!
Finally at midnight, we started prussiking out, reaching the surface at 3.30am. I'd like to write something romantic about gazing at the moon and stars after 60hrs TU. Instead we dug a hole in a grike and buried 18 person-days worth of shit in it.
---
Some random thoughts on camping
Leaving the hilti-setter at the bottom of Gaffered and prussiking up from the Underworld to fetch it defeats the object of camping.
Spare lamp and drill batteries need to be kept warm to prevent the loss of charge. Put them down your crotch or something.
Camping is surprisingly warm. Waiting around in furry and thermals whilst dinner cooks is completely doable.
Night shift was fine for 1st "night" since we were sufficiently tired. The second "night" was crap though as our body clocks weren't fooled anymore.
When crapping into a bag, make sure you squeeze the air out before tying it shut: otherwise the Daren drum will fill up very quickly.
T/U: 60 hours
---
2011-07-26
Neil Pacey, Fer Abarquero, Aiora Zabala
Tunnocks
Nice trip showing Fer and Aiora the way down to String Theory. Got a bit lost at Ykikikiki beach, almost ended up at starfish junction. Made our way to the top of string theory to find Noel and Andy in a distraught state of mind and body. Noel had a close shave with a boulder on top of the short traverses. Rigged the top section of String Theory until we ran out of hangers. Made our way out but got caught in the slow hour traffic on the entrance pitch. Waited for an hour at the bottom of the snow slope, very cold.
T/U: 8.5hrs
---
2011-07-26
Andy Chapman, Noel Snape and Rob Adams
Tunnocks - brown trousers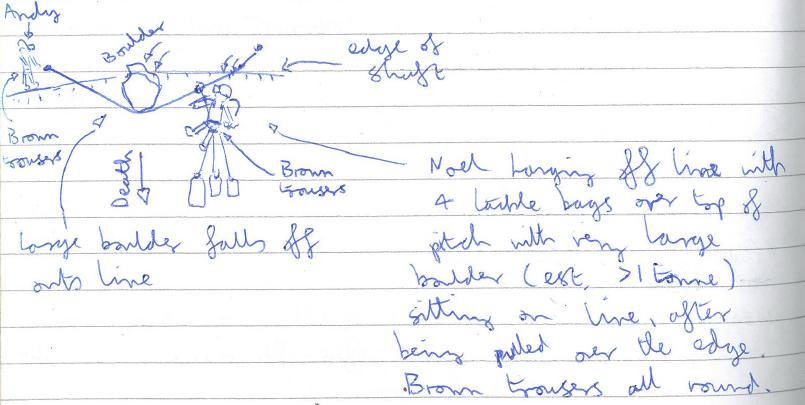 Text says: "Noel hanging off line with 4 tackle bags over top of pitch with very large boulder (est. >1 tonne) sitting on line, after being pulled over the edge. Brown trousers all round"
---
2011-07-27
Neil Pacey, Andy Chapman and Rob Adams
Tunnocks - String Theory
Quick trip as far as String Theory, continued rigging down the 100m pitch, had difficulty finding last years bolts. Finally rigged pitch, Andy and Rob sheltered in bivy shelter. At the bottom made our way back up the balcony climb to "Leaky Chamber", limit of last year, all climbed down tight rift and looked at potential climb up, looking very good can see up 10meters to a scalloped roof. Rigged a traverse line to bypass shite rift and placed both at bottom of climb. Left climbing rope and etriers in situ, ready for next assault. Made our way back out. From the survey "leaky chamber" is approx 26meters vertically and 5m horizontally away from "Where O ware" in Steinbruckenhohle making this an excellent lead.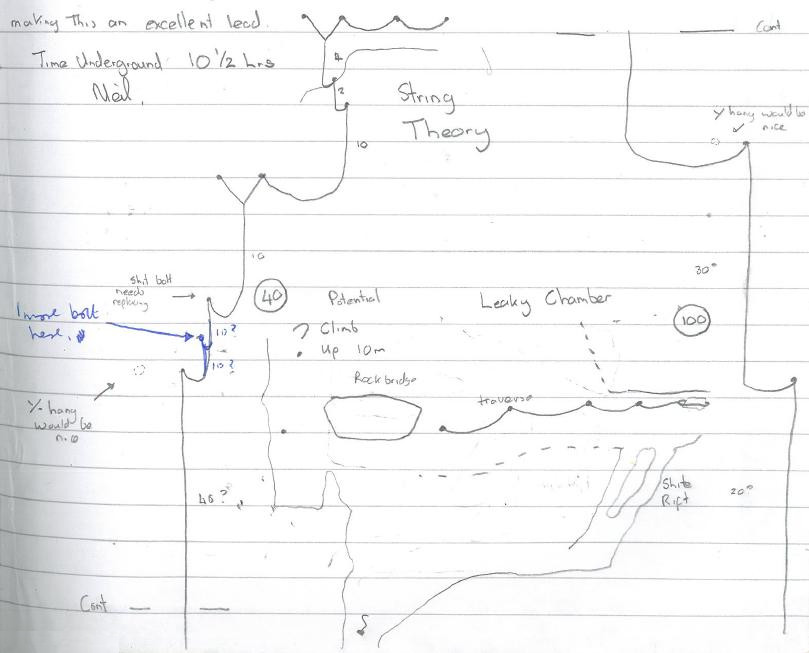 T/U: 10.5hrs
---
2011-07-28
Noel Snape and Rob Adams
Tunnocks
Re-bolted parts of String Theory, replacing 1 shit bolt and 2 extra bolts to make Y-hangs. Also placed a few bolts on the 5th rebelay to try to get a Y but they all failed, no Y needed. Looked up passage at floor level at start of climb up to balcony in String Theory, this leads via a rift to a dodgy climb up. At top survey marks from "popcorn rift" found. We followed the draft to a too tight slot in the wall in "West Side Story" but way on found by climbing into traverse round corner (not surveyed). This carried on to climbs down to a 20m? pitch with large rift passage visible continuing over the top.
T/U: ?
---
2011-07-29
Jess Stirrups and Alex Crow
204 Tourist trip
Walked up in the morning, and decided to give Alex and introductory tour of the upper levels of 204 while scouting out a lead for the next day. Went down to boulder coaster, but got a little lost, so went back to entrance pitch, then to Gaffered and out of 204D via swings and roundabouts. Interesting entrance climb, chimneying up the side of snow plug, and very glad that the permanent handlines were still there!
Recairned the path and back in time for dinner!
T/U: 3.5hrs
---
2011-07-29
Noel Snape and Rob Adams
Tunnocks
String Theory -> surveying finds from yesterday. Also looked around Konnisberg etc. We shone Robs Scurrion into chamber at String Theory and there looks like a large rift continuing off at the top of a scree/ boulder slope to the right of the balcony - i.e. climb up slope/ gully to wall and bottom of balcony handline and follow the wall up right. Ropes on String Theory re-rigged onto new bolts placed yesterday.
T/U: ?
---
2011-07-29
Becka Lawson and Holly Bradley
Steinbrucken - Convenience series - channel 5
Down to camp and picked up a survey and worked our way down to the lead then shared the rigging (we had a drill and one battery luckily) and dropped two pitches but weren't at all keen on the loose boulders and disintegrating walls and rubs. Out, taking out the other 2 batteries from the day trip to recharge. Good steady trip.
T/U: 13hrs
---
2011-07-29 to 2011-08-01
Edvin Deadman, Kathryn Hopkins, Nial Peters
Underground at 1.30pm on Friday, after stalling Nial for as long as possible. Down to camp to drop off food then back up to the Wares to drop the pitch Kathryn, Holly and I found on the first camping trip (25/07/11).
On the way we found a monstrous rub on Chalk and Cheese pitch so that was later rebolted - here's the rigging diagram: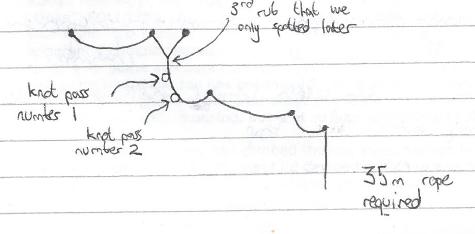 Anyway, in the Wares, Nial bolted the pitch. It's called Bird on a Wire because the rigging looked a bit like this: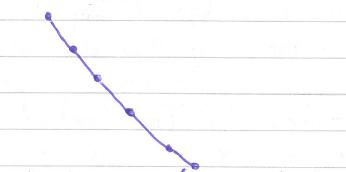 Used up all of the rope (~80m?) but still going down. Too low for a Tunnocks connection? Back to Butlins for a toasty nights sleep. The following morning we went back to the pitch with more rope, but at the end it was still going down. We then blew our whistles in case anyone in Tunnocks would here us, but no luck so we derigged and trudged back to camp for a conciliatory cuppa.
Still a couple of hours left before bedtime so we had a look at (QM ) at the back end of Dead Good Bat Chamber. Up a horrible, rubbish, chossy, shit climb then across a traverse and we saw.... walking sized phreatic passage stomping of into distance, whooo! Called this "a Grand Day Out". The passage continues to a stoop through a puddle which is about 1cm deeper than any pair of wellies. After 50-60m it ends in a large chamber (with a dead bat). On the left is a pitch (QMA) and right was a stream canyon which we followed until a handline was required.
Back to camp for a slightly chilly night as we all had wet feet. The following morning we went back to A Grand Day Out. Below the handline the passage slopes very steeply down a couple of 10m ramps (the first of which we rigged with an ~10m rope. Things get a bit smaller (The Chicken Run) and we got to a junction. Right continues to a rift passage for ~20m to a small chamber with a stream entering from a ramp (QMC - but very small) and another small passage (QMC) leading off at the bottom. Left goes through a constriction (A Close Cave) to a pitch of about 20m: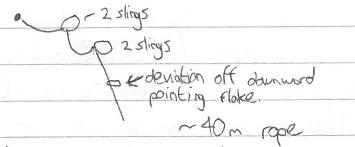 Halfway down the main hang, a window leads to a passage which becomes progressively smaller, until after ~15m even Kathryn wouldn't fit. At the bottom of the pitch, the passage turns left after 5m to a small pit. At the bottom, below a small pile of rocks, is a small passage (QMB). Across the pit, up a 2m mud slope the passage continues but gets very muddy. Exploration ended at a low section with a puddle and a very high risk of getting wet.
Got back to butlins at ~6.30pm for our final nights kip. Night shift headed out at around 12.30am, after their leads died.
On the final morning, we dismantled the camp into:
5 tacklesacks
1 pelicase
1 bundle of roll mats
1 big green army bag
3 daren drums
Turns out carrying this between 3 is a bit of a killer, especially as we were rapidly accumulating rope, from derigging as we went! Halfway through the Underworld moral was at a low point and we are breaking ourselves shuttling gear back and forth. Then we heard voices, Hooray! - Holly, Emma, Olaf and Gareth, had heroically come down to help carry stuff - heroes!!! Handed over lots of gear to them and they headed out while we slowly paella'ed 200m of rope up to Gaffered and derrigged. At the top of Gaffered we met the others again. They had come back to help us carry more of our gear out of the cave - absolute heroic legends! Left ~300m of dirty rope at the top of Gaffered and emerged at 7.30pm to a cracking sunset (and cracking knee joints).
T/U: 78hrs
---
2011-07-30 to 2011-08-01
Becka, Chris Smith and Djuke Veldhuis
Steinbrucken - night shift
In 7pm and out 3am for me and 5am for others
First shift - Convienceince series (30th-31st)
Used drill to start dropping a big, wet pitch. Stopped as time getting on and hard to see how to rig it without getting wet, 2 leg survey :-(. Derrigged and back to camp
Second shift - Climb above camp. We'd been left a good looking lead but it ended after 2 legs then checked out a pitch but we only had a handbolting kit and Djuke couldn't find any good naturals to rig off so we gave up. No enthusiasm from the others to go off to SDTR in Convienience so we packed up and headed out with big bags.
T/U: 32hrs (Becka)
T/U: 34hrs (Chris, Djuke)
---
2011-07-30
Neil Pacey and Andy Chapman
Tunnocks - Leaky Chamber - Bob on
Returned to Leaky Chamber to start bolt climb, Andy climbed initial 5m climb with 3 through bolts, etriers very useful, at top of 5m climb another short climb up led to third 4m climb. Aven appears to continue for another 10meters or so, placed final bolt and left all climbing gear insitu, still need to climb another 10-15m or so, until we are at the same elevation as "Where O Ware" in Steinbruckenhole, hopefully we will get some horizontal development. Noticed passage leading off, after short traverse over the pitches. Followed sandy crawl up steep incline, to walking sized passage, ending at a balcony over large chamber. Shot disto leg of 27m to far wall, and 15meters down to floor. Surveyed from the balcony out to Leaky Chamber. Made our way back out of String Theory after a nice cup of "mint madness". Very satisfying trip!
T/U: 11hrs
---
2011-07-30
Jess Stirrups and Alex Crow
204- pingu
Returned to the lead scouted in previous evening and started rigging it. Took a long time, and needed more bolts as there were many rubs (but no drill ....) got to the end of the previous survey then headed out for dinner and scavenge more deviation tat and crabs.
T/U: 7hrs
---
2011-07-31
Neil, Fer Abarquero , Aiora Zabala and Rob Adams
Tunnocks - Crossword Passage
Went to assist Fer with rigging pitch in Crossword passage, managed to find decent rockl on right wall. Fer drilled two holes and dropped the short pitch only to find survey station and spits at teh bottom. Rob explored crawl further up passage and found survey crawl. Placed another spit at top of next pitch but did not rig shaft. Confused as we are still unsure if this pitch has been dropped. Derriged initial pitch.
T/U: 8.5hrs
---
2011-07-31
Jess, Alex Crow, Holly Bradley and Noel Snape
204e - pingu
Back to Pingu again, this time with a more experienced 2nd option for the rigging (but still no drill...)
Result: OK but needs more bolts, some adjustment of current rig managed (see diagram)
About to start bolting but both me and Alex needed pee, but only I managed successfully! back out for change of clothes...!!!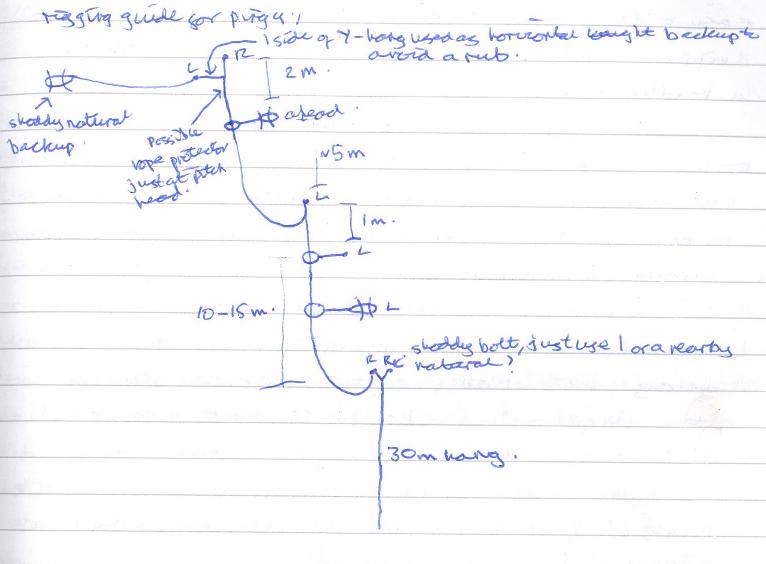 T/U: 4hrs
2011-08-01
Becka Lawson, Aiora Zabala, Fer Abarquero
204e - Pingu
After 4 hours sleep this was a lovely, mellow trip. We did some re-rigging of Alex and Jess's rig then finally got beyond nials last (2008?) station and dropped a pitch and then a climb down that looked like it was going to head off on a big, phreatic tube - very exciting... but it choked with mud after 2 legs. Some lovely fossils (including an ammanite?) at the bottom.
T/U: 8hrs
---
2011-08-01
Gareth Phillips, Holly Bradley, Emma Wilson and Olaf Kahler
Underworld
Went down 204E with the aim of seeing the camp and carrying some things out. Found Edvin, Kathryn and Nial derigging Gardeners World and carrying out masses of tackle sacks, took some tackle sacks off them (but sadly they still had a large pile) and headed out. Once out went back to relieve them of more tackle sacks. Good trip, my first time down 204E and Gaffered - nice pitch.
T/U: 8hrs
---
2011-08-01
Neil Pacey, Andy Chapman and Noel Snape
Tunnocks - Above and Beyond
Returned to Bob-on passage and Noel rigged pitch into big chamber, Above and Beyond. Floor of chamber has steep slope down to the Northern end, explored and surveyed chamber. Numerous QMA's including traverse over pitch in the north and several deep shafts in southern end, all leads are in the vicinity of Steinbruckenhole and should be the 'Key' to the connection. Andy did a dodgy climb up loose wall to explore a rift, ending in another deep shaft.
T/U: 11hrs
---
2011-08-02
Emma Wilson, Becka Lawson and Neil Pacey
Tunnocks, Down String Theory - konnisberg - TenthousandBusStops
Went down String Theory to have a look at how possible hand bolting rift pitch down West Side Story would be - decided it was more of a drill project. On way back towards String Theory met Gareth and Rob who had been planning to rig down Procrastination - the had managed to drop the drill bit, but Neil had a bit for through bolts so we swapped the hand bolting kit for a drill :-) and went down Konnisberg to the big chamber (above and beyond). Neil bolted pitch/ traverse at bottom end of chamber. After short pitch/ traverse dropped into sandy chamber with boulders. Got prematurely excited that we had found the connection to 204 when we saw loads of footprints - turned out to be the bottom of Pigeons in Flight. On the way back popped into a side passage on left (one way out) this led to a pitch (QMA). I made a "very" good job of learning and finding the way out. Good trip.
T/U: 10hrs
---
2011-08-02
Aiora Zabala , Fer Abarquero , Olaf Kahler
204e Pingu pitch
We went to the bottom of Pingu pitch, where Fer and Aiora had been with Becca the day before. Brought hand bolting stuff and about 30m of rope, as we were hoping to descend one of teh holes at that place. Tying a Y hang that Fer and Aiora bolted the day before, we went down and slightly right into a rather narrow slot (deviation) and found a suprisingly big pitch. We placed two more bolts, verified that another small hole with a trickle of water joined the big pitch, and decided that we wouldn't want to bolt and decent the big pitch on our own that day.
T/U: 8hrs
---
2011-08-02
Anthony, Wookey, Olly Madge, Adrian Horrel
Rigging 161g
The plan was to rig into 161 as far as Repton, then push the roof tube in Repton left going by Wookey and Andrew A in 2009. However, after a very late start from the bivi this proved to be too ambitious. Took 200m of new 10mm with the intention of cutting it up as required as we went along. Olly christened his new drill by placing an extra re-belay bolt on the entrance pitch to split up the big hang - also put in a new bolt at the head of the short second pitch. By the time we got to the head of the knosses pitch call-out was looming, so Adrian and I headed out whilst Wookey tried to work out a sensible way to improve the rig, he eventually gave up and followed us out.
T/U: 6hrs (Wook 7.5hrs)
---
2011-08-03
Emma Wilson, Becka Lawson and Neil Pacey
Tunnocks - Leads in higher level above Sting Theory, So Vein and IntoThinAir
Looking at pitch in so Vein and also at the end of flying high.
First went to drop QMA in so vein, ~13m pitch down to large ledge pocket. Pitch continued down bit we didn't have rope to drop further and would require more bolting. Continuation of pitch was drippy, wet, cold and dropped down in several levels.
Next we went to Flying High - fun passage to cave down to end of pushing front (from 2007). Evidence of people past last survey station :-( - started survey from there. Slightly scary climb passed not totally convincing boulder got us up into a higher level in the passage. This continued as traverse with some boulders wedged in floor. Traverse went out over pitch - after this the floor came up a bit and we climbed down to floor level. Passage continues on at horizontal level. Really good trip.
T/U:
---
2011-08-03
Aiora Zabala, Fer Abarquero, Olaf Kahler, Gareth Phillips
204e Pingu pitch
Returned to Pingu pitch with a drill and Gareth. While Gareth, Fer and the drill went down to the big new pitch from the day before, Aiora and Olaf put in 2 more deviations to the lower end of Pingu pitch, to avoid rubbing ropes and to practice hand bolting. Later on, Gareth came up with drill, while Aiora and Olaf went down. A deviation and rebelay later we arrived at the bottom of the pitch, which was rather dissapointing. The trickle of water disapeared in a puddle and the passage was desperatly narrow rift bit filled with rocks. Surveyed on the way out and derriged the whole pitch series. Unfortunately got stuck at the last rebelay, so we left one tackle sack full of rope and rigging gear behind to be picked up another day.
T/U: 8hrs
---
2011-08-03
Kathryn Hopkins, Edvin Deadman and Nial Peters
Final trip to finnish derig of 204
Quick trip to pick up ~300m of rope that we had left at the top of Gaffered after the main derig after the final camping trip. 204 is now derigged apart from the entrance pitch (which is left rigged to allow high level leads to be pushed).
T/U: 1hr
---
2011-08-03
Anthony Day, Wookey and Rob Adams
161- Pushing lead in roof of Repton
This time, with a slightly earlier start from the bivy, we managed to execute the plan from the previous day. We also took the precaution of setting a morning call out, which proved to be a wise move. Having lost Olly and Adrian to injury and tiredness, Rob chose to tag along.
At the pitch into Knossos there was much discussion about how to improve the rig, Eventually we settled for the quick option of sticking in a rebelay bolt to remove a rub from the 2009 rig rather than a completely new descent route. The descent is still a bit scrappy but is a definite improvement on 2009.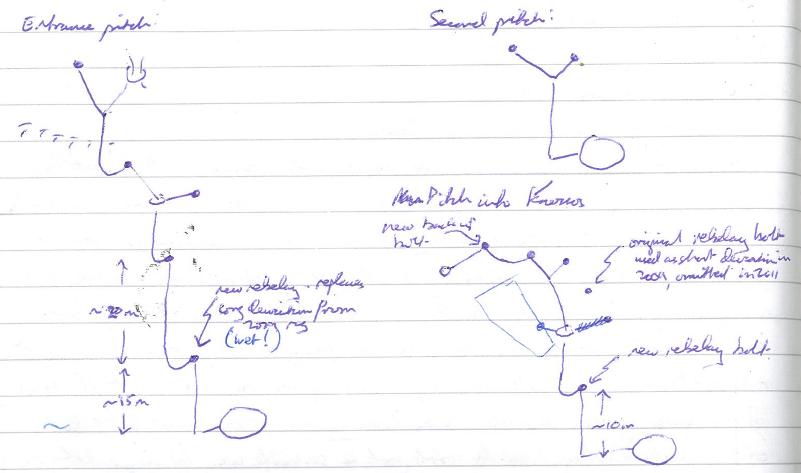 Trundelled along to Strange Downfall which Wookey rigged, then up the other side and up the rope hanging out of the roof of Repton to the wide open horizontal lead (Irony of Time) left in 2009 due to lack of time. This looked most encouraging, a sandy floored rift of comfortable proportions carrying a strong draft towards the known cave. Even so I don't think any of us were quite expecting what we found next.

I was at the back wielding the pencil when there came exited chatter from the front and the LRUD measurements suddenly got bigger. Wookey and Rob had popped up into a ~10m round drafting phreatic passage. It looks as though we have found the continuation of YAPATE level (the passage is a similar size). We happily stomped off north up-dip into the wind. The passage continues in fine style being rarely less than 10m across. At one point there is a very pretty 'Chocolate River' of mud - this should definitly be taped to preserve it: we managed to traverse round the side but couldn't avoid kicking some sand onto it. A lead on the right just before the mud river (QM A) might provide a bypass (and some more cave). There are several leads in the continuing passage, the best of which is a tube leading SW from the trade route which carries a considerable breeze.

Eventually we ran into a 25+m deep hole in the floor (QMA). It appears that the trunk passage continues over the top, but a traverse line will be required (QMA). Since it was quite late this seemed like a suitable point to turn round. The gap to Pussy Prance area of 204 has been closed to ~300m at a similar altitude.

Before going home, we threw a couple of survey legs down the southwest continuation of the trunk passage from our entry point. The passage starts heading downhill as though a pitch is imminent and running water is audible ahead (QMA). The survey places this close to VomPitch.

With that we headed out, having had a most satisfying day with 343m in the book, mostly in a large trunk passage heading towards 204. Passage is to be called 'Country for Old Men' given the relative gereatic states of its explorers . Emerged at 01.30 to steady rain. Thanks to Andrew A for bolting up the climb in the first place two years ago - we owe you a pint.

T/U: 11.5hrs
---
2011-08-05
Olaf Kahler , Cat Hulse, Amy Matthews, Adam Henry, Nial Peters
204 Pingu derigging trip and tour of the cave
Went up to top camp after the expo dinner and had a short trip to 204. First we went down Pingu pitch from the 204E entrance, where Olaf had some fun disentangling the rope from the nasty rock flake underneath the first rebelay. We then packed everything into tackle sacks and Nial gave us a tour of the upper levels of 204, returning to the entrance, we headed towards the Magic Roundabout, had a look at Gaffered, then went towards Suspended Solution and escaped through the D-entrance.
T/U: 4hrs
---
2011-08-05
Becka Lawson, Andy Chapman and Rob Adams
Tunnocks - Thirty Nine Steps (beyond flying high)
The post dinner hangovers were bad but - as ever Rob was keen to squeeze in a final trip before he left. Up to the lead Neil, Emma and I had left and continued through a dicey boulder choke (Rob going first as he has no fear and is bigger than Andy and I) to a chamber with leads off and then up a steep ramp which ended with either a loose climb (Rob) or a tight Phreatic tube (me and Andy) to another chamber with more good looking leads. We followed the draft up-slope with faint hopes of finding an entrance but we ended with a fairly conclusive boulder slope on 39legs - good trip.
T/U: 7hrs
---
2011-08-06
Becka Lawson and Julian Todd
161 - Old Men to conservation tape
Having arranged to take over Djuke's camp bed and space, someone who thought I was not coming up made sure it was packed and sent down with her. So there was an unfortunate scrabble to find somewhere that wasn't bare rocks. Frank's hole had a badly rigged tarp with a pool of water touching the floor. Olly and I reriged it to form a diagonal shelter off the incorrect side. I retired early in a mood. Noone had the energy to pop round to see how things were doing, even though I could hear them chatting for hours about all the trips they did have the energy to do in the next several days. Things went badly when it started to rain heavily through the night as the wall under the tarp drizzled as much water as if there hadn't been a tarp. I rerigged it all in the morning, this time with the dry side under the shelter, but the mood was not seriously deteriorated and was being sternly ignored.
The walk over was hot, dry and sunny. There were lots of going leads in the Old Man bit above Repton chamber to look forward too. Wookey led the way so he could point out where the path was going to be across the interesting mud in the wide passage. However, after I'd arrived at the junction last, they all moved on while I put my extra layer on. After waiting a while it was evident that noone cared enough to come back and show me where not to trample the pristine mud. They did, however, spend the next hour conservation taping a lane along all the passages whilst I took some crap photos. Then it was time to explore some 'new' stuff off the chocolate river that didn't actually get out of sight of the chocolate river, except for one climb that a novice like me had to be ordered not to do. Back at the junction I eyed up the south passage, which didn't immediately become a pitch as expected and would have been worth surveying. However, it was 6pm and time for novices to leave the cave and come back to the same stop to the millimetre the next day - well rested by a crap night in the bivi and 4hrs of caving and scrambling each way. We left a Chunk of flapjack on the tacklesack for Olly and departed via the Tyrolean of death which Wookey and Nial had rigged over strange acrossfall. The blue string snagged at a point where I was having to apply maximum arm-pull and I needed to be rescued, partly by swinging the down rope so I could prussick up the vertical distance the tyrolean was sagging. We got out in daylight and walked back in the dry.
T/U: 11hrs
---
2011-08-06
Olaf Kahler and Olly Madge
161 Old Men bolting trip
We joined Becka, Julian, Wookey and Nial for a long trip to the far end of KH. Wookey and Anthony had discovered a large phreatic passage at a pitch bolt climbed up by Andrew A two years ago, the 'Country for Old Men'. All six of us scrambled along for 3hrs in a long tour through Iceland, Roast Beef, Knosses, Block Towers, Yapate, Chicken Flied Nice, and finally to Repton, where the newly climbed passage started. After a short rifty bit, we turned left into a wider passage and after a short bit of passage came to 'the junction'. There were we split into groups of two, with Wookey and Nial rigging a tyrolean at Strange Acrossfall, Becka and Julian placing conservation tape and surveying a side passage, and Olly and Olaf went north to a pitch at the end of what Wookey had surveyed a few days before. Olly started drilling his way down but quickly ran out of rope. Olaf placed a handbolt for a top traverse of the pitch and later Olly placed two more bolts up there. We ran out of time though, and left two unfinished rigs behind. It was still a looooong way back to the entrance, which we did between the two of us, and we almost did not get lost at all. On the way back to the bivy we were racing the flashes and thunder, and eventually got home dry.
T/U: 11hrs
---
2011-08-06
Wookey and Nial Peters
KH, Country for Old Men - Tyrolean Rigging
Part of the Becka, Julian, Olaf, Olly M trip
First went to the end to show everyone the new stuff (CFOM), start surveys in the right places, where to tape, where leads are, see if the wide bit above Chocolate River provided a bypass (it didn't) and take a few photos. Then it seemed like the most useful thing to do was rig the tyrolean 'Strange Acrossfall', so we stole the bag of rope and a few hangers and slings and went back there. The ropes were hanging on the rebelay on Strange Downfall side so after a bit of discussion on how to rig it I went down and up and rigged two Y-hangs on for main rope, other for dynamic safety. Wook had worked that bottom left bolt of 4 was too shallow to take a modern ring hanger. Cleared out link, Nial determined that it really was that shallow - odd. An arse hanger fitted okay.
Meanwhile Nial had set up a 3:1 pully rig on the Repton side. We first pulled the rope in to see where the knot would go, then relaxed it, tied to the Y-hang and pulled it in to clip to the bolts.

Tried it out and nobody died! Rather hard work getting off the steep end. A pantin behind the pulley helps a lot. Clipping right up to the rope helps a lot too.
T/U: 8hrs
---
2011-08-06
Neil Pacey, Andy Chapman, Emma Wilson and Gareth Phillips
Surface Prospecting North of Tunnocks
GPS for Entrance: elev: 1938, 33 T0411995 5283601/(utm)
Entrance tagged as 2011 1
Much of the area between Tunnocks and the area we found the cave was quite shattered and broken down. Area around the cave looks promising with quite a few shafts around. Entrance we found is in steep gully (needs rope) leading to head of ~5m pitch, way on continues to top of 5s rattling drop - undescended.
T/U: 0.5hrs (Emma)
---
2011-08-06
Jess Stirrups, Alex Crow, Cat Hulse, Amy Matthews and Adam Henry
204 - Brians Phat Shaft
Rigging and bolting trip to Brians Phat Shaft
NOTE: All roads is a 36m pitch, not 26m as in online description!!!!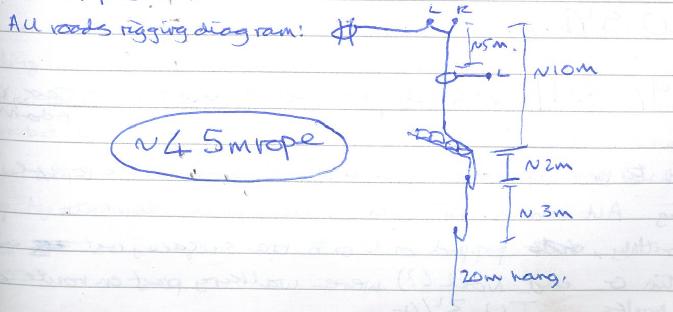 Easy route finding, pleasure dome v.impressive, though drippy and climb down from ridge across it needs a handline....
Started rigging Brians Phat Shaft - much loose rock and upper Y-hang bolt a bugger to put in - had to have Cat help! Added an extra traverse line bolt and went down with 10tonnes of rope and drill and rigging shit hanging off my harness
I don't like heights much so dangling over a 100m drop was a little nervy! Put in a deviation and rebelay but wanted to be on the other side of the shaft and didn't have a sky hook and couldn't get there without one. Sent some time swinging desperately in space, then gave up and had to prussik back to the top with the rope and drill and rigging shit...bit knackered.
The others meanwhile had a brew kit and were busy making some welcome soup before we headed out.
T/U: 9.5hrs
---
2011-08-07
Andy Chapman, Neil Pacey and Emma Wilson
Tunnocks, Bob on Passage
Down to Bob On via Pigeons in Flight. Neil and I set up to climb the up pitches whilst Emma derigged all the pitches in leaky chamber. Neil and I climbed the three pitches but found the way on upwards was too tight so decided to leave it for future generations.
Back down to Above and Beyond, rerigging the pitch and then rerigging Pigeons in Flight on 10mm. Back out for packets of curry and hot chocolate.
T/U: 12hrs
---
2011-08-07
Julian Todd, Alex Crow, Jess Stirrups
161 Old Men South route
While team elite waited for our German guests to arrive, team Wook went on ahead, and team novice followed on slowly and were caught up at the tyrolean, which turned out to be just as crap in the other direction when you get your descender caught up in the loop as the pulley tries to take you 45deg horizontally out into the sag of the rope. The stepping off part is at least a meter from the end, which saves the last fine minutes of arm hauling that you have to do on the way out (a disto measure showed its within 1deg of being level). Jess got strung up for a long while and opted for the down and up pitches, Alex went there too. The double rebelay on a boulder on the up pitch was quite slow too, so when we arrived at the junction it was nearly time for the novices to head out. After one of the Germans found the way on in the South route I set Jess and Alex finally to survey it, then went off to see what was going on elsewhere. Team Wook's lead was crapping out. They'd found some blind soily lower chamber that was a good place to take an afternoon dump that simply wasn't going to hold out for much longer. For a brief few minutes the South passage looked like the best going lead. Unfortunately I said so and this was held against me even though it had crapped out but the time I got back to it. The Germans had gone down the pitch and found the way. Team elite, who were allowed to stay at the pushing front after 6pm, dropped what they were doing and followed on until very late, even though they were going to come back the next day, while team novice trapsed all the way out and across the plateau in the dark, but who cares about them if they can't keep up.
T/U: 11hrs
---
2011-08-07
Olaf Kahler , Stefan, Thomas (two German guests from ARGE Grabenstatten)
161 Old Men Continued
The new stuff in 161 was quite exciting, so there were three trips going there that day. Wookey, Cat and Adam went ahead early, Julian, Jess and Alex went next, and Anthony, Becka and Olaf waited a bit longer for the two German guests Stefan and Thomas. Team C entered the cave last, but we just about met team B on the entrance pitch. We caught up with them at Knossos and Strange Acrossfall, where we eventually had a queue and reorganisation of the teams. The Tyrolean did not really work so going down and up again was the easiest solution. We finally got to the 'Country for Old Men' and team German (Olaf, Stefan and Thomas) went to the north and with the half rigged pitch. Wookey, Cat and Adam had completed the traverse line but not got much beyond. The downwards way that Olly and Olaf started bolting down the day before was still unfinished. Thomas took the drill and rope and went off. After reaching the first ledge, a 45deg slope, he added another rebelay and dropped to the bottom. Stefan and Olaf then surveyed the whole leg to a length of 29m. As the bottom was very exciting again Olaf went back to call Becka and Anthony. They started surveying a small rifty passage going downwards, whereas we continued the main phreatic tube, carefully avoiding some beautiful erosion patterns. The passage was heading more Eastwards and uphill for about 50m, then turned back northwards. There was another small pitch up there but we could easily pass by it via a narrow gully in the ground, doing a sharp northward turn a level below the main passage. Only a small 3m climb was in the way, so we placed another bolt for a handline. As it was getting late we fetched Becka and Anthony and all headed out together Along the way with all the pitches we split with Thomas and Olaf going first, Becka catching up and Anthony and Stefan meeting us at the entrance. Luckily it was dry on the way back to top camp, but it had been raining the best part of the day.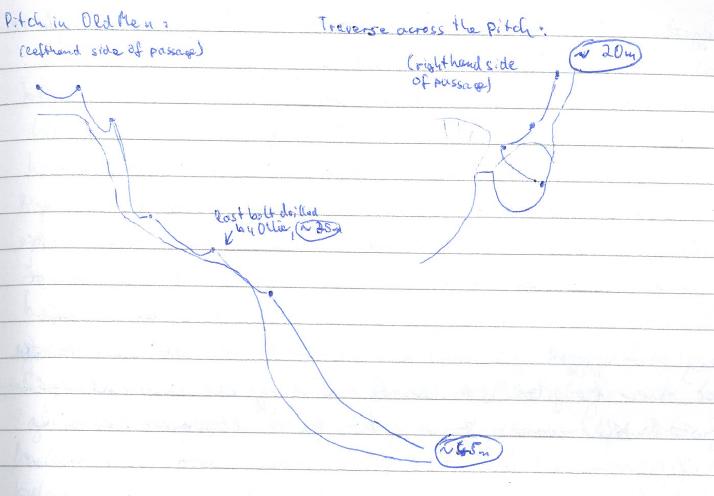 T/U: 12hrs
---
2011-08-07
Becka Lawson and Anthony Day
KH, 161 - Country for Old Men
Shepparded Olaf, Thomas and Stefan through the cave and ended up in Tyrolean log jams with Jess getting strung up trying to get on it. Thomas and I managed to use it but pretty strenuous. Found Wookey's team surveying where we'd intended going, having found nothing over the traverse at the far end and being too cold to descend the pitch there so we set Olaf, Stefan and Thomas off rigging the pitch with the drill whilst Anthony and I put in a natural and hand bolt for the traverse over the pitch at the far end of the Chocolate River. I'd just finished crossing it and using the huge obvious naturals when Olaf returned to say they'd found big stuff so we shuttled off and looked at their lead and left them to survey the big stuff north whilst Anthony and I threw a few legs to the south in thin, twisty rift till it was time to go. Poor Stefan wasn't feeling well on the exit but at least everyone else was out of the cave so the exit wasn't too slow and then a plod back up the hill where, surprisingly, the Tunnocks gang were still up having just returned.
T/U: 12hrs
---
2011-08-07
Wookey, Cat Hulse and Adam Henry
KH Country for Old Men/ Massive for Mendip
First team into KH with cast of thousands expected. My allotted ouigees turned out to be very competent and enthusiastic so we had a top trip. Went right to the end to complete the climb into the phreas continuation that Olly M had bolted most of the day before. Re-rigged rope so it was long enough and decided on the quick and light approach - i.e. no drill and paraphernalia - just a climb on a c-rigged stop, trailing a line to pull stuff up afterwards. Climb was muddy (thin layer over rock), steep enough to be worrying, short on good holds and over a big drop. I could see why Olly decided to leave it. Still with some pinch holds and mud-step cutting and a rather tense few minutes, I made it up without taking a massive flight. Only to find that it didn't go at all! It was a dead end, with another hold down to the pitch we'd just traversed around. Grrr. Pulled drill up and put bolt in so I could get back down/across. Took one leg up climb to position it. No-one else had turned up yet so we had a choice of go down pitch or look at horizontal lead back at previous junction. Cat and Adam wanted to learn to survey so we went for horizontal lead. Windy, but not huge. Surveying we taught/learned as we proceeded down soily passage which soon turned sharp right (west) with a slippery c3 climb up then a traverse over a hole. Here the draught disappears up into holes in roof then passage opens up into high chamber 3m wide, 8m high, 20m long.
It looks like there is a continuation at roof level that needs a rope and climb to access. We went home pleased with our days work, which may be average for Austria but would 'make us gods' on Mendip.
T/U: 10hrs
---
2011-08-08
Becka Lawson, Anthony Day and Thomas
KH - Country for Old Men
Only 3 of us in KH today so despite enthusiasm failure due to the incessant rain we had a slick and productive trip. Entrance pitch miserably wet but dried off on the commute. Down to the huge phreatic lead Olaf, Thomas and Stefan had left yesterday and had a handful of fine, long legs in big stuff then it all drizzled out in what initially looked like a mud choke but a steep - down phreatic tube blowing a gale in our faces soon lead us to a pitch head which has to be an A++ lead. Back in the main passage where we'd started surveying I spotted a small passage on the right wall which drafted strongly and led straight to another small pitch - another A lead. Having only hand-bolting gear (we'd taken the two drill batteries out yesterday) we left that too and back to the pitch to the big lead on the right. This went in fine style with lots of ?gypsum? crystals to a climb which we left when it looked like it needed protecting. A side lead on the right just before the climb started with many crystals on the floor then past a freshly dead bad (wings still in tact) and got smaller (crawling) then ended on an easy looking pitch (just too steep to free climb). Draft but not very strong. Thomas took some photos then decided to call it a day. Had a grim, grim time on the entrance pitch with water pouring down especially at the new rebelay - needs FIXING. I was nearly hypothermic by the time Anthony got up so did the walk on my own in the driving rain - thank god for PVC oversuits, cairns and reflectors.
T/U: 9hrs
---
2011-08-08
Wookey, Amy Matthews and Stefan
204 Brians Phat pitch rerig
I had promised to apply my expertise to this dauntingly deep shaft which Alex and Jess had got about 30m down before deciding it was going to be very wet and they weren't sure what to do next.
As J + A were knackered through assorted injuries and no-one else wanted to be responsible for following through on the route we decided the trip would fix the rigging but then derig. Amy kindly came along to show the way, Stefan wanted something much easier than KH. They got a rather bum deal with nothing much to do for 3hrs apart from shift a couple of tackle sacks up the second pitch.
Wook spent 3hrs on the pitch, putting in 3 bolts (one cratered and had to be redone) making about as dry a hang as possible. Got down as far as where snow leopard comes in before running out of time (and it wasn't clear rope would reach the floor either)
Managed to swing into passage about 4m above Snow Leopard. It goes about 6m S to probable dead end and 6m N to look down approx 12m pitch QMB (no draft). Checked passages above (at ledge/ spike level) - they don't go. There is a really good thread a few meters below the Snow Leopard passage which should get rig to floor. Turned round at 4pm and derigged, adding one more bolt on the spur side of the waterfall once J & A's last bolt was derigged. That should remove the major drippy bit, but is untested, so might rub. Got to pitch top at 5.20ish as promised but no sign of the others, and in fact it took 40mins to derig the pitch head and sort out all the gear. There were 14 crabs of stuff hanging on traverse line after I removed everything hanging from the line so no wonder its hard work moving. Left very fat sack with 94m rope in and struggled out with drill sack and sack of rope plus bolts. There's a lot of caving in 204!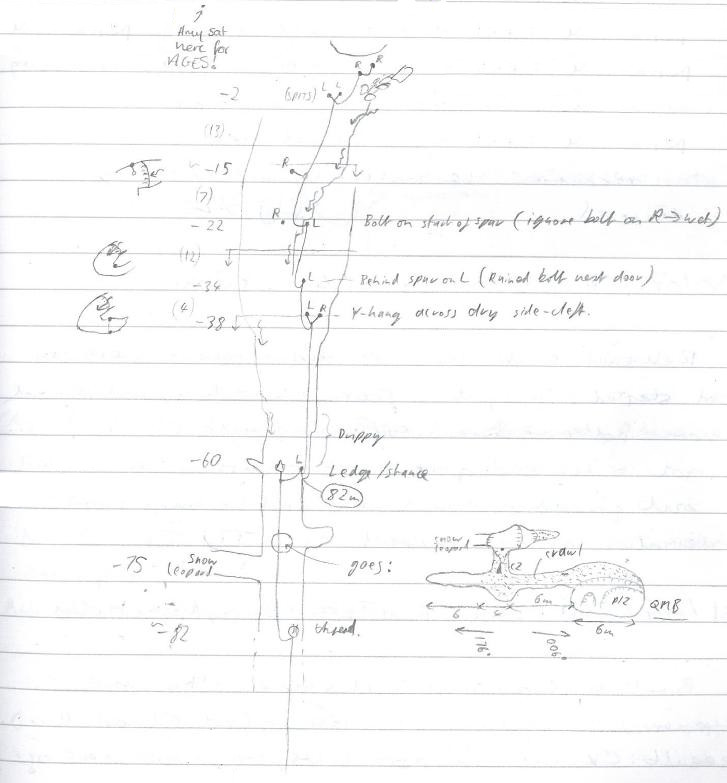 T/U: 8hrs (wook), 7hrs (Amy and Stefan)
---
2011-08-08
Emma Wilson, Neil Pacey, Cat Hulse and Adam Henry
Tunnocks, March of the Penguins
Went to QMA lead north out of 39 steps chamber. Low passage out of chamber led to low crawl past boulder choke. After passage opens out into nice Phreas with narrow floor canyon. Followed passage past interesting ceiling level Phreas - needs bolting up but passage appears significant (QMA). From here followed main passage down to junction, way back on oneself (sharp left) leads to pitch head (QMA). Back to junction we took left passage, leading through good Phreatic canyon. Followed main passage past QMB, QMC, QMA leads (explored on subsequent trip). Passage ended in frost shattered loose boulder choke.
T/U: 10hrs
---
2011-08-09
Jess Stirrups, Alex Crow, Adam Henry
204 De-rig back to entrance pitch
Trip to pick up last of Brians Phat Shaft kit and rope and derig All Roads. Bit cold waiting, but all went smoothly, popped out of entrance just as Martin G and Noel were walking past en route to Tunnocks.
T/U: 3hrs
---
2011-08-09
Emma Wilson and Neil Pacey
Tunnocks: March of the Penguins
Back to March of the Penguins exploring side passages found on 8/8/11. Started off from QMA at far end of passage - led up slope to p10 QMB with possible continuation QMB+. Most passages ended in loose boulder chokes with some signs of being near the surface. Complicated interconnected part of the cave - all horizontal leads explored.
T/U: 11hrs
---
2011-08-10
Becka Lawson, Olaf Kahler and Holly Bradley
KH - Country for Old Men
We returned to the Country for Old Men to take a look at some of the horizontal leads. After a slick journey all the way in (2.5hrs), we went down the first pitch in the main passage and then left into the rift that Becka and Anthony had started surveying. After a few legs with a gentle right turn we arrived in another rift passage following something like a fault line clearly visible in the ceiling. The way downwards continued across a small hole in the ground and some nice mud formations and then reached a short climb up. Beyond, the rift was continuing uphill and shortly reached a small chamber (2m wide, 4m long, 6m high) with some decorations. Two passages continued along the fault line, but re-join later at two places, the second of witch was a small chamber again. A 3m climb down got Becka to the floor of the chamber where she squeezed through a gap continuing the passage. Apparently there is another short climb down and it still goes beyond, but we had enough of the rift and called it a day.
To get warm again we took a tour to the continuation of the main Phreatic tube up to the next short pitch, and a detour into the upper continuation with the climb and crystal passage with the dead bats. Next we went to the far end of Chocolate River where Becka and Anthony had bolted across, but not surveyed anything yet. Close to the left hand wall it is relatively easy to climb across the pitch and we quickly reached Popcorn Passage with decorations all over. A confusing amount of passages cross the popcorn at various levels, but they all join in a single place, a small chamber with a steep slope to the right leading into a rifty pitch. Instead, we took a wider passage to the left, continuing uphill. After a few more legs, we arrived at a junction with a parallel passage, no popcorn there but plenty of round 'wash pots'. Our own passage quickly ended in a mud filled choke, and as Olaf was cold, we decided to get going out of the cave back to the bivy. Again we met the Tunnocks crew returning at about the same time.
T/U: 11hrs
---
2011-08-10
Emma Wilson, Neil Pacey, Gareth Phillips and Noel Snape
Tunnocks: Above and Beyond
We returned to Above and Beyond to have another look up Andy's climb and survey up. Is much easier now there is a rope on. At the top, a further Phreatic tube was spotted above, after a slightly hair-raising climb (1 bolt, no ets) a rope was rigged (p5 up) to gain a very draughty horizontal tube. Emma and Neil set about surveying whilst Gareth and I ran off to explore up 'Frontier Land' and 'Blackpool Sands' gained a side passage and the main passage ended at a pitch. Pitch dropped ('Ee Bah Gum') 20m into bottom of rift which appeared to continue in same direction as 'Blackpool Sands'. Another passage continued back under Blackpool Sands (walking passage). A quick look around then exit due to the surveyors having too much to catch up.

T/U: 11hrs
---
2011-08-11
Olaf Kahler and Adrian Horrel
KH - Where the Wind Blows
Not many around were keen on KH that day. Also, as Olaf wanted to go down later on to leave the next day, we organised a short trip into KH. Becka, Wookey and Anthony mentioned a passage close to the entrance, where noone ever managed to find all the drafty holes, but still a noticeable gale was blowing. Olaf led the way, we found the passage as described and the climb on the right hand side but there was no rope in place. It seemed free climbable but not very inviting, especially on the way down. So we decided to turn round still not knowing where the wind blows. After a short trip Olaf packed his stuff to go down the hill whilst Adrian stayed at the stone bridge.
T/U: 3hrs
---
2011-08-11
Wookey, Noel Snape, Holly Bradley and Becka Lawson
Tunnocks - Konnisberg - that's the way to do it. CONNECTION of 258 -> 204
Despite sore knees we talked ourselves into another deep trip in Tunnocks. Wookey and Noel Whipped in ahead with the drill to start the pitches that were found off Above and Beyond yesterday, whilst Holly and I started to survey down Eh Bah Gum pitch and then to a small draft rift opposite their pitches. This rapidly poped out to a window into what we assume is The Beast again - stones thrown out beyond the immediate ledge dropped free for 4-5s - a project for another year. The others were still bolting so we surveyed a QMB i'd spotted at the base of Eh Bah Gum. This was another small, drafty rift which, again popped out into The Beast but this time we could get out onto a wide ledge so we started surveying along the left wall with various tubes on the left. "Holly did you walk down that mud bank", "No, I thought that looked like footprints" I peered again - it could be due to rock fall, but it did look very like footprints..... and then I saw two more - we've definitely got to somewhere people have been before. I walked over with tape and straight to survey station 23 and we finished the survey then went for a run to see where we were. We traced the footprints back and into a small muddy tube. Holly and I muttered to each other that this looked very like The Wares - but we didn't want to count our chickens so on we ran until "Oooh" said Holly pointing at a nondescript mud bank we had to crawl over "I've been here - for sure - its The Wares - WE'VE CONNECTED" we shrieked at each other, had a hug then Holly showed me what she'd pushed on her 204 camping trip. We went back to the others where Wookey had put in 3 short pitches with minimalist rigging and they were surveying back so we yelped them our news then helped them to finish their survey and showed them the connection then steadily out with some gear. Great final trip of Expo for me.
Noel Writes: Noel and Wookey's passages continued up rift in same direction as "Blackpool Sands". First bolted a traverse over rift (Wookey placed a thru bolt!) but the leads all were choked with mud. Then headed down the rift (1 bolt). Opened out into large chambers. P15 down R-hand wall to a 'rib' over (c3 up) which dropped down p20 into shaft with jammed boulders (pitch continues below boulders) ?QMA. Over shaft rift continues up climb and after walking drafty rift, we reached a c8 up ?A which would gain continuing rift (needs a rope?) with a c6 down loose boulders below to the top of a 7s rattle ?A. Then Becka and Holly turned up to tell us we'd walked right past the connection, hence the name 'its behind you'. Then got a guided tour of the far end of Steinbrucken. Excellent trip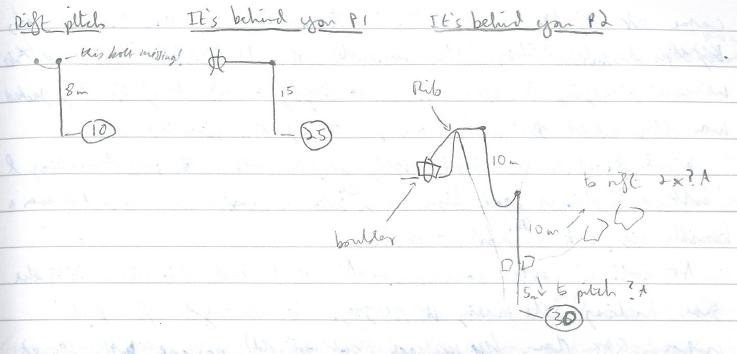 T/U: 12hrs
---
2011-08-12
Wookey, Cat Hulse and Adam Henry
KH - Pushing the end of Old Man (Mordor)
Wookey was keen to get back to the end of KH. Most people were leaving, also encouraged by ARGE invite to dinner at the berg restaurant (Loser Alm these days), and team UBSS were supposed to be meeting a mate from Munich, so it took a bit of pleading to get a team together but we ended up with a reunion of the top Wook+UBSS team that previously explored 'Massive for Mendip'.
Unfortunately, having forgotten to bring Olly M's batteries up the hill, we had to take the Makita instead. Cat helpfully carried it all the way in and out. Wizzed efficiently to the end in about 3hrs with no faffing (although Adam did slip off the traverse over Gob on You and tested the rope - it worked perfectly leaving him sat on a rock with no harm done).
Went to the windy pitch at the end which was indeed freezing. Cat and Adam both put in their first bolt. Then Wook took over in interest of efficiency whilst they did a bit of surveying in main passage.
Pitch very confusing, with wind coming out of passages round corners and holes at various levels. Eventually realised that it all came out of the hole at bottom and down was the only way, despite looking like a miserable slot. By the time we found this we were freezing and team UBSS were trying to work out if they jacked now how they could get back down for the party after the dinner. Wook decided some rapid rigging was in order to prevent a mutiny and 1 bolt+ 5 slings got him 25m into largish chamber, not even a terrible rig but rope (55m) a bit too short.
At bottom large passage headed off in both directions with the same howling gales making it freezing. We surveyed off past various QMs down fine (but very cold) passage; were stopped by hole in the floor. As it was past 7pm we decided to head out but couldn't quite walk past huge A lead near chamber so had a survey down there (much less windy so warmer). Soon hit big T-junction with A leads off to right and huge phreas (bigger than one already surveyed) off to left. Followed it as far as pitch (10m) before finally (21.15) heading out, very pleased with our day's work (about 300m in the book). Took about 4hrs to get out and 45mins to walk back with gear. Exit was to beautiful view over valley filled with mist illuminated by the full moon. Eventually got to bed after 3am.
Desc:
Small very windy (blowing up) pitch rigged from roof. After 1st 10m drop can be climbed another 10m down to 2nd hang from thread then roof bolt where pitch opens out, deviation ~7m down on spike avoids rub at rebelay (huge thread) to drop nicely to near floor (about 3m up - 55m is a bit too short, bring 60m for a proper rig). Chamber is about 15m high. To W is N/S rift leading to large pitch at S end.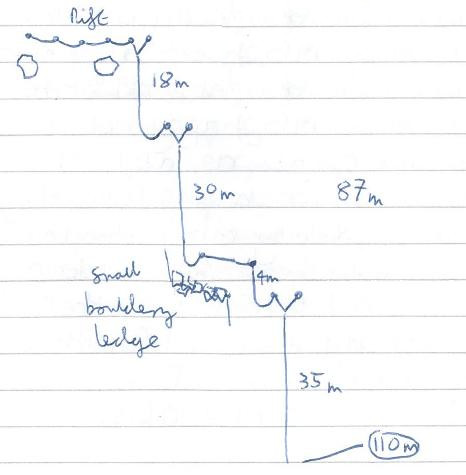 Large passage leads eastwards, 4m up, reached by easy traverse. Strong draught blows westwards (into chamber). Much less windy passage leaves on R after 18m. Main passage continues uphill then turns NE, climbing up to L in complex area reaches 30m pitch, which appears to be the source of the draught (QMA). Immediately beyond this goes off L on 252deg (QMB). The Phreas continues zigzaggy for another 30m . At the corner is a high (12m) solution area in the roof (QMC). Ahead the passage gets very high and the way on is blocked by a hole in the floor (QMA). This massage is 'March of the Ents'.
Large passage to R in more phreas which arrives in a chamber. A hole in the floor is approx p10 with a pool at bottom (QMA). There is possible passage to N. way on is downhill, arriving at a large T-junction with horizontal passage. This is very windy again (E to W) 17m to R (w) it opens out at a small streamway. This is 'Rivendell'. Passage continues ahead up small climb (QMA). Another goes downhill to L. The stream sinks in too-tight passage. Turning L (S) at T-junction enters huge phreatic passage 5m across trending gently downhill, 'The Shires'. This reaches a pitch edge after 50m looking out into large chamber/ area (QMA). Drop is about 10m then another 10m in further hole. A small passage continues ahead for ~7m to look out over another drop, probably the same space (QMB). Halfway along the Shires a small rift passage goes off (QMC).
T/U: 13.5hrs
---
2011-08-13

Andrew Atkinson and Julian Todd

161 - Beyond Wookey's pitch, Mordor

Having cursed Julian with a painful bout of caving keenness before clearing off on another caving expedition to Voodoo Canyon with her fancy friends, Becka got Andrew to swear over 7 bottles of Gosser to take him on a not-completely-waste-of-time caving trip for once. She was going to stay up with the all night session to make sure he drank it all until assertively reminded of the notion that after 3 weeks of neglect and one change-over day basking unadulterated caving glory plus dinner with the Germans, things were getting mighty sulky. Luckily, Neil was around to keep him occupied throughout the night with interesting conversation and brass music until he passed out under the awning with the foot of his sleeping bag in the rain. Inside the hut Andrew was among the debris on the floor. He accepted a mug of strong coffee from me. We drove up, walked across the plateau in the rain finding Wookey and his side kicks coming down from gerry-rigging pitch at the far end of Old Men to lots of horizontal passage which they'd pushed and explored in every direction until 3 in the morning because that's what they were there for. He'd passed a sketch to Olly of all the grade A leads (most of which were pitches or traverses), as he was going on ahead.

We reached top camp still in drizzle, wondering when Andrew's hangover was going to kick in, and heroically continued onto 161G, catching up with Olly and Emma. Its a long way in. Andrew declared the Tyrolean crap, which it is. Wookey's rigging on Mordor rifty pitch was even worse and had to be redone (its bitterly cold there), and then we pressed on to the far North end, where there was a breakdown pitch/ traverse chamber. Emma went down it and climbed up the other side to find a junction, Olly allocated the left hand passage for himself because he had the drill and there was some work to do at the far end. He was snuffing from a cold he had caught earlier and was suffering. Andrew and I surveyed across the chamber (making me do notes for the first time in 20years, because he only does it with his PDA/ DistoX/ top plant, which is best - unless you don't have it with you - and can no longer use dumb paper).

The right hand passage lasted only 2legs to a pitch and a mud bank, barely out of sight of previous passage. Certainly if Wookey and co had then been standing at the start of the chamber they could have seen our lights. It was 6pm and Andrew had lasted much longer than expected. We had to go out 'Olly Julian will be said', Emma said as they shot leg after leg down there fresh passage. Don't worry about it, that was the plan. Andrew still moved up the pitches at a faster pace, and wanted to walk back across the plateau by the light of the full moon, but I decided that the shadows were too deep and put a stop to that notion. Olly and Emma got back so much later after us that I lost a lot of sleep fretting over whether I had accidentally pulled one of the up-ropes after me and snagged it out of reach

T/U: 11hrs
---
2011-08-13
Emma Wilson and Olly Madge
161- Beyond Mordor
Down Mordor to QMA traverse lead at north that had been left by Wook, Cat and Adam from the previous day. Used 11m rope and good natural to get to bottom of breakdown pitch/ traverse/ chamber then clambered up the other side. Passages lead off both right and left. Olly and I took the left branch whilst Andrew and Julian went right (which didn't go far). Reasonable horizontal passage led to a traverse (needed rigging) into a chamber with lots of holes in the floor. Across the chamber led to a drippy pitch with possible horizontal continuation across pitch. This point is v.close to Fat Cat in 204, traverse across pitch looks fairly technical and hard - approx 10m or so across a wall with not so many features. Left as all leads needed rigging work and we were now ropeless and it was rather late (getting near 10pm). Headed out to good clear night. First time for me down KH - impressive.

T/U: 14.5hrs
---
2011-08-14
Andrew Atkinson and Julian Todd
161 - Mordor side passage - Stables
I was up at 6 waiting for the sun to rise and dry my homemade fuzzy rubber furry suits, looking for a new day ahead. Ready to get your riding gear on and go down to the yard and stables where all the places are wide open. So all the horses have bolted. There is no use closing the doors now. But you do anyway.
All the way down in Mordor again, beyond Wookey's horrid pitch, Andrew's third eye was twitching at the right hand passage heading South East, and down-wind and away from any chance of consolatory caving glory. With a success-rate like mine you have to learn to deliberately disregard your intuitions and try not in any way distract the cave-finding powers of The Man. We took one of those grade A-leads past a stagnant pool that smelled of piss, and surveyed round 9-legs past a pitch, until we came out of the only other horizontal lead there, killing both in one go. Not exactly something to write in the logbook about. Andrew eyed up that pitch onto a bouldery slope to see if there was a way round. It was cold I suggested we go look at the place Olly had got to on the far North end. For someone who had the lurgy, he'd poked around the broken up chamber at the far end pretty thoroughly, leaving nothing of interest overlooked. I climbed some mud rammed tubes to the right of the pitch and sent many clumps of the stuff down a ramp and off the side. Nothing going. All that was left was to go back to the traverse to boulders in the rubbish looking chamber to the South East. A 3m pitch of 2 naturals got us there and into a passage, which delivered exactly what the doctor ordered. It kept going, in 15m legs through all kinds of varied terrain totally beyond my note taking abilities to capture. There was sand, cheezy rock climbs, pitch by-passes and a rift that completely changed character 2-times for every leg. near the end we seemed to be above a river on a false floor made of broken phreatic columns. Andrew found a little cluster of dead winged insects on a tall stump and declared that this meant there was a close connection to the surface. On reviewing the terrain model that's over 360m away vertically. So this is a mysterious phenomenon. We wrapped up our work at 8 and headed out. I experienced that odd smell of burning rubber again on Knossos pitch, which must have been from me. I got up the entrance pitch second and spent a long time in the cave getting changed whilst Andrew sat in the moonlight until it was suddenly obscured by a storm cloud. We traversed the ground to top camp in a brisk 35mins, buffetted by the freak winds interspersed by thick banks of fog. Ten minutes later the night was torn open for a downpour that lasted until we fell asleep, dreaming that if only Team Zeus had got down there and started clocking about instead of fanying around on Brians Phat Shaft the way forward would have been easy.
T/U: 13hrs
---
2011-08-15
Holly Bradley, Emma Wilson and Noel Snape
Tunnocks - Thats the way to do it
A last long-ish trip before the end of expo, resulted in a trip down to the 258-204 connection in order to give Emma a tour and start the derig. Had a fairly early start (11am!) and managed to miss the rain (Tunnocks was very drippy). String theory was a lot friendlier the second time round and then Noel showed Emma and Holly the top of Procrastination - which is where we left him. The two of us carried on down the the connection, which isn't quite as exciting the second time round! in fact it was a little sad, as after looking at the 204 survey for the Wares, I realised that the 'connection chamber' was in fact a chamber I had already been in on a previous 204 trip with Edvin and Kathryn (25-7-11) where we were following an A-lead. If only we'd gone for the B-lead!
After this brief tour, we made our way back to Procrastination with Emma derigging Ee Bah Gun and Pigeons in Flight. Thankfully we met Noel at the top of the pitch - we were both happy not to descent being told that the pitch was at least 80m! Noel derigged procrastination, which was followed by derigging String Theory. Emma and Holly carrying two bags each and Noel stuck with 'the Beast' (120m) and derigging of string theory. It was decided to then leave the rest of the derig for the following day and we all left with a bag each, leaving two at the top of S.T.
T/U: 10hrs
---
2011-08-15
Noel Snape, and Holly Bradley and Emma Wilson
Tunnocks - Procrastination Pot
After Holly and Emma left me at the top of 'Procrastination Pot' (still not descended to the bottom even though it was started in 2010). Initial traverse was followed by first decent of 18m to final bolt. I added a bolt to make a Y-hang, rigged short traverse and rebelay at a bouldery ledge about halfway down with a nice free-hang Y-hang placed just below. Pitch used 110m of rope approx. Large stream entered halfway down due to very wet weather, but hang avoided most water (except for a few 'drips' at the bottom). At the bottom and airy step over another pitch (QMA p15m) taking stream led to a bouldery chamber. Rift passage appears to continue at northern end (QMA p10) and a small chamber could be gained at East end via a 5m pitch (QMB p5m). Surveyed and de-rigged out to meet the girls near the top where we derigged to the top of String Theory. Excellent pitch.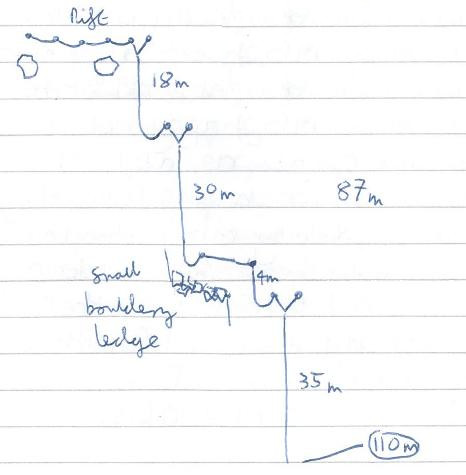 T/U:
---
2011-08-16
Martin Green and Emma Wilson, Noel Snape, Holly Bradley and Andy Chapman
Tunnocks derig finish
Martin and Emma picked the bags up from the top of String Theory, missioned it back to the entrance to meet the 2nd team who went to derig Caramel Catharsis followed by the entrance, stopping for naughty words and frayed tempers from Andy at the Y-hang. Out for tea and curry
Note - all traverse lines above String Theory (except one for Caramel Catharsis) left in as permanent rigs
T/U: 4hrs
---
2011-08-16
Andrew Atkinson, Cat Hulse and Julian Todd
161, Holey Cow
We intended to bounce down to Base camp to change Andrew's phone to sort out his courtesy car, which is a pretty lame excuse to slip a day when things are going well but my body really wasn't going to take a 3rd day anyway. Down at base camp washing up was piled sky high. Olly said it wasn't his problem, and anyway he had spent all day yesterday in bed with a bad tummy. He then did it while I made chips. At 4.30 when we were intending to go up, the rain was hammering down, and I had a headache and felt that I had caught Olly's cold. We changed plan to go up in the morning. I slept the rest of the afternoon then spent the evening printing out maps of the 30m now between 161 and 204, along with route description to Phat Shaft and Fat Cat, in an attempt to entice people go rig down there with the rope they were pulling from Tunnocks. All focus on the connection could have got it done. Had Neil the connection wizard been there, it would have happened. And when both sides were either side of the big hole that would require 14 bolts to traverse around I had a reel of strong thread that we could throw across to the other team to set up the Tyrolean of life so that the 161 people could come out a much shorter way. But it was not to be, the derigging momentum was in full flow and they only thing that could have interrupted it was a bad accident at the far end.
Cat, Andrew and Me left base camp at 6.30am in good weather, and had breakfast at the stone bridge, and carried on to 161g, and through the whole cave to our extensions. Where should we start? Let go to the far end of where we left off and kill that lead, then work backwards to any other leads until all the horizontal stuff is over. We left our SRT kit at the start as we had no further rope. I look some photos of the fly rock. The breakdown chamber where we finished last time was obviously going to end with some perched pitches from dangerous wedged rocks, but having climbed up and under the biggest boulder it was found the passage continued. The whole trip was like this. You'd do 50-100m of fast easy passage with 15-20m legs in freezing cold wind and then hit an obstacle, which turned out you could get through if you had the nerve. The first was a 5m climb up to a slot in the right wall. Then there was a 4m climb down to a splashy floor after a tricky shuffle along a muddy ledge that would no longer be possible without a rope once it had been smeared into slippery stone enough. This was followed by a climb over and through some rocky arches with side holes everywhere in which your body would disappear out of sight if you slipped down them. Then the cave began to really open out. We went passed about a dozen QM leads that you can walk into, not the rubbish kind that Wookey left in Mordor that were all pitches. Cat went down a small side lead at one point and had to be surveyed back out to the main passage. Only one other time did we back out of a lead, going downward from a junction (it was downward all the way in ) when we reached a small awkward pitch. We started to go upwind through wide unfamiliar passage that looked more familiar once we'd shaved off the cheese cake top layer into that white stuff with our boots. We broke into a large chamber at station 50 and carried on through. It was getting late. At the next obstacle, a pitch in a 2m wide going passage, we declared it was a day. Andrew went back up to it to paint the survey number on (56) and noticed that there was an easy way around. But we had to save our energy to get out. One way to save energy is to leave some ropes in for access to the connection from 204 so wookey's cracks of doom Mordor pitch was left as well as the German pitch.
While Andrew reduced the capital values of these installations by replacing slings and krabs with cut rope and mailons Cat got the brew kit left by Emma and Olly. It was so good. I was so tired. I went on ahead to Knossos and up to the drinking spot where I was so thirsty the water didn't even feel very cold. I polished off the final pieces of the cricket ball sized bag of 2011 apricot flapjack i'd grabbed before leaving camp. (Oh, the pools of water at the far end appeared to have black mould growing in them. No idea what it is). Everyone was asleep and not interested in what we'd found, which I think is better than the connection, which is inevitable and doesn't take to anything new. Survey plan not too bad, but I wish i'd drawn cross sections. We'd made a loop that almost came back to Chicken Flied Nice by 30m. Some of the survey drawings that would be in the 1989 book, if that can be found
T/U: 14hrs
---
2011-08-17
Cat Hulse, Andrew Atkinson and Julian Todd
161 derig
Considered my excuse because I couldn't face climbing through Tower Blocks again. They let me wait at the top of Knossus pitch to take out a tackle sack. I derigged the entrance pitch. We carried down a huge load at the hottest part of the day. Fighter jets tore the sky overhead. Caught sight of one. It was a delta-wing, so was probably one of those 'stealth' bombers on its way to liberate the oil in Libya.
T/U: 3hrs
---
2011-08-16

Emma, Martin, Holly, Noel, Andy C

258 derig

['Andy' resumed to be 'Andy C' for no good reason..]

Quick trip down to the top of String Theory for me and Martin to pick up the bags of rope we'd left there after de-rigging string theory and below. Left all traverse lines in cave as they were all on old rope - only Caramel Catharsis & traverse to [unreadable] pitch was derigged. Andy, Holly & Noel derigged caramel catharsis & the entrance pitch after us - thankfully as some of the entrance derig must have been interesting. Last trip of expo for us [sad emoji].

T/U: ?
---
2011-08-09
Cat Hulse, Wookey, Adam Henry, Therese Stolle
Klettersteig - Bad Goisern
Went to Bad Goisern for a couple of klettersteigs, one B one C. Car struggled up hill till too steep then back down till we found somewhere to park. Slogged up hill taking a bit of a shortcut but eventually finding path out into cliff.
Short walk gets us to start of 'easy' VF. It leads straight out up a cliff! Very exposed start on pegs. Poor Therese got rather more than the easy start promised. But it was very short and eased a bit at the top. Once she'd got over the shock she thought it was great.
We decided to walk over to the 2nd one as that was a very short day's entertainment. Beware 1:50000 maps in mountains as it turned out to be a long hot walk and we got a bit lost, but eventually found the way down alongside, then back up an interesting VF. With funcky traverse wires part way up, which Cat manfully attempted despite them being a really long way apart!
Got to the top, climbed cross, and walked back to car for an excellent, if hot day out. Oh yes and we enjoyed lunch in a very fine little hut on top of the cliff edge.
[Date not recorded, but worked out from klettersteig photos in photo archive].
T/U: 0
---
2011-08-10
Wookey, Adrian, OllyM, Adam, Cat, Alex, Jess, Amy
Bolt testing
Needs writing up... See Woookey photos in 2011
T/U: 0
---