Expo 2010
---
2010-08-02
Chris Densham, Martin Jahnke, Andy Chapman
Tunnocks - Rigging
Rigged entrance pitch - quite slow going but its awkward. Very little snow so snow slope had a slot on the RHS as descend and Chris added a deviation on LH wall to keep rope over, though a bit low.
T/U: 4hrs
---
2010-08-02
Neil Pacey, Becka Lawson, Chris Smith
Tunnocks - Rigging traverse
After a long wait (having foolishly turned up at the same time as A-team) we got going and rigged the traverse, nuisance pit and then started on Caramel Catharsis but ran out of hangers frustratingly near to the top. Out to rain, mist and dark – good test of the reflectors on the way home.
T/U: 5hrs
---
2010-08-06
Andy Chapman, Neil Pacey
Tunnocks - Stringfellows
Andy climbed up loose boulder slope at south end of 'stringfellows' big chamber. I followed with drill and some rigging gear. Andy bolted while I started surveying around the balcony. Surveyed maze of phreatic passages, complex area. Two good leads, one required a bolt traverse over a pot. Can see across the pot into large black space. From near side of pot managed to get a 30m data leg into unknown passage, could swear Becka and Chris had a conversation with us shouting to them (denied by Becka and Chris). Second lead is another undescended large pitch down at the end of a rift. Other passages around the balcony still need surveying, all look like phreatic tubes and small rifts, 'C' type leads. Tied survey into station '8' and stringfellows main chamber.
T/U: 8hrs
---
2010-08-06
Chris Densham, Becka Lawson
Tunnocks - Usual Suspects
Ran around mopping up A (+B, +C) horizontal leads in usual suspects after adding a hand bolt spit into pitch from string theory into usual suspects. Connected up these A-leads, leaving a good-looking rift to drop plus a ramp that needs a handline and a big but dripping and not overly exciting pitch. Then up the passage ad surveyed to finish minor leads on left. Then look to QMA near climb in down a small, drafting and catchy passage ("oh my poor oversuit...") which, surprisingly ended in an aven and pitch. Bit under 2 hours out to clag and rain. Ugh.
T/U: 10.5hrs
---
2010-08-04
Chris Densham, Andy Chapman
Tunnocks - String Theory
Becka, Neil, Chris and myself headed to the top of the big pitch, Neil, Chris and I looked over the pitch and then Becka and Neil went off for a potter around starfish. I climbed down to the ledge but after describing its loose qualities, it was decided to rig to the right of the climb. Chris rigged the pitch whilst I huddled up at the pitch head in my gimp mac. Eventually, Chris finished and I descended to find Chris on a ledge waiting for me. It was decided to leave the last part of the pitch after I down climbed and thought it was a "bit loose". Chris noticed a small hole in the far side of the chamber (stringfellows), we both poked our heads through to find a continuing rift. Back out via a minor detour (or two) to top camp for a well deserved curry.
T/U: 8hrs
---
2010-08-05
Neil Pacey, Julian Todd, Becka Lawson
Tunnocks - Stringfellows chamber and connecting to Usual Suspects
Neil re-rigged Sting Theory, re-doing the pitch head bolts and extra bolt and then added another spit whilst Julian and I surveyed down then we surveyed Stringfellows chamber where Neil found a good drafting pit. He put the initial bolts into it but we only had a short rope so then he went up the 3m to swing into the obvious rift at the bottom of String Theory to get to The Straight Choice and then he rigged the 25m pitch down to the Usual Suspects (at first I was worried we'd found yet another huge pitch but no...). Finished the survey to tie into an old station. Wondered around the chamber to check out our old bivy from when we got trapped last year then out to bed, a fine trip.
T/U: 10hrs
---
2010-08-04
Neil Pacey, Julian Todd and Becka Lawson
Tunnocks - Checking horizontal leads
Showed Chris and Andy the head of String Theory and carried their gear (Chris put spits in for the first traverse; second one is okay on naturals). Then had a look at the ?C on Max Pleasure on RHS - too tight and the ?B (accessed via Just For a Laugh) close to ?C on L near Starfish Junction got a vocal and light connection through a boulder choke. There is some black space above - probably just to same place too so downgrade this to QMC at most. Then to Julian's 12s rattle just N of Crossword Passage. Neil put in a handbolt and went down a short distance where not really enough room to pit in another handbolt so downgrade this to QMC. Meanwhile Julian and I surveyed the tube up (a QMB?) which went to a small pitch (via tight, drafty passage) which is close to Crossword Passage. Maybe QMC? Finally had a look at the ?B just NW up from Starfish near some choke - probably still hasn't been pushed and then looked at p20 in Just For a Laugh before rift. Again, probably still undescended.
T/U: 8hrs
---
2010-08-06
Mark Shinwell, Julian Todd
Tunnocks - First photo trip
A normal rotten, damp morning at the stone bridge. A group of four arranged to go down the deep stringfellows pitch, leaving Mark and me. Becka suggested I partake on a photographic trip. Knowing Mark's propensity to jack on the entrance pitch (in '08), I was quite horrified to find myself underground at 11am on the 3rd day on the run. After an emergency dump somewhere not discrete enough, I began to feel much better (previous dump was in usual suspects chamber at 5pm same place as two were taken in '09 during the flooding incident). Either I have gotten inconveniently out of phase with the morning ritual, or there is something disagreeable among all the powdered food like substances at top camp. Maybe it's the custard. First photographic stop was down the stringfellows big pitch. Mark abbed down and put 4 flashes on the ledge, then made me lean back on my rack from the slope at the top on the red rope everyone has been complaining about. About 20 photos were taken with me looking the wrong way (not down), with my eyes closed, with a 'concerned' expression on my face. I better get a copy of something to put on the web as I am not normally found in that situation. It helped also to be convenient to send me down to collect the flashes without kicking them over the side. We could hear drilling and hammering going on down at the bottom of the pitch. Second photo shoot was on the mounting choss behind the pitch. Third was on the other side of the choss around looking away from the usual suspects pitch. Stal chamber in Goody-goody was ignored. We did a quick diversion to Starfish chamber and the snowy aven. More photos at Caramel catharsis sandy crawl and the ice column at the bottom of the entrance. It was mow 6pm. Neil caught up with us on the climb out. Foggy walk back to the stone bridge and faff allowance put us too late to head down the hill. Another hard custard night with rain that carried on well into daylight when almost everyone jacked and followed down to a warm base camp.
T/U: 8hrs
---
2010-08-07
Martin Jahnke, Chris Smith, Chris Densham
Tunnocks, Stone Monkey
Surprised to be ascending ramps of loose boulders almost to the surface to get to the ongoing lead. Dropped miserable pitch to active stream ending in boulders. At least the Stone Monkey had decency to die properly. Surveyed out but Chris S had difficulty with DistoX so last legs dodgy. Optical equipment problems were compounded by a lens from my glasses springing down between boulders leading to a one eyed ascent through numerous rising inlets during exit - large amounts of water so close to surface.
T/U: ?
---
2010-08-08
Becka Lawson, Chris Smith, Chris Densham
Tunnocks HL
An efficient start for a deep rigging trip was marred by neglecting to bring any drill bits. Fortunately this was discovered whilst rigging a traverse line in Goody goody. Usefully, Becka discovered a high level continuation in Northward direction while taking a pee at Naughty naughty junction. So we made the best of the situation and gave Chris S some note-taking experience by tandem surveying with Becka also on notes. Surprisingly crystalline formations - aragonite? - growing from popcorn. Stopped at dig which gave Chris S an opportunity to warm up with some thrashing about.
T/U: ?
---
2010-08-09
Becka Lawson, Chris Densham
Tunnocks - Usual suspects to Trident chamber, Phreas Interruptus
Continuing on from trip of 06/08. On way in Becka noticed final rebelay bolt on String Theory had cracks erradiating from it so I gingerly prusiked back up to replace bolt. A few smart blows with a hammer were sufficient to remove previous bolt and rock surrounding it. Becka rigged pitch (P15m) into rift near Northerly limit of lower level Tunnocks/ Usual Suspects. At base of pitch a small rift headed East but 2m ramp up West entered walking sized phreas which was interrupted after c.20m by a pitch formed by a recent capture of three separate inlets (trident chamber). While I rigged down Becka solo-surveyed. From bottom of pitch one inlet appeared to drip past past phreas continuation at N. end of chamber, at same level as entry phreas. While Becka sketched Trident chamber I prepared rig for abseil/ traverse across (2Nat). 14m rope and 2 bolts just sufficient to reach pheratic tube (20m needed). Walking sized passage left as open lead. Connected up survey on exit.
T/U: 10hrs
---
2010-08-10
Andrew Atkinson, Chris Densham, Becka Lawson
Tunnocks Usual suspects to Trident to Phreas Interruptus
Also , Aiko (German group) was on the trip.
Becka's team motivating skills were unfairly rewarded by Andrew and Chris setting off for the north trending phreas while she waited 2hrs for a pair from the German group to make it up the hill. But by the time Andrew had pit in a deviation bolt on p15 and I had replaced 14m rope with 20m rope and Andrew had put in 2 more bolts in traverse, Becka and Aiko had caught us up. Becka and Aiko then had to scratch around in Easterly rift at base of p15m while Andrew and myself surveyed using DistoX and pda, occasionally connecting by bluetooth, along phreas inturruptus. Draft picked up after passing hole in floor which Becka and Aiko later decided connected back to Trident chamber. After 200m of Northerly progress, passage abruptly interrupted by false boulder floor above 20m pitch. Went to collect Becka and Aiko from their tit-bit collection. Andrew rigged traverse line across false floor, with bolt (and natural) placed in roof from top of 'elephants back' spur from far wall. Well used 14m rope sufficient to reach phreas continuation on far side. Becka close to frustration so just as it started to look grovelly I headed out with Aiko while Andrew and Becka continued on.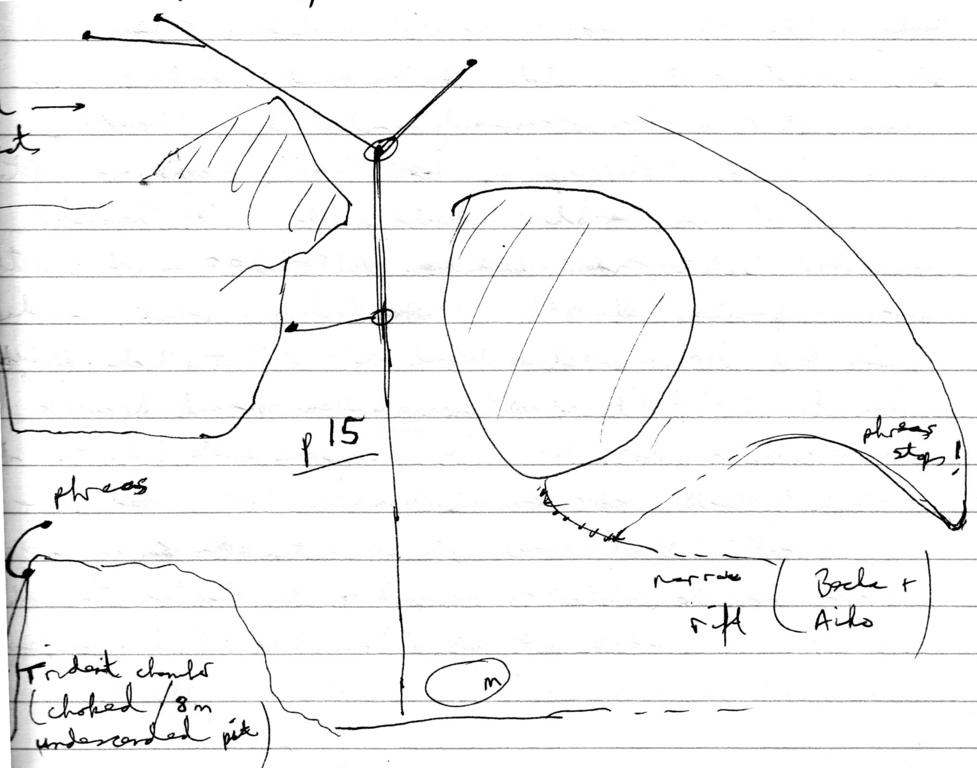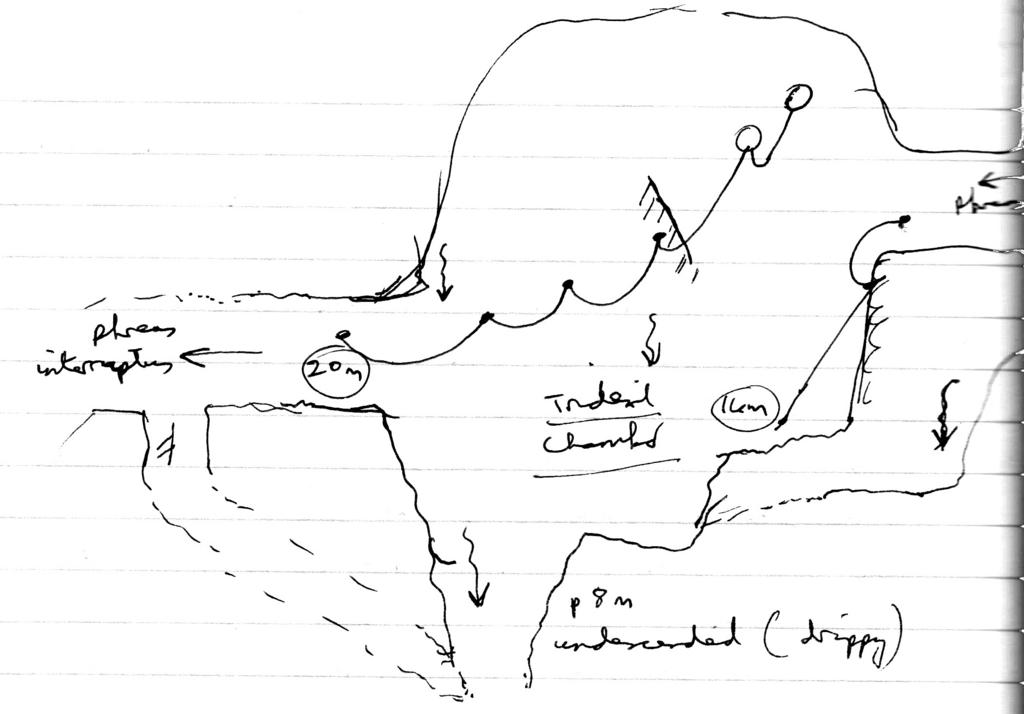 T/U: 10hrs
2010-08-14
Julian Todd, Becka Lawson
Tunnocks - Flying high
Insanely foul mood in the morning, possibly as a result of Information Tribunal call going tits up. Becka had run out of competent people to go caving with, so I was hauled over to the entrance whether I liked it or not. A moment of being nice and promising me I was not going near the Stringfellows pitch persuaded me underground. Just qm basing in the main level.
1. Continuation of earlier poke from past starfish broke into flying high at a 'C' lead that I would have put down as 'A'.
2. Further up Flying high was a lower cross rift with two 'B' leads. However, got side tracked down under on dodgy boulder wedge to a flat crawl that opened onto a wet pitch. I couldn't see to out, but, after much complaining Becka looked for me. Definite 'C' lead.
There were 3 leads at the lower rift. Turn right lead to a climb (not done). Ahead was drafty, but poss in line with upper passage (for which we didn't have up to date survey). We went left into a chamber over a 5m pit. The continuation looked trampled. It was our '08 explorations from Hedonism end (past the pool), blocked by 'dodgy' traverse, which was much easier from this end. We did the round trip.
3. Went to end of passage past snowy area (ticking of a qm with grade I survey - if it went anywhere it would have fallen into Gravity). Nice passageways, ending in a mud sink and a drip. Qm continuation required climb onto mud bank for another 15 meters mud floor and crystal clumps on the floor.
T/U: 8hrs
---
2010-08-15
Julian Todd
Walk to Greiskogel eyehole
Everyone safely underground. Gave up waiting for Frank so headed past Tunnocks into hooley-hooley land. Quite intimidating when a final climb got me within easy distance of the grassy slopes of the Gries. Continued on 60deg grass and up to the and the eyehole, which was a wind tunnel. Ate flapjack, then decided to follow ridge to the top. There's a gap between there and the top, and a locked wooden hut in the gap. Found and signed in the book (1st entry 1990) that shows peak time to be Jan -March. First English person to bother. Way back was risky of a guard-down going home injury and bad karma from killing a mouse in the morning by tossing a rock onto it. Oh, hadn't bothered with backpack - took water and stuff in pockets of cag tied by its arms around my waist, guaranteed to tear stuff every time I leapt forward with it caught on a rock. Settled down for a very twitchy night reliving parts of the walk. Headed down in fog in morning.
2010-08-12
Becka Lawson, Chris Smith
Tunnocks to So Vein + QMB
Stinking post-dinner hangover, but Chris was keen so we slogged up the hill and I tottered underground for a mellow trip to finish off So Vein. Left at junction quickly to a pitch, through the dig that Chris pushed last trip soon looked familiar and we tied it into Flying High. Then off to QMB on main massage on R just beyond where Flying high enters. This headed up steeply to a drafting mud dig which Chris Smith launched into and dug his was through in no time but i'd had enough so we packed up and headed home.
T/U: 5.5hrs
---
2010-08-13
Andrew Atkinson, Becka Lawson
Tunnocks Phreaticus Interuptus (Usual Suspects)
Somehow found ourselves back at the mud dig/ squeeze from 10/8/10, only this time with drill, rope and utterly clarted up SRT gear. Surveyed and quickly reached a sizeable pitch with a continuation opposite so Andrew rigged a scary traverse (we only had four hangers - went back and liberated 2 more from previous traverses) - uphill past a waterfall and no ledge. One bolt creaked and he started to sound under strain as he hung on grimly to place another . I munched flapjack and took photos from my grandstand view. Once over we romped around hundreds of meters of horizontal passage, mostly strongly drafting ramps, some well decorated with bracket fungus, but everything eventually ended in pitches. DistoX batteries died mid-trip so I got something to do at last, taking notes. Good trip!
T/U: 12hrs
---
2010-08-15
Becka Lawson, Andrew Atkinson
Tunocks - Usual Suspects - Phreaticus Interruptus
Back over the scary traverse (13/8/10) to a climb ('traverse' according to Andrew but more uphill than along). Andrew had spotted I was back to flapjack munching and photo snapping whilst Andrew sweated over the rotten rock. A while later he made it up and we surveyed to gain just a few meters before, inevitably, one more pitch. Time to go home. Left the traverse in as even Andrew wasn't on for derigging it but he managed to derig the one before and the other two and then the pitch rope and we dragged all the gear out of the cave. Coincided with Neil and Andy at the bottom of Usual Suspects - they'd been derigging too so we all ended up with heavy loads for a slow prussik out.
T/U: 11hrs
---
2010-08-13
Chris Smith, Neil Pacey, Andy Chapman
Tunnocks
A group down to check out the 100m pitch, whilst checking out a couple of side passages in Konisberg. We had a quick look up the side passage on the left hand side of Konisberg - well I say quick look, both Chris and Neil discovered pitches. It was decided to rig Chris's pitch (not sure the logic of why!!). It looked about 30m so wouldn't be a problem, so I set off, drill in hand. 70 odd meters later with a big free hang in sight, I was glad of the longer rope!! Unfortunately, due to the unfortunate mistake of leaving a bag of hangers at the top of the 80, I was forced to do some ultra light rigging on AS's which unfortunately ran out one deviation from the bottom, 'ARSE' :(. Back out to have a quick look aka survey down some side passages on the balcony then out.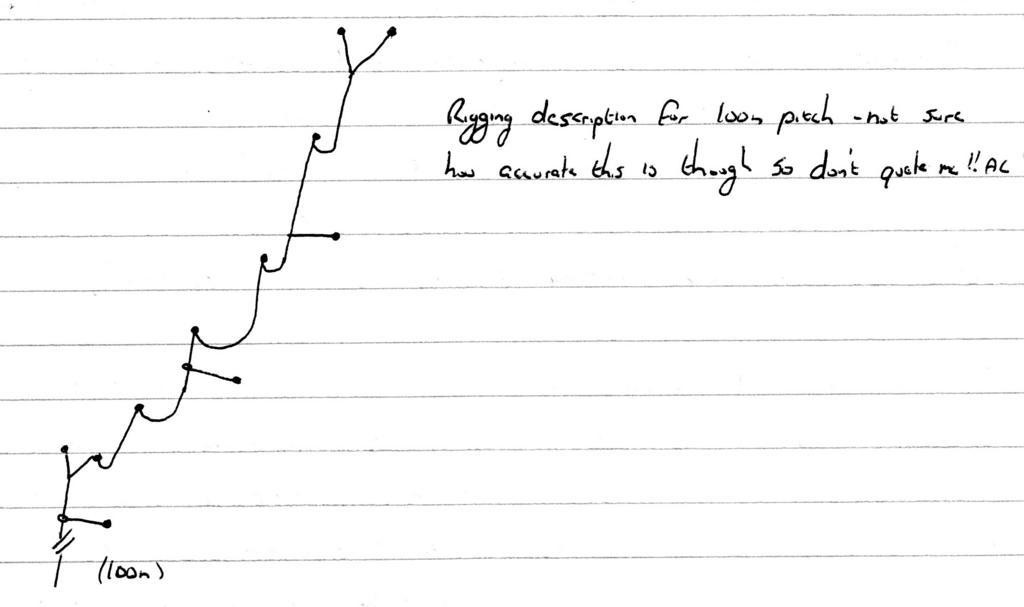 T/U: 8hrs
---
2010-08-14
Neil Pacey, Andy Chapman
Neil and Andy were both shattered so decided to shaft bash in the hole Becka found to find it chocked after a few meters. Also had a look in some holes on the other size of the gorge - no luck but did find one of Shinwell's holes.
---
2010-08-15
Neil Pacey, Andy Chapman
Tunnocks
Neil and Andy set off down Tunnocks behind Andrew and Becka. We soon catch them up when they have to rerig the entrance after the rockfall. We decided to drop Neil's pitch, he starts to rig. I decided to have a quick look down a slot in the floor. I pop out at the bottom of the pitch to Neils surprise!! Way on is dodgy climb so we backed off tails between our legs to the 100m pitch. I finished rigging it with only just rope to spare to discover a hole to the left, leading into blackness, with a long drop with a rock. Back out derigging and hoping drill doesn't break!! Derigged Konisberg then out with heavy bags in the ratio 1:2 (Andy:Neil).
T/U: 8hrs
---
2010-08-14
Andrew Atkinson and Julian
Tuncocks across usual suspects and goody goody
Tunnocks across usual suspects and goody goody. Andrew drilled in a traverse across the top of usual suspects. Back out again via round trip. Ju's first caving trip in ages!
T/U: 5hrs
---
2010-08-16
Becka Lawson, Frank Tully, Neil Pacey
Ice Flow Tunnocks
To strongly drafting hole by Gravity Always Wins/ snow-claute. I started to rig it but bottled it as soon as I dropped past the lip where nobody could check what I was up to so Neil took over. Meanwhile Frank checked out the QMC opposite to find it led over a bold bridge across the 60m of Gravity Always Wins to bypass the pitch - surveyed this at the end. Down the main pitch led to a beautiful ice-filled chamber. Hexagonal cracked ice on many walls, ice crystals, really unusual - but bloody cold. Interesting rigging by Neil dropped a second short pitch into a larger chamber with a huge (6m+) high ice/ compressed snow wall. Draft probably from here but it would be hard to ascend.
T/U: 7hrs
---
2010-08-17
Becka Lawson, Frank Tully and Neil Pacey
Usual Suspects - Rampart
Neil climbed the ramp above the pitch in Usual suspects which Andrew had checked out when we were returning on 15/8/10 - He put in a handbolt and a dodgy natural as we'd failed to bring any hilti spits so couldn't use the drill. This got us to a ledge onto a monster pitch - probably at least 50m down and a long way up and it sounded like a proper small stream at the bottom. Way on soon ended. Then we derigged string theory and hauled our way out with the gear. I like derigging!
T/U: 8hrs
---
2010-08-18
Becka Lawson and Andrew Atkinson
Traverse and derig Tunnocks
Checked out the way on opposite the traverse over Usual Suspects. I managed to rig a tiny 3 bolt traverse over the pit which leads to a second pitch. Neither looked promising. Andrew clambered on rope to the far side and had a quick look at the two tubes leading off -y both small, muddy QMC's, only worth pushing if they look like they're heading somewhere interesting. Then a civilised derig apart from a heavy load back to camp.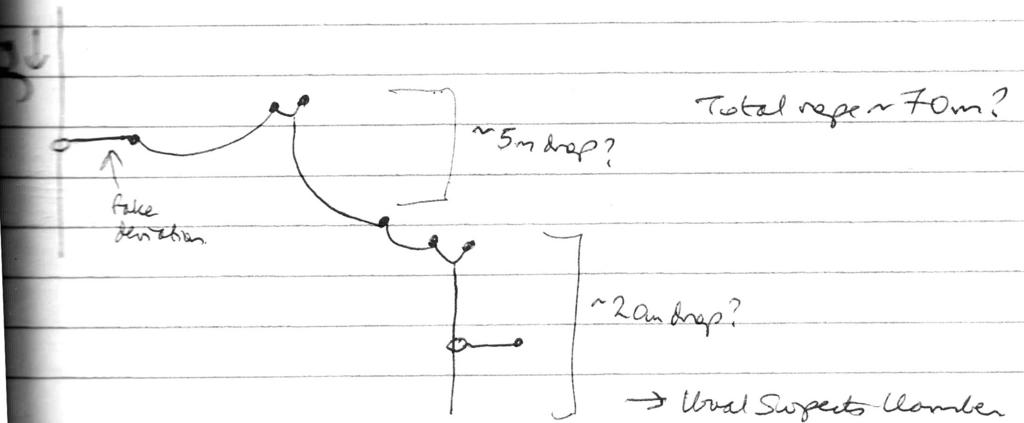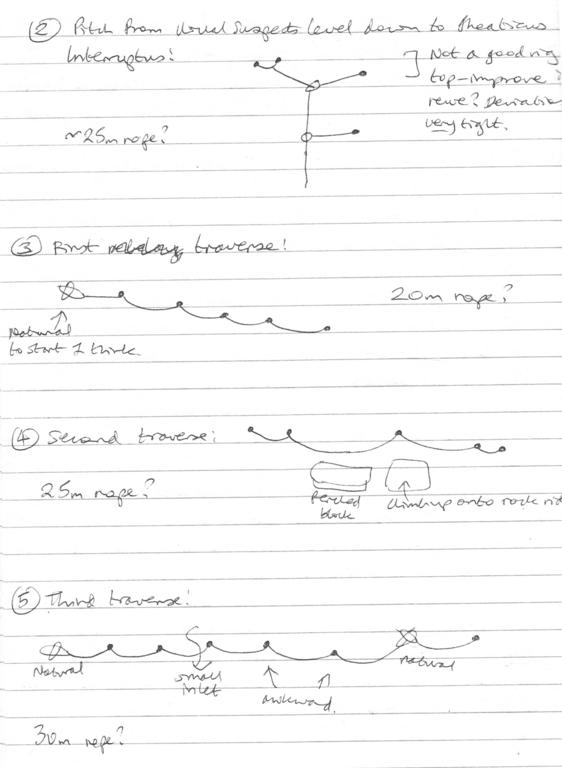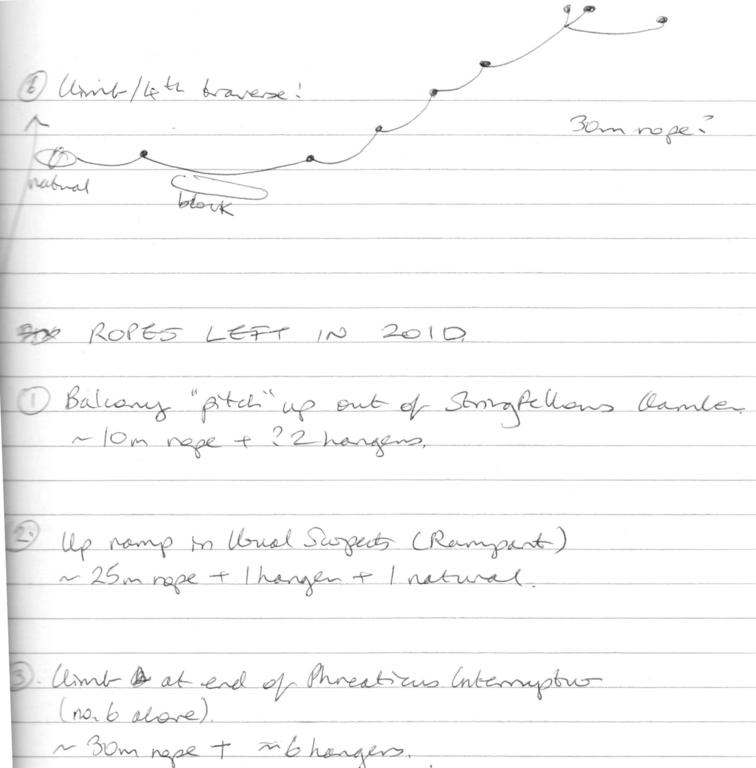 T/U: ?
---