CUCC Expedition Handbook - Gear Tape
Gear tape colours for Expo 2023
| | | | |
| --- | --- | --- | --- |
| Adam Aldridge | gray | black | OR |
| Adam Baldock | brown | orange | white |
| Adam Erskine-Jones | green | | |
| Alice Kirby | red | green | blue |
| Amelia Oliver | | | |
| Ash Gregg | | | |
| Becka Lawson | blue | yellow | |
| Ben Chaddock | | | |
| Buck Blake | purple | green | orange |
| Charlie Crossley | yellow | black | yellow |
| Charlotte Payne | | | |
| Chris Densham | black | blue | |
| Christian Kuhlmann | black | blue | |
| David Botcherby | purple | yellow | |
| Ely Brookes-Hefetz | | | |
| Emily Mabbett | | | |
| Emma Caspers | | | |
| Frank Tully | earth | | |
| Hannah Collings | black | white | |
| Harry Kettle | blue | orange | |
| Honorata Bogusz | blue | white | blue |
| James Waite | earth | pink | |
| Jana Podbelsek | orange | | |
| Janis Huns | | | |
| Joe Stell | black | white | |
| Joel Stobbart | white | yellow | red |
| Jono Lester | green | yellow | green |
| Jonty Pine | blue | earth | |
| Kai Trusson | rainbow | yellow | |
| Lea Giguere-Richards | green | | |
| Lizzie Caisley | | | |
| Luke Stangroom | black | red | |
| Mark Shinwell | purple | yellow | |
| Martin Green | orange | orange | |
| Merryn Matthews | green | | |
| Mike Butcher | red | white | |
| Nadia Raeburn-Cherradi | brown | | |
| Nat Dalton | | | |
| Nathan Walker | definitely not rainbow | | |
| Oakem Kyne | red | white | red |
| Philip Balister | blue | green | red |
| Philip Sargent | white | red | |
| Radost Waszkiewicz | blue | white | blue |
| Rob Hucknall | orange | | |
| Rob Watson | brown | | |
| Ruairidh Macleod | blue | brown | |
| Sam Lee | yellow | | |
| Sarah Parker | | | |
| Tom Phillips | | | |
| Wassil Janssen | black | white | black |
| Will Kay | blue | green | |
| Zac Woodford | | | |
Gear-tape - labelling
It is almost essential (for caving generally, but particularly for Expo) to settle on a particular combination of colours of electrical insulation tape, and label absolutely everything you own with the stuff. The table above shows combinations already taken. For other CUCC colour combinations already in use see CUCC current colours and, if you are really keen on being unique, also check out older cavers' gear colours.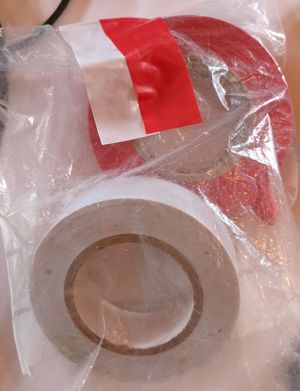 Tape everything, not just your caving gear; while one karabiner looks much like another, it's equally true that one karrimat looks much like another. And one pack of cheese looks much like another (un-taped cheese is expo common property - beware). And especially your Decathalon rucksac, phone, phone cable, charger, charger-cable, laptop, mouse, mug/plate/cutlery - essentially anything you want to be reasonably sure to get back.
P.S. It is even worth gear-taping the bag holding your gear-tape:
---
Geartape lists for CUCC and previous expo years: CUCC, 2019, 2018, 2022.
---