Mike Richardson
Mike Richardson has been on expo in the following years:
Surveys done
Wallets and surveys mentioning
Mike Richardson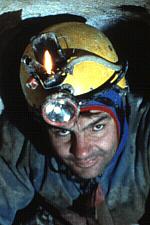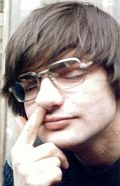 Mike Richardson (Churchill 1982-85, Committee 1983-5, President 1985-6)
(Mike The Animal or MikeTA in logbooks)
Past joint holder of the record for expedition attendance (1984, 85, 87, 88, 89, 90, 92, 94, 95, 96, 97, 99), with Andy Waddington, but has probably done far more caving than the latter. As such, he is now one of those people with a long memory for things which can be pushed in Kaninchenhöhle, and is responsible for pushing a great number of less-than-glorious QMs, especially off Dreamtime and Stomping...
The proud owner of Rover, currently still the only expedition vehicle to have been older than its owner.
Photograph (left) taken in the Lost World of Kaninchenhöhle on Expedition 1997. Photo (right) CUCC Dinner March 1985
---