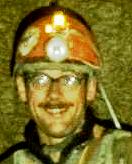 William Stead (CUCC 1986-89, formerly Oxford UCC)
Expedition 1990 (found Rosenkavalierhöhle as well as much work in Kaninchenhöhle, esp. Flat Battery), 1997 in Kaninchenhöhle pushing Siberia, Lost World, and Gravel Pit.
William has also caved extensively with the OUCC in the Spanish Picos and elsewhere, including the tragic Gouffre Berger trip in 1996.
Photo was taken at the equal deepest point of Kaninchenhöhle at Splatdown - the bottom of Flapjack II.
---