Tina White
Tina White has been on expo in the following years:
Surveys done
Wallets and surveys mentioning
Tina White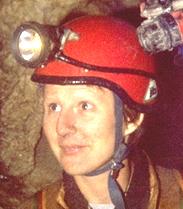 Tina White (CUCC 1984-).
Expedition 1985 (working in 142, 144 and 152, all in the Stellerweg area), 1988, 1989, 1990, 1992, 1996, 1999 (like most people, occupied most of the time in Kaninchenhöhle).
A tireless campaigner for more women on expeditions, and the most faithful female expeditioner on the records (even came out twice one year, having to nip back to the UK for an interview).
Photo taken in 1623/147
---