Plateau - "interesting" holes
Mon 15 Aug 2022
Paul Walko
Blog Author: pew
Prospecting adventures:
After spending a couple days doing cave trips, myself (Paul W), Aaron C, Philip B, and Andreas K visited a few holes previously marked as "interesting". Typically these holes are either filled in with small rocks or ice plugs, with proper cave entrances having a horizontal entrance that's more protected. We did not find any going passage (aside from a small entrance pitch) but did manage to cross a couple of these holes off our todo list!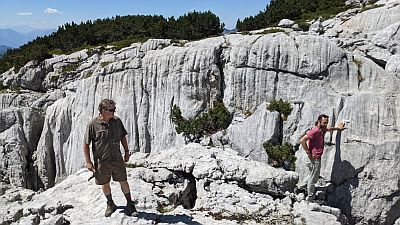 Philip and Aaron debating whether or not this pitch is even worth surveying
A week later we tried this prospecting thing out again, but this time with the help of Wookey who had a bit more experience than us. We visited a few slightly larger holes in the ground in the Balkonhöhle area, but once again these were ice-plugged. One of the 3 small holes had a small side passage that unfortunately choked out after about 8m. Wookey had a great time learning to use SexyTopo and we crossed a few more holes off our todo list!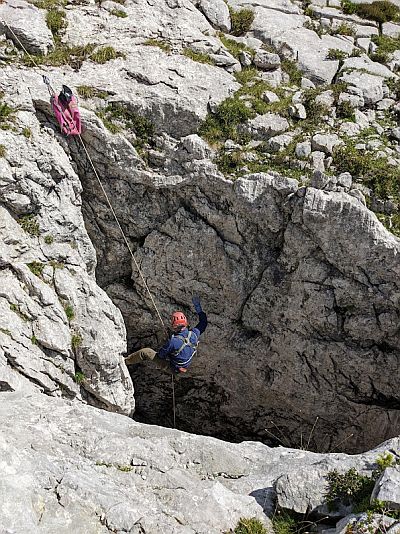 Myself, rappelling into a small hole rigged to bunde and using Philip's brand new pack as a rope pad.