Balkonhöhle - first and last of the 2022 Balkon camps – Part 1b
Sat 06 Aug 2022
Hannah Collings

Blog Author: h_collings [Blog post dated 30th August]
Chris rose early the next day, unsuccessfully persuading Nat and I to join him with his early start. Eventually we surfaced from our pits and after a leisurely start we headed off down Northern Pitstop to the pushing front. On the previous two pushing trips we had explored two areas off Medusa's Maze each of which had yielded ongoing leads. We decided to head to the most promising of these, a large, open pitch approximately 50m deep, at the end of Erechtheion. I hadn't yet rigged any new pitches and was strongly encouraged by Nat and Chris to have a go; I was very nervous and only coaxed into it by the promise that I could do the first couple of bolts and then let someone else take over. This was a good tactic as more confidence was gained with each bolt and, a few hours later, I had rigged the whole pitch. At the bottom of the pitch we landed on a boulder floor, with a further drop to our left, a passage on our right and a climb down straight ahead. We headed straight on, and Nat rigged a short drop down onto a boulder slope. Here there was a lead off to the right with a cathedral echo and various bottomless holes further down the passage potentially lead to the same place. We carried on down the passage and reached an intersection with a passage heading up and down with a wet trench at the bottom, and a lead off to the right just before this. As we needed to survey the new pitch on the way back up, we set off on our return to camp and after a long day got to bed around 3am. The new pitch was later named Tartarus, continuing with the Greek mythology theme of the previous areas.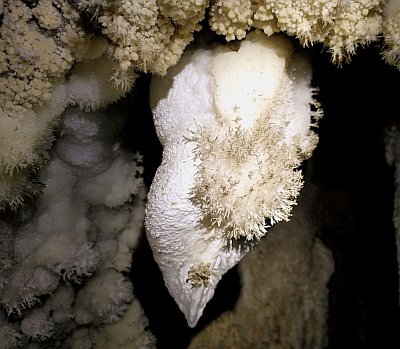 Left: Looking up Tartarus pitch. Right: Speleothem in passage below Tartarus.
We had a late start the next morning [7th August], before heading out and fettling some rigging along the way. All in all, I was very happy with my first experience of underground camping and was eager to go again. To be continued below…