Fischgesicht - 2022 exploits in Fish Face – Part 1a of 3
Wed 03 Aug 2022
Rob Watson
[From blog post dated 19th August.]

Four years had passed since Fish Face was last visited in 2018, and the dreams Luke repeatedly had during that time about the caverns measureless to be found here were essentially the only thing that prevented him from giving up caving completely. He and three others surveyed over 200m on a trip that was meant to be focused on derigging the cave, and six top leads, each blowing a howling gale, were left staring east into blank space. Back at Base Camp, the data looked exceptionally promising: all the remaining leads pointed directly towards 204 (Steinbruckenhohle), the 'key' to the SMK system which links the major caves to the south (161 - Kaninchenhohle, 107 - Gemsehohle and 115 - Stellerweg) with those in the North (258 - Tunnockschacht and 264 - Balkonhohle). If made, this connection would really expand this part of the SMK system westwards and keep the flame of the 'great connection' with the Schonberg system burning in the far distance, along with adding over 1.5 km of passage to the total length of the system (this was the length of the cave in 2018).

I arrived in Bad Aussee in week 2 after a very fun week at the UIS conference in Chambery, with the cave already rigged to the pushing front and with several hundred metres of new passage having already been found on the monster horizontal level around 250 m deep (at an altitude of ~1400 m asl). Having been involved in the initial exploration of Fish Face in 2017, I had then spent some time away from the expedition, meaning that this trip was my first beyond the third pitch which I had bolted on my last visit. After a good but long trip into Balkon after only 4 hours sleep, exploring alphanuepsilonupsilonepsilonrhosigmaeta (see Harry's report above), I made my return to Fish Face with Alice to supervise her bolting a few naughty climbs that had remained unrigged but were now apparently quite slippery with mud [Trip 3rd August]. After hearing Luke and Mike's gushing praise for the new passage they had explored the day before (big, clean sandy, lots of cool formations), eight punters wished to descend FF that day, of whom only Luke knew the way to the leads. He therefore decided to extend the system of reflectors (used to guide us on the surface to Top Camp and the caves) to underground, again quite naughty but extremely effective (although Becka of course still got lost). Alice and I soon arrived at the climbs just below the 4th pitch, but drill battery failure curtailed our mission after only one and a half bolts [Trip 3rd August] . Not to be deterred, we decided to head to the pushing front in the hope of pilfering a battery or two from Luke, who was supervising Joel and Jonty (collectively referred to as 'the Japes' – see glossary above) while they bolted a short traverse to horizontal passage beyond. We would then head to the surface and complete the job en route.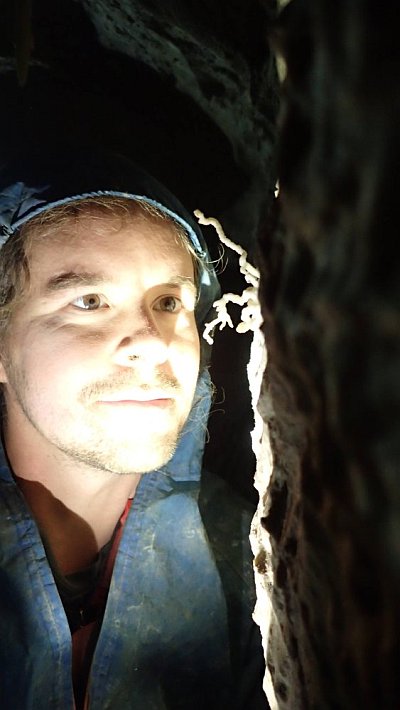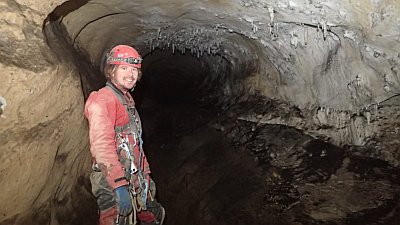 Beautiful helictites, impressive amounts of speleothems (for Austria) and big clean phreas... MIke and Luke strike good in FF. Photos: Luke Stangroom.
My overall impression of the cave as we descended was that it was essentially like a souped up Dales pothole: a few larger pitches to start with, the odd meander, a few more pitches, some climbs, some nice phreatic passage, a succession of shorter pitches in a meandering rift interspersed with the odd larger chamber, and then a big pitch, all in fairly quick succession (in contrast to Balkon, which has a long romp along some very draughty and muddy phreas followed by a series of pitches around 300 m deep – far more alpine in character). The absence of sticky alpine mud was also a major attraction and the trip into FF definitely cleaned my SRT gear after the previous days trip into Balkon.