Camp - Tunnocks master cave and unprecedented depth potential!
Mon 11 Jul 2016
Rob Watson


A most amazing trip, which despite being shortened by the rescue of the previous day, managed to provide much new cave and a lot of new prospects. We arrived at camp for 1.15pm and ate some noodles and soup. Off down Octopussy for 2pm. Headed to the bottom of the 30m pitch bolted by Anthony et al on the last camping trip. After a quick reconoitre of the area we split into 2 surveying teams.

Myself and Chris initialy headed in a Northwards direction into a rather nice and very pretty chamber with a number of very nice stalactites and a wonderful poached egg on the floor. On the far side of the chamber was a 7-10m climb which Chris started but then encountered too many delicate calcite crusts/flakey formations to continue. Predicting that we might well drop into the passage from somewhere else anyway, we left it behind for another trip (which there hopefully will be, a lead ramping up heading north and strongly draughting in Tunnocks is not to be sniffed at!). Then we headed on toward where the others were surveying in the other direction. Chris soon decided that if we caved ahead we could easily back survey to them and thus avoid the frowned upon scoop - little did we know of the wonder that lay ahead. After a lot of sprinting along a muddy boulder floor (with an additional handline on a particularly treacherous mud slope that Peachey and Katey descended with nothing - naughty!) we arrived at a point where we were presented with two routes - a narrow slot up and a way down among boulders. I took the slot, but before that we noticed that both routes had one thing in common - we could hear a massive amount of water up ahead, of a magnitude very rarely found in this cave system. After coming out through the slot, what I saw was just incredible - the absolute essence of why caving is such an amazing exploratory sport. An absolutely huge passage, at least 15x20m width for height, and sloping steeply down at around 45 degrees. For those who have been to Octopussy, think slighty less asthetically pleasing in terms of true borehole shape but overall far more impressive. The roar of the water was by this time was truely impressive - similar in size to Penyghents streamway. Caught up with exploration fever, Chris and myself climbed a long way down the boulder ramp until Chris got a hold of himself and decided we were being unnecessarily silly and, the grip of exploration fever having ebbed away, we surveyed back to the junction where we met Peachey and Katey. Almost unable to contain our excitement, we told them of our findings. They then headed off up a ramp in the opposite direction to see what could be found (apparantly a lot of passage) while chris went to fetch the 100m of Anthony's 9mm so we could rig this thing properly and safely - we were conceivably 800m deep if not more! I was charged with bolting it, and soon we we were down, albeit with a few annoying rub points en route!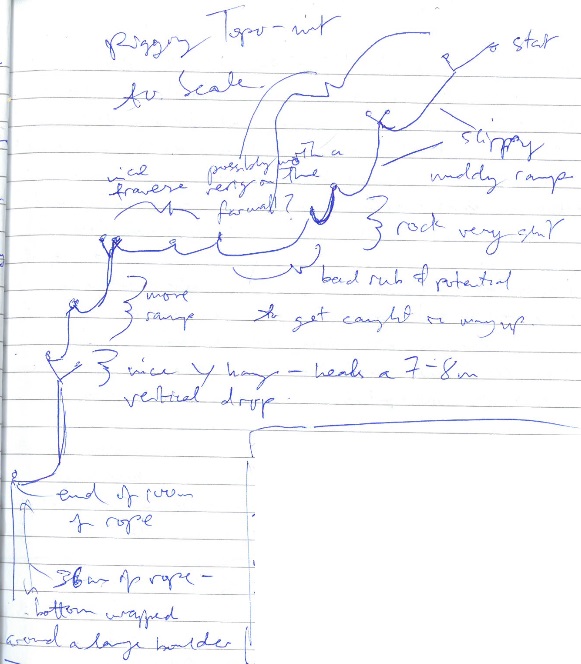 After dropping this ramp, we headed down through the slippery boulder slope below the master cave only to find the most amazing development at the bottom: an upward ramping phreatic borehole 4x4m and certainly getting bigger! By now it was long after 10pm and only getting later, so we resolved to survey the scooped passage tomorrow and headed back to camp for a welcome tea. In bed by 1am. Up at 8am and needing a shit - the facilities are excellent! The camp overall is excellently thought out and organised. Many noodle and oatso along with a great water supply, make for a wonderful stay. After breakfast we headed back to the lead for a survey accompanied by some excellent photographs in Octopussyand at camp [??? Rob to check]. 2 hours of surveying later, myself and Densham had arrived at a steep boulder slope (slippery with a long way down) which at this depth really needed bolting. Leaving it for the next trip we headed back to camp before attempting to head out of the cave. I unfortunately got to Procrastination at 7pm just as a flood pulse hit the pitch. I was at the first rebelay when the pulse hit and luckily was prepared to change over quickly and descend back to Bring on the Clowns to wait it out for 12 hours until we made a break for it at 8am the next day after a rather restless night.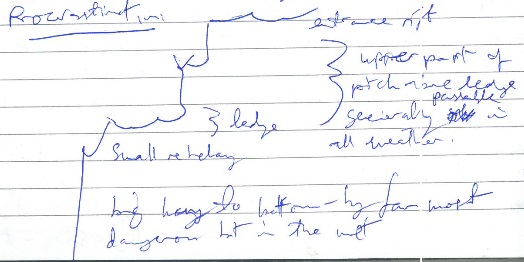 After making a break for it after a long 12 hour wait, I was swiftly out for 10am to meet with Luke and out the entrance series. Overall a truly memorable and excellent trip, one of my best ever and one to remember my whole life!
09:00 +2