Room with a View Cave - Leeds Bypass + Dark Arts
Mon 11 Aug 2014
Pete Talling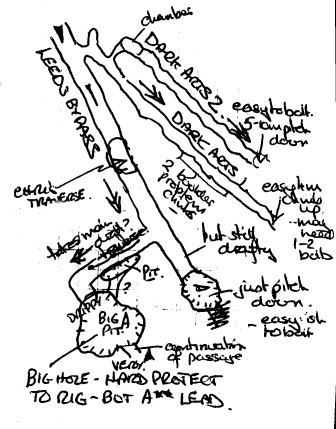 As the other hoards went down Tunnocks/Champagne on Ice - this crack posse headed into RWAV cave.

ENTRANCE SERIES / RAIN Pete had just arrived at bottom when Fleur heard a rumble which was followed by incredible water flow. Holly got wet from drips. BUT pitch was OK on way out after a day of pretty heavy rain.

NICER PIT finished the last few meters of rigging across Chris' traverse at the far end of Leeds Bypass. We then merrily surveyed down lovely big phreatic tube downhill to a junction. Straight ahead led shortly to a pitch that would be OK to rig. From lip a 15/20m hang arrives on a clean washed ledge, followed by another big hang. This is an A lead.

BIGGER NASTIER PIT We went back to junction, and Pete rigged a very easy 6 bolt traverse uphill above a pit. The passage then turned left to arrive at lip of huge void. Near side of void is drippy, but dry beyond. Rigging down pitch would be a hard project. But it may be better to start rigging down the hole below Pete's traverse - which probably goes to same place. On far side of the void is the continuing passage - but bolt traverse round side of void is an Andy Atkinson project.

But this is all where the big draft goes - A** leads.

DARK ARTS 2 We then went back to Fleur's lead and surveyed a nice phreatic tube that had good draft. We went ~100m to an easy 5-10m pitch down. This is an easy and good project with a decent draft!

DARK ARTS 1 We continued surveying, to avoid wet entrance pitch. This phreatic tube carried on even further than Dark Arts 2 and has an even stronger draft. Also a very good prospect. We did a couple of down climbs that were entertaining on the return, and could do with short ropes. we stopped at an up climb that would probably be free climbable. There is a good natural sling on left and 1/2 bolts may be needed. Very good draft!