2014-888 and MF - unmarked pit
Sun 03 Aug 2014
Michael Sargent


Follow up on 2014-888, a drafting hole blocked mostly by choss. Took crowbar & bolting kit to prise all the precarious large rocks away from the entrance and rig the pitch that could be seen just beyond them.



Spend ~ 1 hour trying to clear the entrance, removed most of the small to medium rocks but there was 1 large boulder which wobbled but wouldn't move down the hole. In the end it was wedged to one side so it was passable.

Neil then bolted the pitch, which went down ~8m to a small chamber where the draft was coming out of a rift too small to pass, with a similar tiny hole in the floor.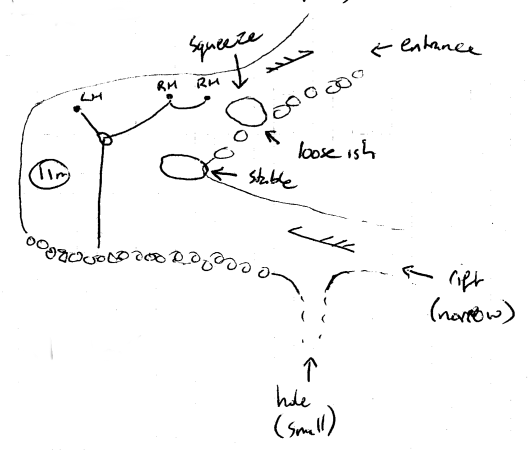 T/U: <1 hr
Then proceeded to a large open pit that Mike Futrell found in 2013. Snow plug at the bottom, ~25m drop and ~5m across.
Entrance was made easier by a hard climb down ~6m on the W side, emerging in a balcony from where the bolting started. Neil gave me his drill and an introductory course on how to bolt & rig (the first cave I had done so on!). [Meanwhiles Mike & Andrea, and Elaine and Same who arrived after their own trip across the valley, discovered that caving can also be a spectator sport. There is a large window opposite the balcony, and they cheered Michaels every move as he bolted the pitch.]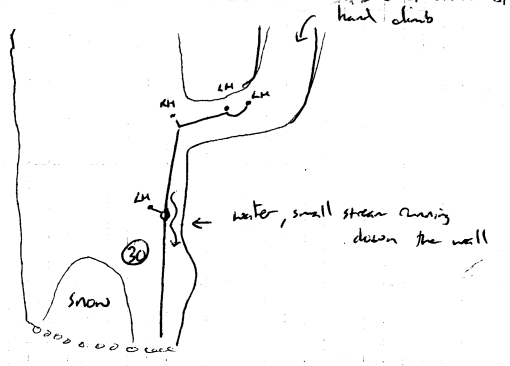 Crapped out on both sides of the snow plug, didn't go anywhere.