258 Pushing Determination
Fri 02 Aug 2013
Anthony Day


Lured by tales of an ongoing spacious pitch series, I found myself heading off to Holly's favourite lead at the far north of Tunnocks. After the usual tedium of the entrance series, a long sweaty uphill stromp through Flying High etc, we found ourselves staring at the start of 'The Flap' after ~2½ hours. Having been this far last year I had a rough idea what to expect. I was informed that there was a double bend that Mike had not appreciated due to long legs but was assured that it would be alright. The double bend did indeed prove to be quite entertaining: it took me three attempts with much wibbling and encouragement from Chris and Holly to coax my ample frame through. I'm not used to proper caving at the best of times – especially within Austria!

However the pitch at the far end is most fine – a nice rift pitch that would not look out of place in Yorkshire. Chris bolted the next pitch which is ~35m split by a small ledge about halfway down. The continuing rift at the bottom (thankfully much larger than the rift at the top) continues down, quickly reaching a further pitch with a drop of ~3 seconds. We had no more rope, so Chris put some bolts in in readiness for a future descent whilst Holly and I surveyed out. By the time we got to the bottom of the first pitch (pushed by Holly and Mike) the clock was ticking so the survey was left hanging. With a bit of guesswork concerning the length of this pitch and the undescended pitch it appears that the Determination Series is getting close to the level of the horizontal development at the bottom of String Theory.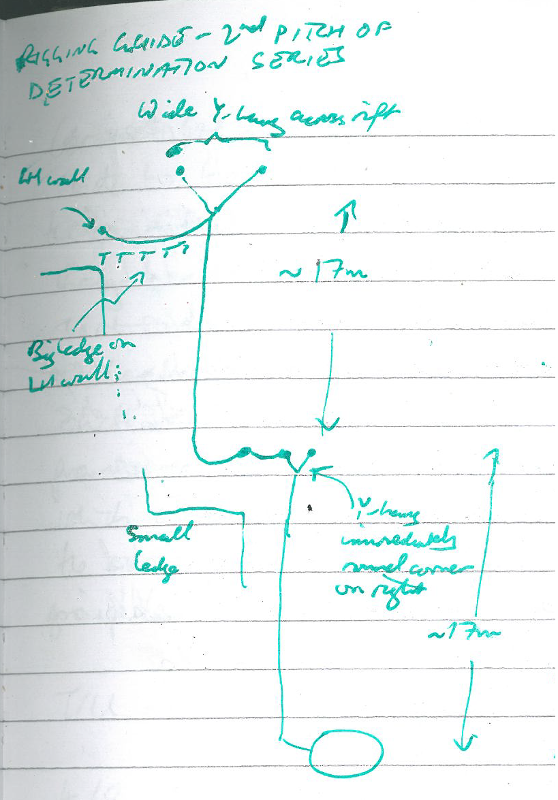 With that, it was time to do battle with 'The Flap/ again. This time, Holly had to perform an overtaking manoeuvre in the rift in order to show me how it should be done. With that obstacle overcame we slogged back to the entrance and staggered back to Top Camp running on empty.

Overall a most satisfying and productive day. Thanks to Holly and Chris for coaxing me through the small bits.