Western slopes of Schwarzmooskogel to the col and down
This is normally approached from the west by crossing the edge of the plateau to the NE of Schwarzmoos Sattel. CUCC's "path" is to the col between Vorderer and Hinterer Schwarzmooskogel, where there is a permanent survey station "vd1". Up the ridge to the left leads to the original 161a entrance, whilst just ahead down a gully lie 161b and 161c.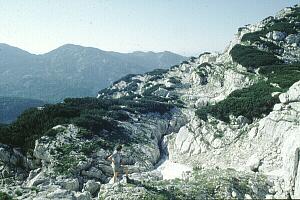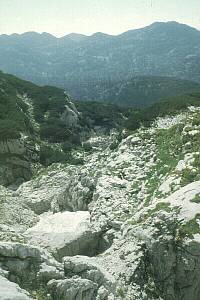 Anthony pointing the start from 161c...
...down the gully towards 161d
Further down the gully, dropping about 100m following a series of cairns, is the route to the 161 "back" entrances. Where the gully starts to choke with pine, an exit left is possible (still with cairns), which leads to an engineered traverse through an area of pine, then a series of scrambles and traverses (unpleasant in the wet) down to an area of recent stone fall in which lies the 161d "Scarface" entrance.
---