CUCC Expo Logbook 2018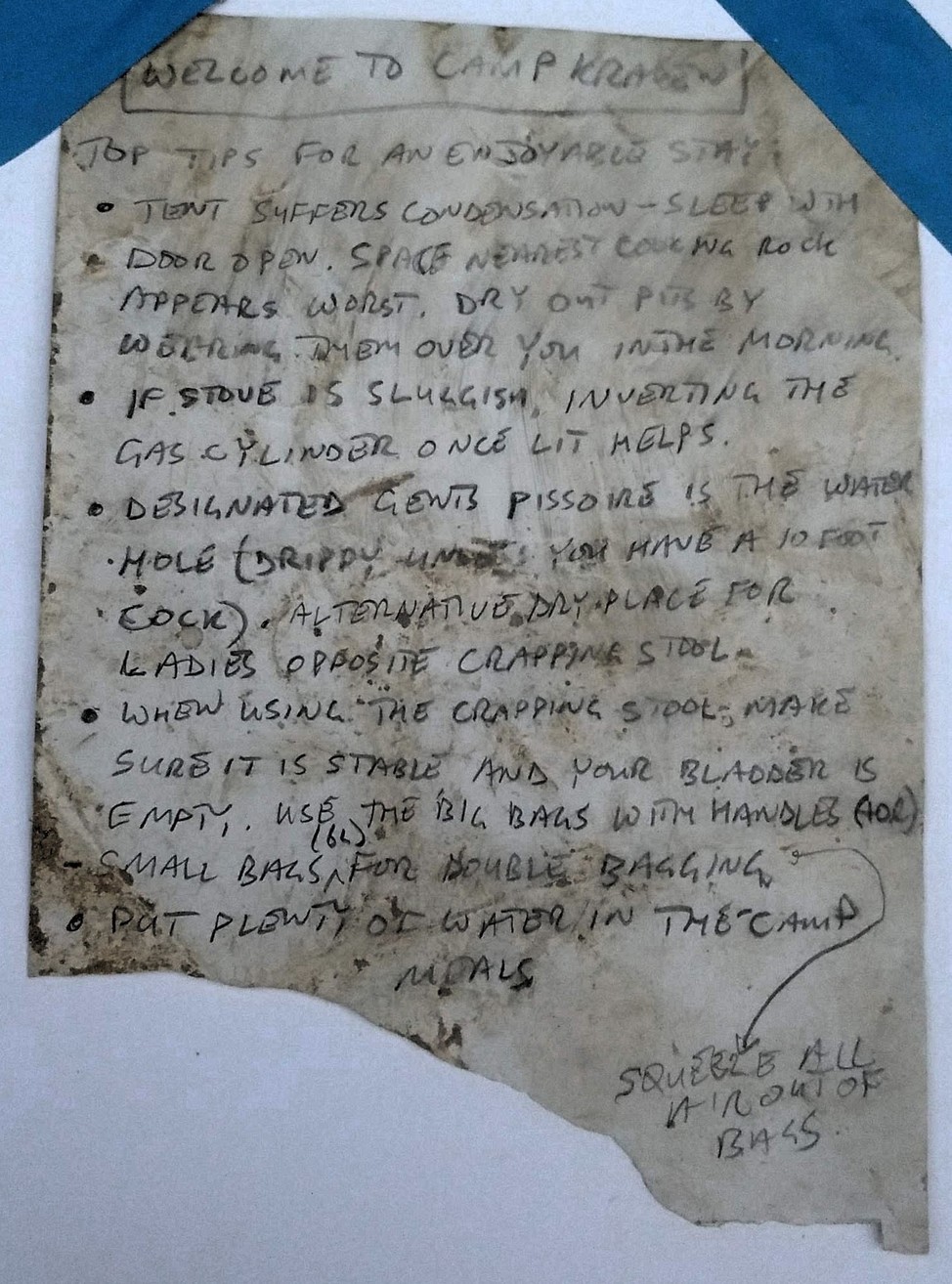 Frontispiece



2018-07-10
Tom Crossley, Dickon Morris
Balkonhoehle/264 - 1st rig
Rigged entrance pitch as far as second deviation but found deviation tat (meant to be in-situe) had been removed along with hanger. Dickon spent 10+ minutes swinging to find bolt but it could not be found. Returned to surface leaving rope and rigging gear at last rigged Y-hang.
T/U: 4 hours
2018-07-10
Jon Arne Toft, Anthony Day
Tunnocks - 1st rig
Rigged Tunnocks to start of Caramel Catharsis (or thereabouts). In the words of Anthony: "Nothing to report, just tell everyone how great it was!"
T/U: 5 hours
2018-07-11
Becka Lawson, Tom Crossley, Mark Shinwell
Prospecting past Fisch Gesicht, beyond the ski pole line
After the first spit had been set we realised that we'd forgotten the bolts, doh, so the tags for these caves have been hammered into cracks and only cucc-2018-ms01 has a hole drilled.
cucc-2018-ms01
Becka's phone GPS 33+ 410730 5274320 Alt 1698m Accuracy 4m
Description: Rubble slope with snow plug down to a jammed boulder. Wriggle down next to it to a 45° ramp down. This levels off to a tight squeeze down to a small chamber. Around 30m long with no draft.
Sketch: see notes and photo on Becka's phone at 09:30 on 13/7/18
Notes: tag hammered into crack near to placed spit
Photo: Becka's phone at 14:00

cucc-2018-ms02 Blitz Baum Schacht (Lightening Tree Shaft)
Becka's phone GPS 33+ 410635 5283186 Alt 1724m Accuracy 4m (see also Mark's GPS)
Description: Around 30m NNE (say 020) from distinctive, large, dead tree struck by lightning. A 30m+ shaft, rocks rattle for several seconds. Hole ~5m long x 1m wide.
Notes: tag hammered into crack on flat area on long side
Photo: Becka's phone and Mark's phone at 14:56
cucc-2018-ms03 Zufall Hoehle (Coincidence Cave)
Becka's phone GPS 33+ 410376 5283124 Alt 1714m Accuracy 3m (see also Mark's GPS)
Description: Squeeze through boulders then drop down c2 and along a tall, narrow rift for ~10m to head of ~7m pitch. Weak draft out. This was re-found by Dickon and Jon later the same day and they said there was also a phreatic tube visible from the pitch head.
Notes: tag hammered into above entrance boulders
Photo: Becka's phone and Mark's phone at 16:10
cucc-2018-ms04
Marks's phone GPS 00409613 5282951 Alt 1680m Accuracy 3m
Description: 10m+ shaft, approx 2m long x 0.5m wide, in a line of similar shafts
Notes: tag hammered into crack
Photo: Mark's phone at 17:00
2018-07-12
Tom Crossley, Chris Densham
Tunnocksschacht/258 - String Theory to Procrastination Rig
In via usual route to head of String Theory. Found Three ropes (~35m, ~45m, ~60m). Used ~45m and ~35m to rig String Theory (Crossley Rigging). Found ~90m left at head of Procrastination. Used ~20m rope (brought in from top camp) to rig traverse and ~90m to rig pitch of Procrastination. (Densham rigging).
Left tub of flapjacks, snickers, 4 curries with bothy bag at base of Procrastination. Also left 90m 9mm rope for Kraken with slings, snap gates, hangers and maillons.
Returned to Top Camp ~5 mins before callout - blame my (Crossley's) slow rigging of String Theory. Brought ~60m rope out of cave.
T/U: 10 hours
2018-07-12
Jon Arne Toft, Dickon Morris
Prospecting Kleine Wildkogel
Prospected along side of Kleine Wildkogel along South edge heading West. Little but choked shafts for most of the day, but promising end of the day with two good leads. Conveniently, another team claimed to have discovered one of the better finds 2 hours before we found it. This is heavily disputed and questionable.
CUCC 2018 DM01 +
Jon's phone DD 47.69781N 13.81647E
4m climb to cobble floor. Crawl under arch leads to 2m deep hading rift. Choked.
CUCC 2018 DM02 -
Jon's phone DD 47.69756N 13.81331E
8m climb in narrow shaft. 8m climb in wide rift to snow plug. Squeeze past snow plug horizontally 10m leading to small chamber w ice formations. Small window with cobble floor leading to undescended 10m pitch. Rocks rattle at bottom.
CUCC2018 DM03 +
Jon's phone DD 47.69813N 13.80967E
Large open shaft leads to snow plug, undescended. 30m? Continuation unknown.
CUCC2018 DM04 -
Jon's phone DD 47.69714N 13.80618E
Large undescended open shaft. 25m? Continuation unknown, potential passage on.
CUCC2018 DM05 +
Jon's phone DD 47.69665N 13.80597E
Large open shaft. 10m. Small rift at bottom leads on another inspected 10m drop. Almost certainly chokes.
CUCC2018 DM06 -
*THIS CAVE IS A DUPLICATE OF CUCC2018 MS03, which was apparently explored by Becka 2 hrs earlier (or so she says)*
Jon's phone DD 47.69514N 13.80591E
Climb down boulder tickle 5m leads to 2m climb. Rift continues to 4m pitch into chamber, unpushed. Small passage in roof above pitch ledge to left continues 30m through narrow crawl to 4-way intersection. Unexplored further.
CUCC2018 DM07 -
Jon's phone DD 47.69429N 13.80534E
Large open shaft. In, down over snow plug 30m. 2 consecutive pitches. First 5m, 2nd unknown.
2018-07-13
Jon Arne Toft, Dickon Morris
CUCC2018 DM07 (Homecoming Hole) - First push
Headed off to drop DM07 followed by DM06. Started with DM07 as the closer of the two. First pitch/handline 5m down from surface to large hole in ground. Into hole in wall, 1m down and 2m traverse over a drop of 3m leads to top of snow plug that can be followed down 8m to passage. Crawl for 10m leads to first pitch, 5m, closely followed by longer pitch (10m?) into a rather large chamber. The way leading back against the direction of progress quickly chokes. Way on leads to large boulder. A hole on the left side yields a safe continuation (the rope also leads this way) on to the next pitch of another 10m into yet another chamber. From here, an impressive pitch was observed(8m diameter) which a 27m rope was insufficient to descend. Probably 40m deep. Strong draft, predicted by the majority of CUCC to be larger than Tunnocks [citation needed].
Surveyed out of cave, tag left on small shelf right under surface level. Lack of pencils led to ditching of DM06, though this is an interesting cave. DM06 still unexplored.
Jon sprained ankle before cave entrance, the effects of which showed up shortly after arrival to top camp, and which subsided by the next day. Strange stuff which unfortunately led to me being unable to push further the next day. :-(
T/U: 3 hours
2018-07-13
Philip Sargent
Surface recce for Futility series back door
Cycled and walked to N. end of Altaussee lake to try to look at the Weisse Wand area of likely location of hole from the other side of the valley (Trisselwand side). Failed to get far enough: only 1km away but 500m too low and surrounded by 600m cliffs.
IN FUTURE go to this area via SOUTHERN SIDE of the lake as the N. side has a long section where bicycles are forbidden. MAPS DON'T SHOW THIS.
The N. end of the lake has two restaurants and there is road access via the S. side; and then the track towards the Appelhaus is drivable (and certainly mountain-bikeable) for quite a way. Return trip planned early in the morning on another day.
On return, looked for the site of 1982 base camp. Probably at the Madlemeir landing station for the tourist boat. Photos taken [and posted to Facebook Expo2018 page].
Whole trip (and a glass of most) 4 hours.
T/U: 0 hours
2018-07-14
Becka Lawson
Rigging Guide - Tunnock 258 - Hydra - - Snake Charmer - Snake Bite - Lower Snake Bite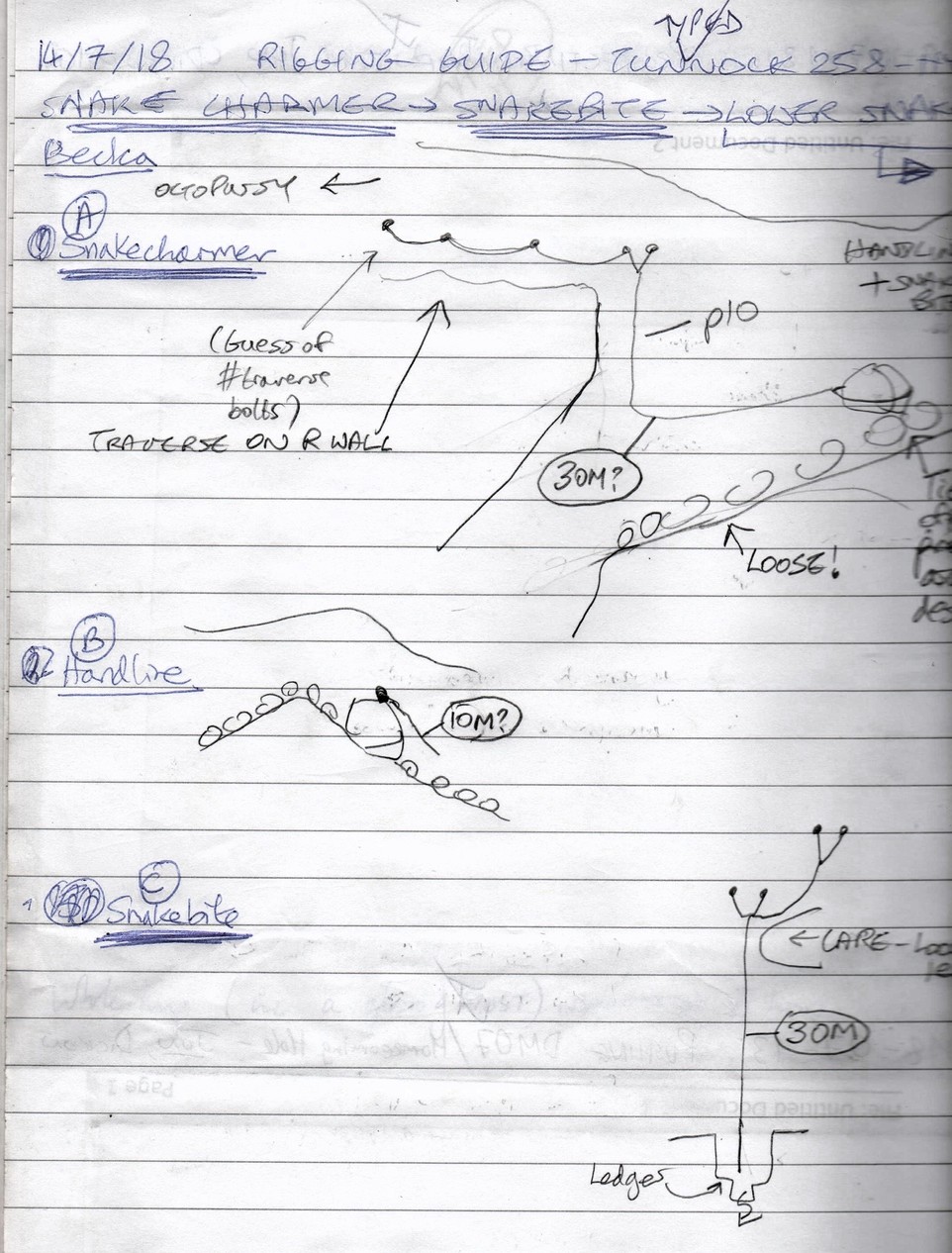 Snakebite lands in large rift passage with waterfall entering from LHS. Water drains down to Lower Snakebite (this starts with an awkward free climb next to water; themore obvious passage on L of this (as you face downstream) is main Snakebite passage (dry) that connects to Song of the Earth.
[many detailed diagrams - see scanned imageswhen done]
Lower Snakebite - Pitch series starts 20m beyond the awkward free climb below Snakebite pitch following water down free climbs.
T/U: 0 hours
2018-07-14
Philip Sargent
Surface walk Stoger Weg/115 (Schnellzughöhle)
Found the entrance* - but it is 60m away from where the GPS says it should be.
Attempted to get to the location the GPS says it is but it's impenetrable bunde.
Stashed in 115 ent: 1 2-man tent, 2 karrimats, 1 litre water (a bit brown - filled in gents loo at berg restaurant), small bag muesli.
I rigged a smallwater collection poly sheet which may get 2-3 litres if we're lucky.
The walk along the Stoger Weg (201) from the turnoff to the col & top camp is much more rugged than the part closer to the carpark: many granny-stoppers.
Photos taken from turn-off point [from Stoger Weg]: "a barely discernable trod" to cave. This "trod" is much more overgrown thanit was in 1982.
*POSTSCRIPT - on 17th July found a 1981 photo of the entrance which shows that the entrance I found wasn't the main entrance. I had found the upper (smaller) entrance CUCC-PS01-2018 at N 47.66743 E 013.80945 alt. 1547m (WGS84 Garmin Venture Cx) 7
T/U: 4 mins
2018-07-13
Todd Rye, Dickon Morris
2nd push in Heimkommen höhle
Carried 2x 45m ropes and a 80m rope over to Heimkommen. Dickon rerigged the pitch then ran out of rope on, now named Radagast.
Pushed through a small meander to an up pitch (3m). From there is was navigating a large meander, dropping a pitch (5m) and traversing through some boulders. Another pitch (10m) before a climb up and a traverse along the top of Wallace (40m) which landed perfectly on a boulderabove an estimated 50m-100m drop, named Grommit.
Out of rope so we surveyed out.
T/U: ?? hours
2018-07-13
Chris Densham
Steinbrucken Tarp Topo
[DIAGRAM of tarp rigging in bivvy]

T/U: 0 hours
2018-07-11
Anthony Day, Chris, Frank, Todd
Prospecting/visiting known holes near Organhöhle
Hacked out on the cairned path to Organhöhle to look at some holes found on a 2012 prospecting trip, and see whatever we could find:
2012-dd-06 ("Big-D-Höhle") - apparently surveyed last year, but not in the dataset. Red survey stations visible but unknown how far it has been explored.
2012-dd-08 ("Shark tooth cave", due to popcorn formations that look vaguely likesharks' teeth). A choked 5m round phreatic tube reported as carrying some draught in 2012. Poked around in two holes on the left (which connect) and another at the end without finding any way on. Grade 2 survey completed.
2012-dd-10 - refound and tagged. Worth descending but especially promising.
2018-ad-01 - a ~15m shaft just around corner fom 2012-dd-10 photo'd and tagged; not especially promising.
2012-dd-02 - Tagged on our way home.Reported as draughting/windy in 2012, but doesn't look amazing.
T/U: 0 hours

2018-07-15

Anthony Day, Becka

Tunnock's Rig

The ambitious plan was to rig Tunnocks as far as camp. This was never on after I misread the log entry from last year and believed the rope for Widow Trankey's was in the cave - it wasn't so we were a rope light. The Number of the Beast rope went down the wrong hole when I threw it down the pitch and got stuck, neccessitating much faffage to retrieve. The rope had also been cut and retied* necessitating a knot pass - this rope should be replaced by the 45m rope currently at the top of String Theory. In the end made it to the top of Inferno. Dumped camp stuff (3x pits + stove) and headed out. [ * Becka: using an EDK (European Death Knot) with 8cm ends - who left it like this last year?! ]

T/U: 11 hours

2018-07-09

Lydia Clare Leather, Mike Butcher, Michael Holiday

Fisch Gesicht

Rerigged the cave entrance, to pendulum pitch and all the way to blitzen boulavard.

T/U 8 hours

2018-07-10

Lydia Clare Leather, Mike Butcher, Michael Holiday

Fisch Gesicht, pushing to liquid luck

Pushed past survey station 14C, found the phreatic tube lead to a small chamber (pissing pot) then continued left to a big pitch. Bolted, Rigged. Michael nearly killed Lydia --> called liquid luck.

T/U 10 hours

2018-07-13

Lydia Clare Leather, Mike Butcher, Michael Holiday

Fisch Gesicht, pushing phreatic flies and surveying liquid luck

Surveyed from 14C to 22. Michael bolts, lydia and Mike survey. Mike made a dry stone wall. Mike found Toto chamber.

T/U 14 hours

2018-07-14

Lydia Clare Leather, Mike Butcher, Michael Holiday

Fisch Gesicht, Pushing Urinal and fettling rope/rigging

Mike and Michael did more dry stone walling. More gardening. Followed the free attic opposite liquid luck ledge ti findthe Urinal. Bolted and rigged to an awkward body sized squeezing, thatr smelt of pee, having pissed down B. Boulavard. But possible free attic continuation.

T/U 7 hours

2018-07-15

Lydia Clare Leather, Mike Butcher, Tom Crossley

Fisch Gesicht, Pushed to Toto and surveyed free attic frys and Urinal

Tom joined Mike and Lydia, surveyed free attic frys and Urinal, found thgat Urinal has a high cieling (40m). Possible connects to Happy Butterfly above. Surveyed to chamber with boulders in the shape of Africa.

T/U 11 hours

2018-07-15

Lydia Clare Leather, Mike Butcher, Michael Holiday, Tom Crossley

Fisch Gesicht, Found Ulysses

Took photos, Mike and Michael go down to crystal crumble, found stalactites, pretty. Tom bolted coral corner, pretty formations. Traversed round Toto chamber on a false floor to the continuation into conintuation of free attic flys called phreatic becomes meander rift, (bolted) and dind a large opening with left and right junction (very false floor) called odious odium. Taking a right turn along the false floor leads to a vast floor now called Ulysses (after the Frans Ferdinand song Michael was singing). Yet to be dropped due to its very unstable nature. Did some gardening but a lot of work needs doing. Left turn at odium, leads to a true floor, leads to multiple boulder chokes and meander in approximately the direction of Ulysses with short pitches not dropped. More photos on the way out. Michael gets ill. Wees a lot.

lots of pee, very loose, less ice than last year, lots of key-hole passage.

Still to do (by Mike Butcher):

- Drop pitch from entrance chamber to bypass ramp and climb of ice plug pitch = more direct.

- Investigate meander at end of windy tube (?c)

- Possible alternate route opposite pendulum pitch (?c)

- B. Boulavard rope needs changing (40m)

- Leads in Benign Bubble Baby Bypass needs looking into

- Drop 15m at far end of B. Boulavard

- Piss Pot resurveyed

- Survey bottom of liquid luck

- survey after Toto

- Toto traverse line

- KEEP PUSHING!

T/U 11 hours

2018-07-16

Becka, George, Luke

Balkon - Cathedral Kazam - Wild Honeycomb shaft - The Hangman

Spent over an hour trying to calibrate top Camp's collection of distox's (my two, CHECC and ULSA). I won with 0.35 and 0.5. Luke at 0.65 was way off and two Distox's refused to pair with George's PDA. Eventually underground and swiftly to Kathedral Kazam. 2 traverses were still in but short pitch needed rigging. Luke then rigged Wild Honeycomb shaft. Ash has - audaciously - rigged this off naturals last year but it hadn't been surveyed, leaving George and Rachel's Nature Calls surveys at the base floating. George and I followed Luke down surveying, with Luke concerned he'd taken the wrong route, but all was well.

At the base, there's a sort of horizontal level which we rigged a short pitch down (7m) and then what George and Rachel had done as a 13m chimney down which Luke and I declared a pitch. This led to a ledge with a vast, perched boulder next to it. The Hangman.

the pitch had a massive echo and stone rattle. We drilled the pitch head spits but were out of hangers, so headed out.

T/U 10 hours

2018-07-17

Becka, George

Balkon - Wild Honeycomb shaft - The Hangman - Hangman's Daughter - Tunnock's Connection

Luke was off-colour so George and I returned to the Hnagman and I rigged down the pitch then we surveyed it to a spacious ledge, from here the shaft continued (offset) but it looked damp and we were keener on the horizontal otions - a window visable part way down The Hangman's Pitch and, from the base, a climb up on the left and a traverse to the right to s vhossy climb.

George went for the latter option, and got up via some shonky bolts, boulder balancing and clambering. The entered what we've called Hangman's daughter. I followed and we surveyed into what initially looked really unpromising: narrow, catchy, little passage.

However, it took a draft. We surveyed a loop round (given that George had scooped it) then got to the only proper lead, a small pitchead topped with mostly nasty perched boulders. George heed kicked quite a few down leaving a small hole. We only had one hanger and I dithered about whether to use the massive flake as a backup but used it in the end. The ~15m pitch led to a small chamber. I climbed to the bottom where a ?c crappy hole led down and then -!!!-

noticed a survey station! WHat the hell? I shouted to George who bombed down, forgetting to bring the Dostox so I had to go up the hideous rubby pitch to fetch it. After some searching, George found another station, 7, and we finished the survey. Then tried to work out where the survey had come from. Some shreds of an oversuit on a tiny tube 3m above the floor of the chamber gave it away. The draft through had coated it in catchy popcorn. We took our SRT kits and tried to crawl through, but George didn't want to commit to going headfirst (I told him I couldn't be able to fish him out). He couldn't get through feet first so we gave up and headed out, finishing off the survey of the traverse on the way. At the top section of the Hnagman's Pitch 1 realived the rope had got hooked over a hideously sharp flake of rock and crystal. I wailed at George and down [prossiked until I could un-weight the rope and he could free it. Argh.

T/U 11 hours

[Rigging guide]: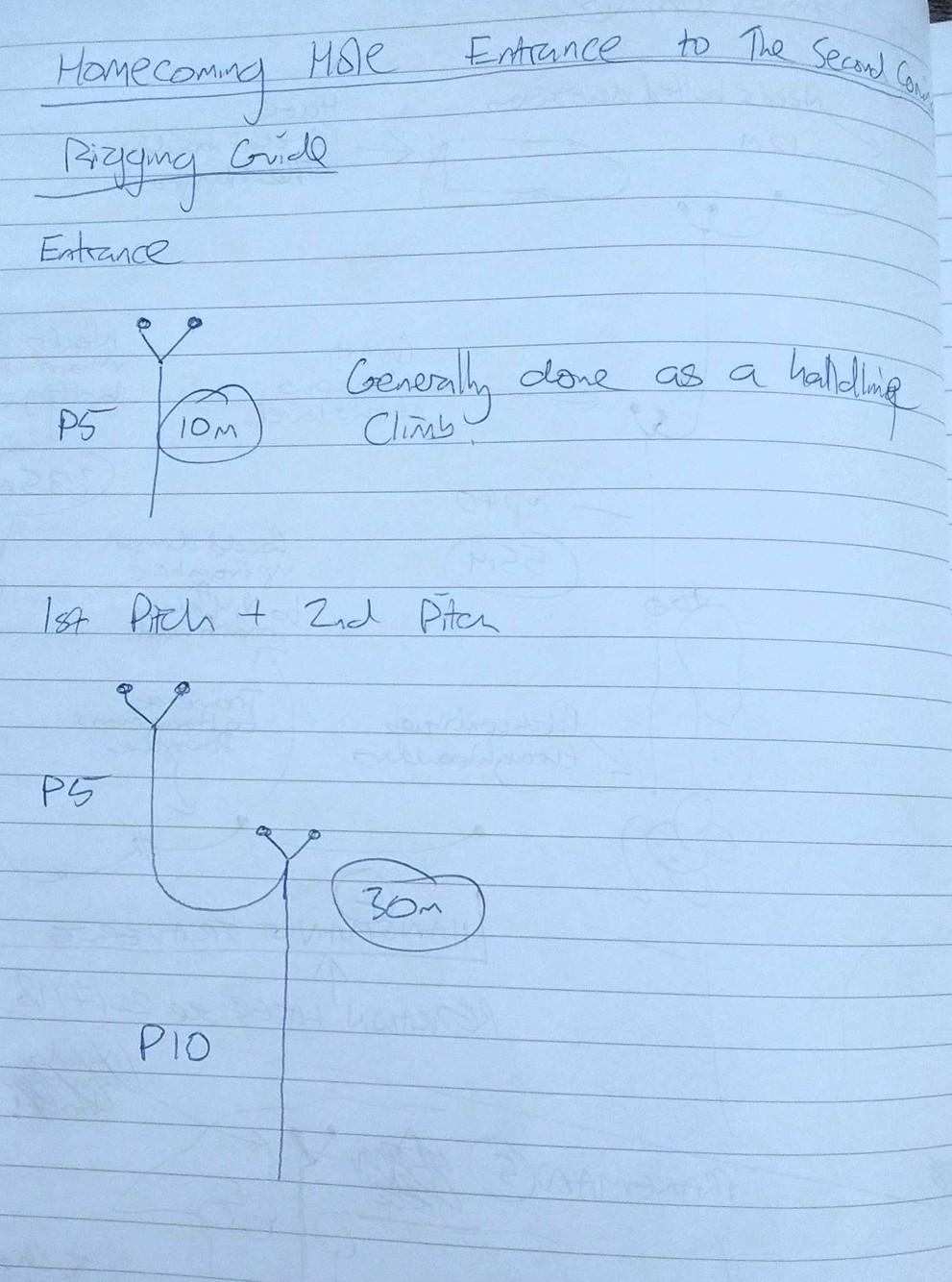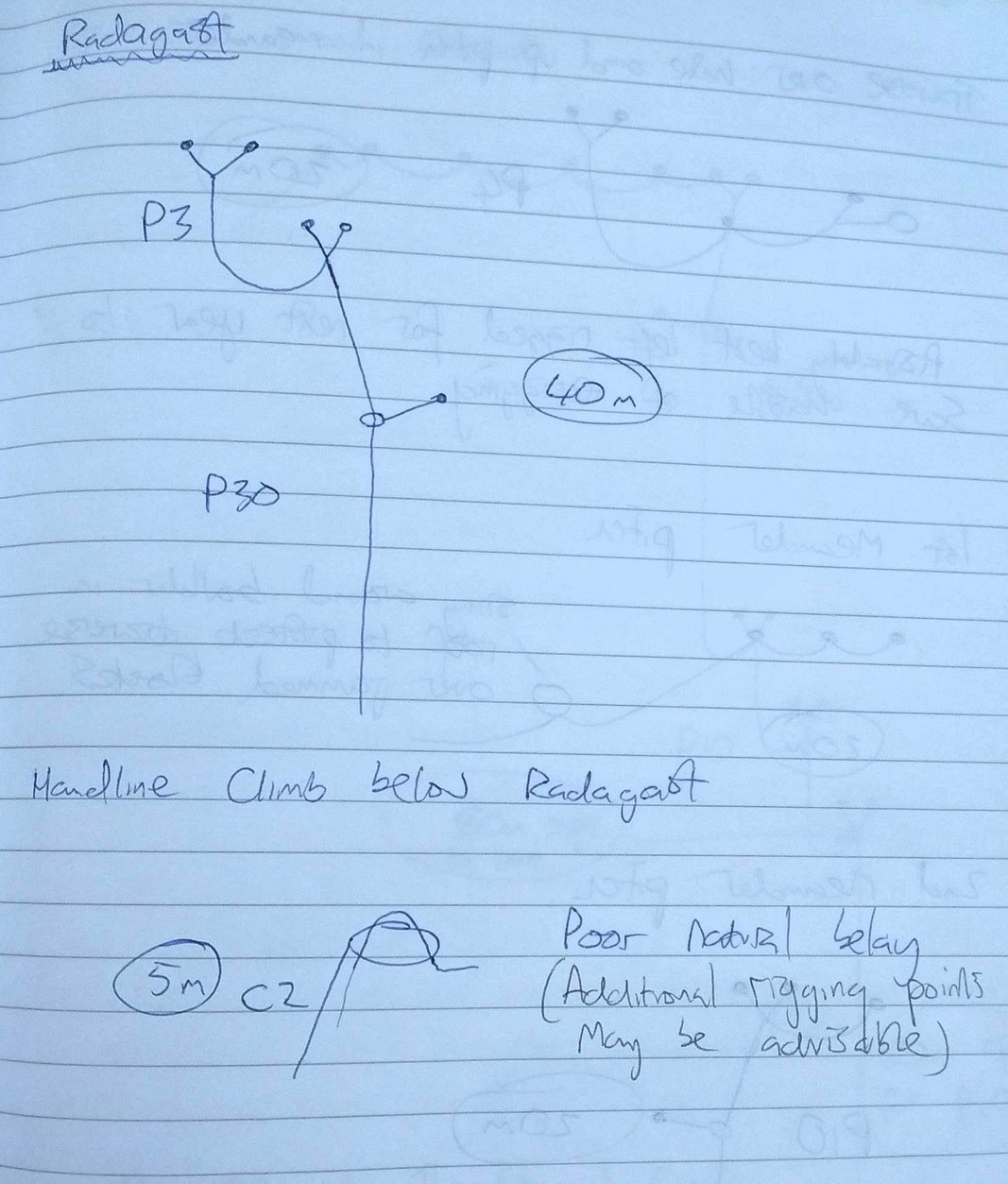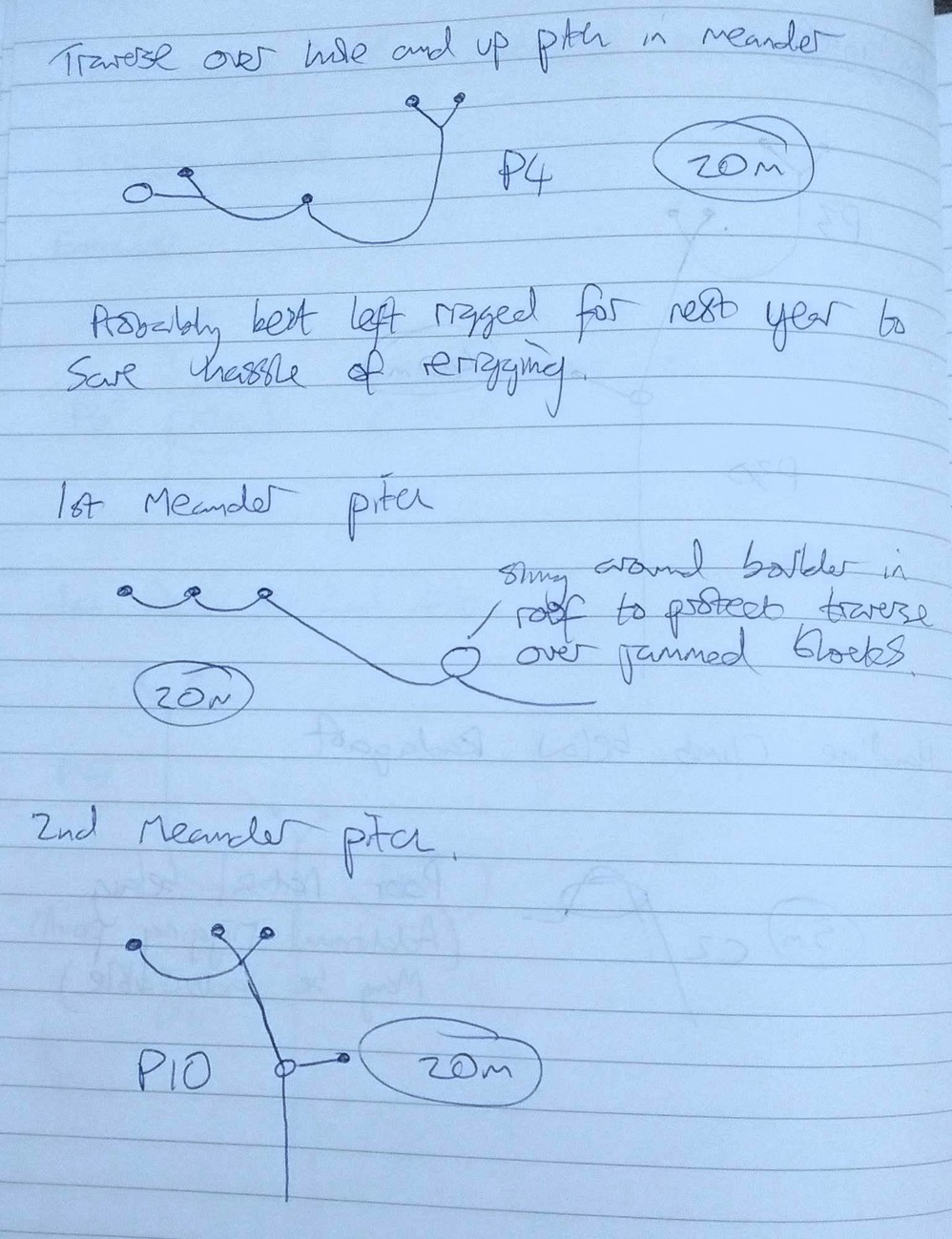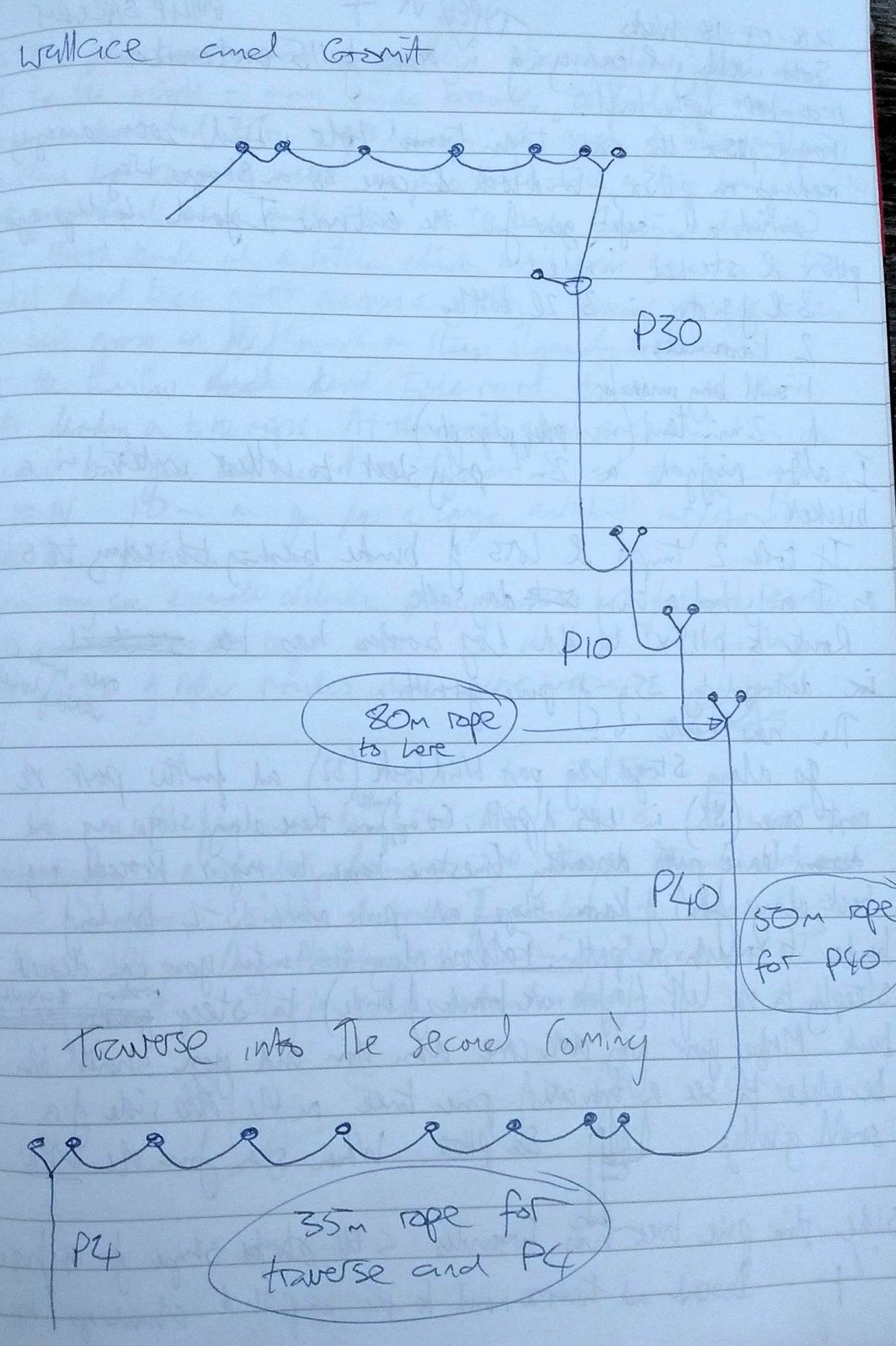 2018-07-18
Philip Sargent
Solo walking in area of 115 entrances [and CUCC-PS01-2018]
11:00-18:00 up the hill.
Found p115x the main "train tunnel" hole. Did a 200+ averaging GPS reading on p115x, Windloch, and cave 88 on the Stoger Weg.
Carried safety gear from the entrance I found 4 days ago and stashed inside:
3l water in 3x 2l bottles
2 karrimats
1 small bag muesli
12-man tent (inc. poles,pegs etc. [there is room to pitch this inside the entrance easily]
I also rigged a 2sq.m. poly sheet and black foldable bucket to collect water.

It took 2 trips and lots of bunde bashing to carry the stuff as I only had a small daysack.

Route to p115x in old logbooks has been destroyed by 35y of pine growth.

The new route is:

go along Stoger Weg past Windloch (32) and further past the next cave (marked 88 in faded red paint) in LHS of path. Go [10m] further from there along Stoger Weg and leave path descending limestone karren down to right. Proceed back along foot of karren slope and push aside 3-4 branches of bunde to reach a "path".

Follow along this until you can descend steeply to the left (a few more branches of bunde) to steep "rockery" scramble bank. Make your way with care down this and you should be able to see a truncated pine tree [4m high] on the other side of a small gully. (When seen from the other side, this pine tree has branches in the shape of a figure "4".) Descend and traverse round to the right and climb up to this pine tree across the gully.

Now follow "path" down and to the right across 2 areas of soil/grass/loose stones to eventually reach a big pine tree with a bend in the trunk at ground level and a small cairn on the bend in the trunk. Continue down right through bunde with a little climb until you can see a large dead twisted tree root across a gully. Descend and get to this via via lush grass and flowers on steep slope and loose soil.

At the twisted dead tree root there is an obvious route leading to the right. At this point you are only 13m from p115x but you can't see it as it faces S. and you are approaching from the N. 10m on you pass a large anthill and then 3m further and you're there.

You may see a water collection poly sheet a lot earlier but use this route to get to it. (I did it 3x today and lots of other routes are worse.)

Oh yes, on first visit to CUCC-PS01-2018 this morning I went in: climbing down a 30 degree straight tunnel. Roof is solid rock and floor is blocks and rocks [and relic vadose features]. I counted 1m steps coming out and it's >14m long. Continues deeper but I was in t-shirt and shorts. Slight cold outwards draft.

[Photos and GPS tracks and locations recorded.]

T/U: 0.1 hours

2018-07-18

Nadia, Tom Crossley, Todd Rye

Homecoming - Hobnob Hallway
Surveyed Hobnob Hallway until mud/sand slope. went over fals floor very unstable needs a traverse line. Was crumbling as we walked on it.
Under false floor is a trickle of water leading to a wet pitch Q.M.C.
Found side passage at the bottom of a mud slope on the left. Keyhole passage that connects into Dickon's passage,currently unnamed.
Heard flood pulse, while surveying, when we went out all ropes were dry except the very bottom of Radagast pitch. No issue with pitches being impassable except maybe Radagast.
T/U: 7.5 hours
**** MORE TO TYPE IN HERE ****
***Scanned images below for logbook entries whcih have not yet been typed up ***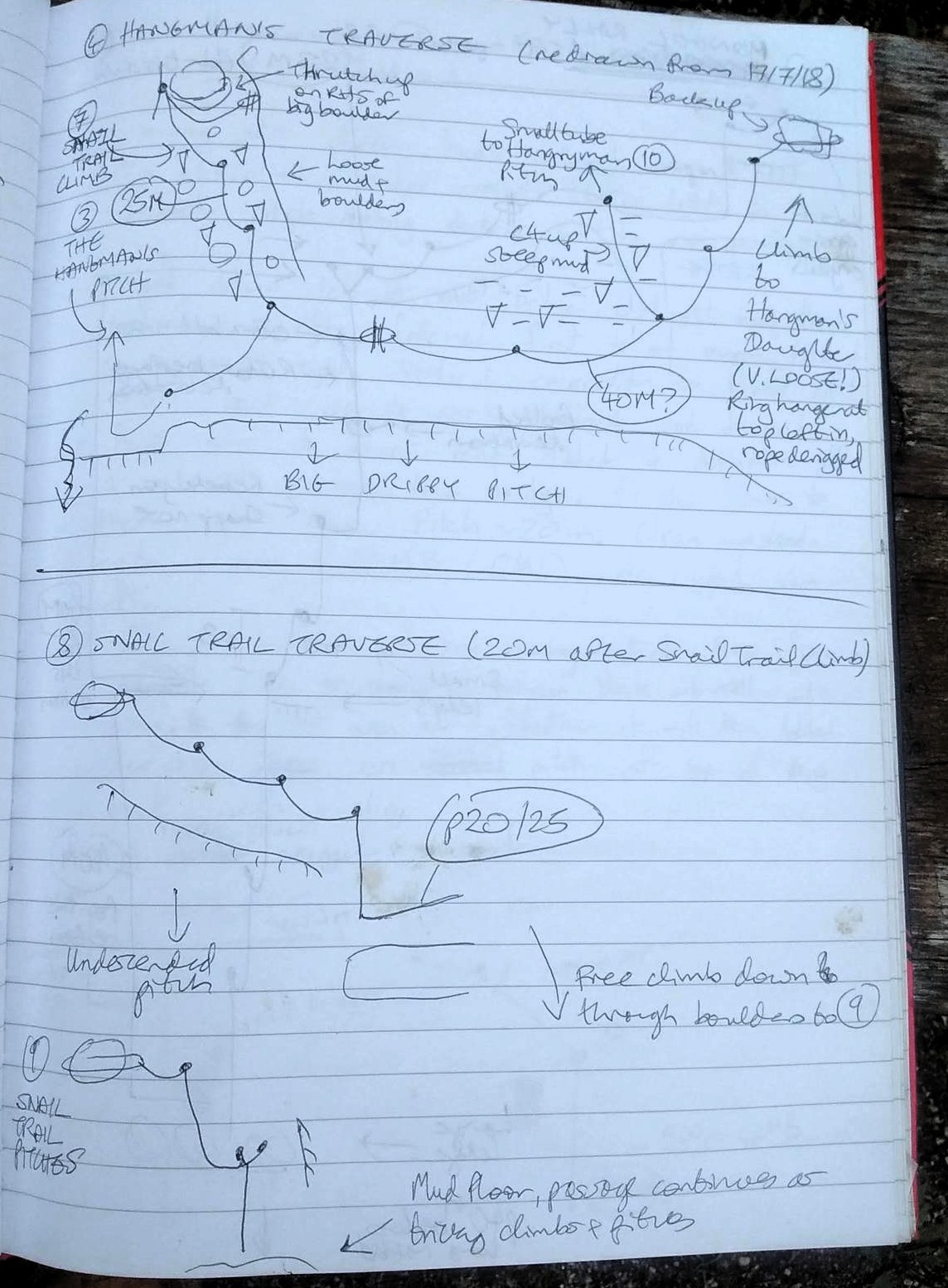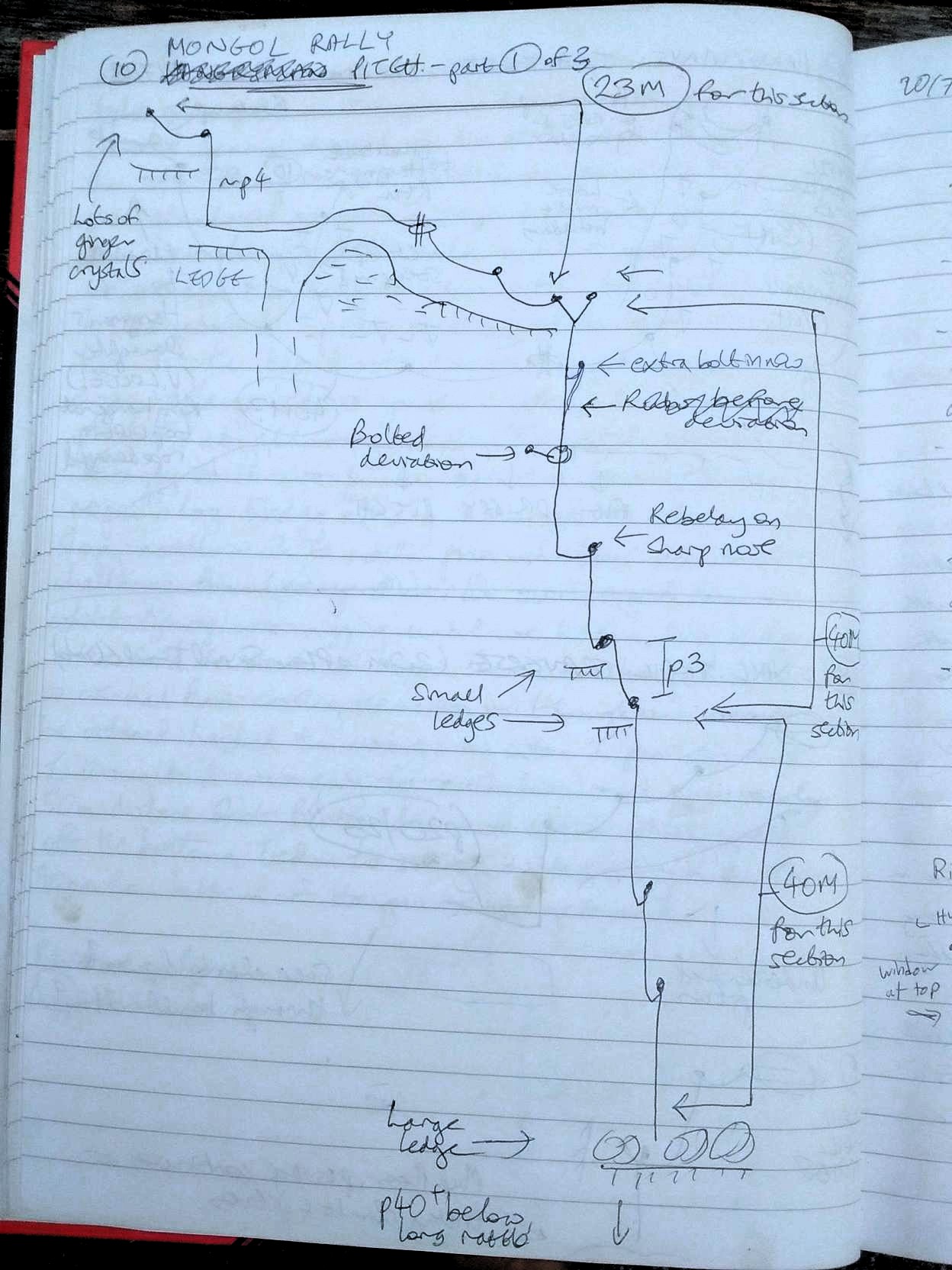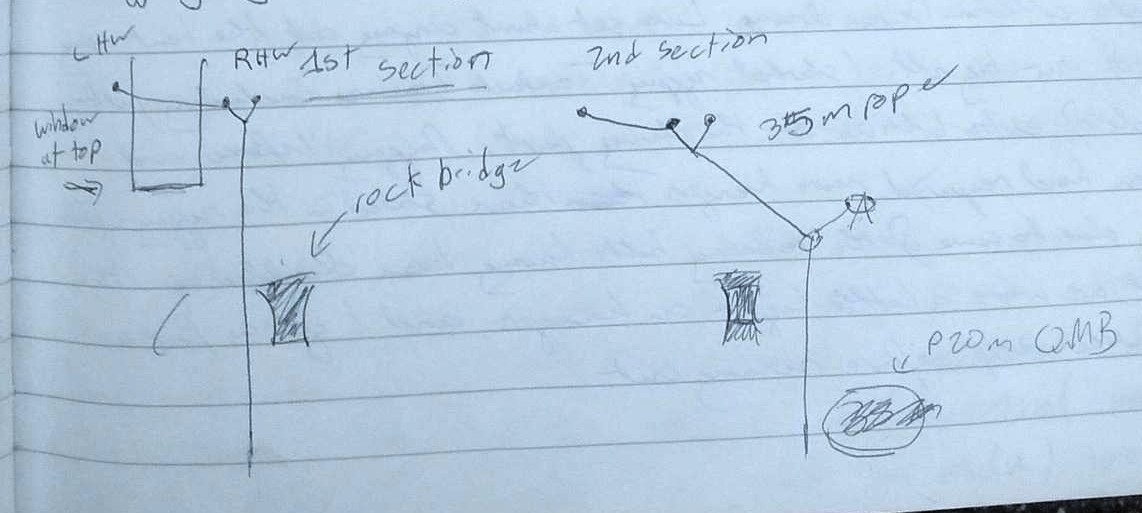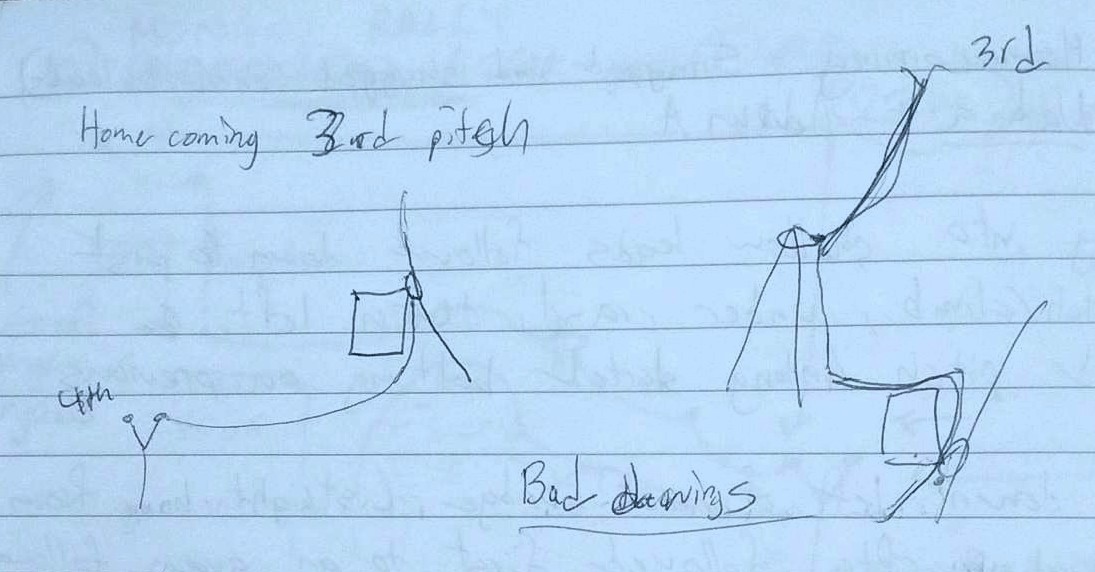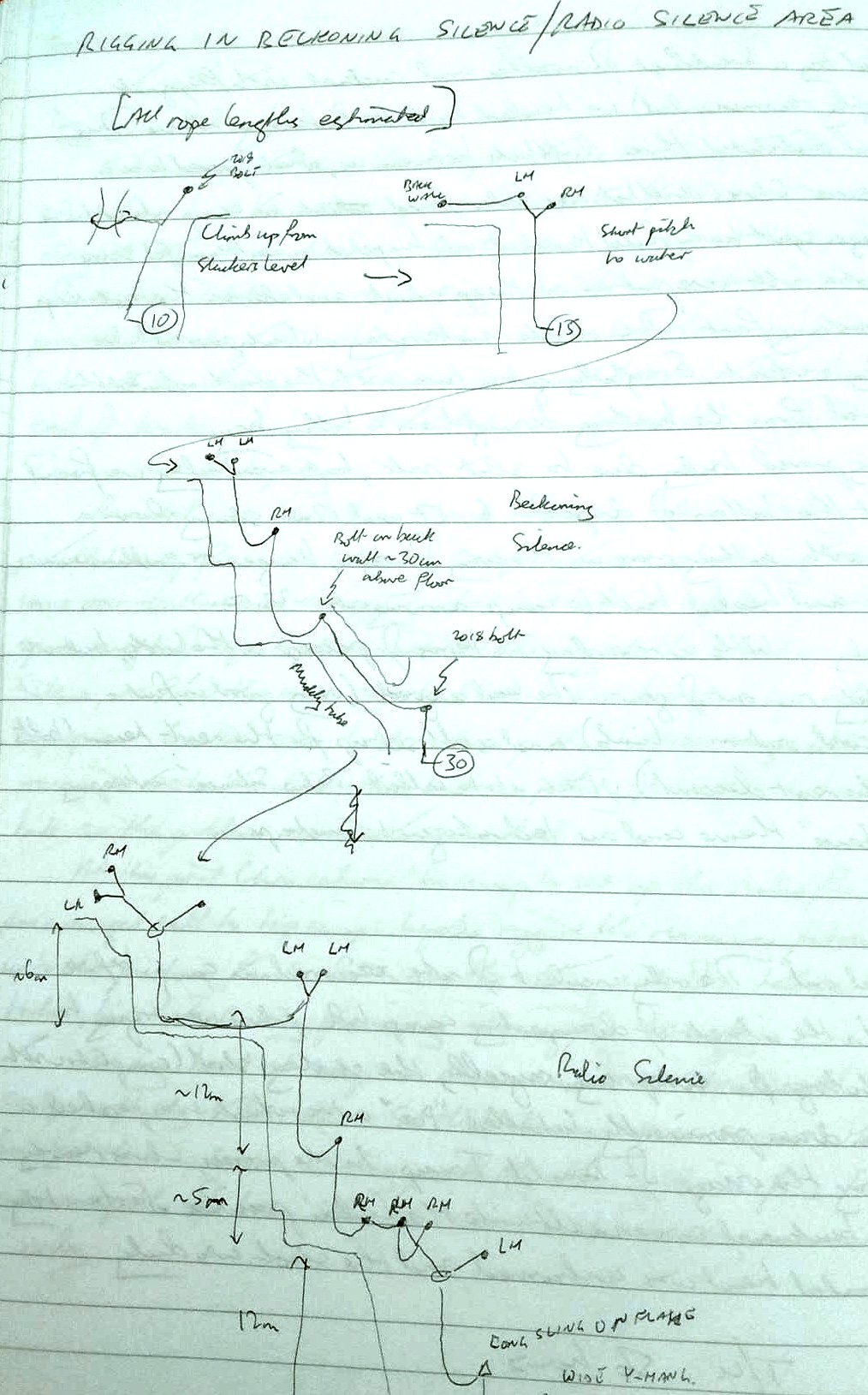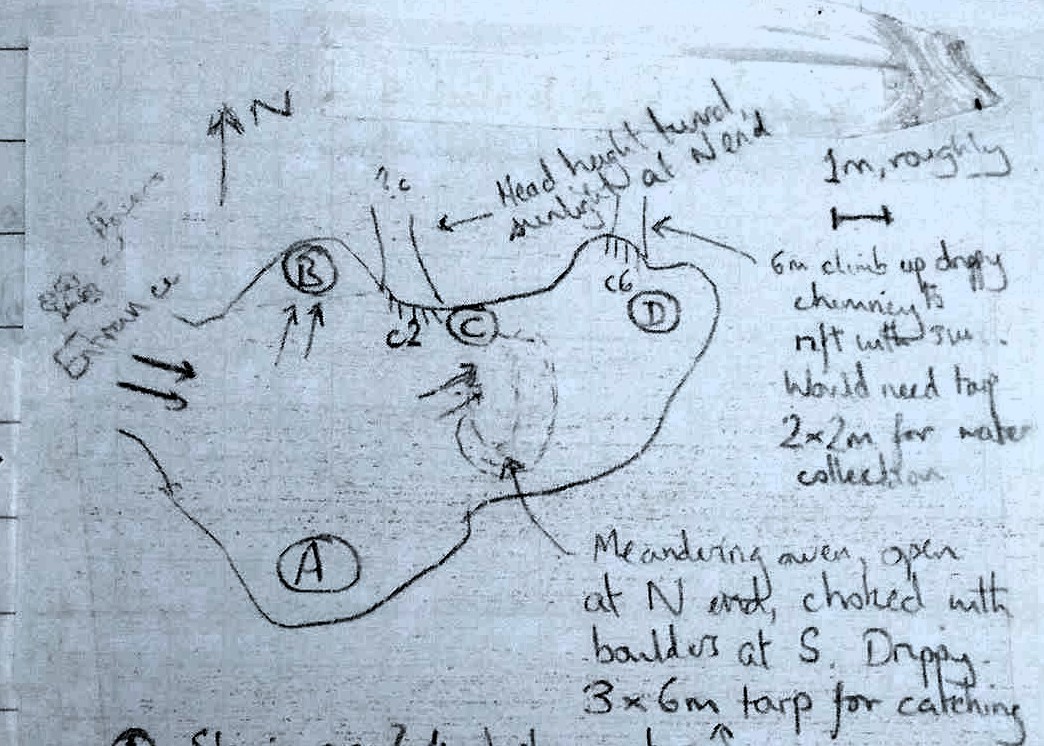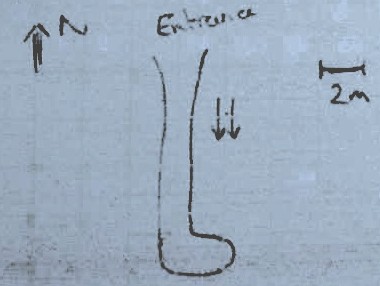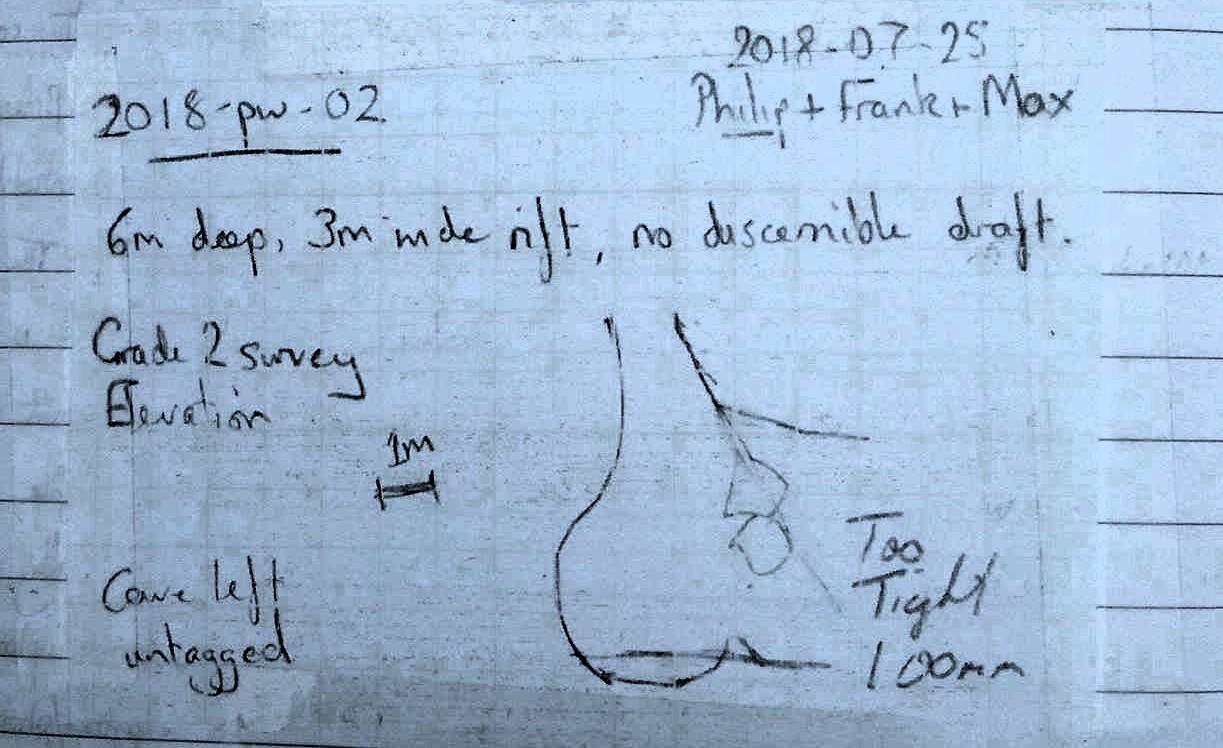 2018-07-29
Philip Sargent
Surface prospecting along "lookfutile.svx" route
Using Garmin eTrex Venture Cx GPS (WGS84)
"lookfutile.svx" was surveyed by Chas and Planc in 1983 following the discovery of the futility series in 1982.
This entry includes recent emails which don't otherwise have a good place to record.
[Discovered a photo on the website of Planc doing this survey.]
Much bunde going directly down from the p115x entrance. Don't do that,go back along the route to Stoger Weg and go down gully at the tree with the small cairn on it (see 115 route 18th July 2018).
Generally failed to find lookfutile.svx waypoints (not even the last one with all the red paint). Something odd with GPS mismatch - needs nerding to resolve.
Found ent. * (doesn't go) obvious above grassy slope. It is up a 2m climb in a cliff. This is wpt A11 in gpslog: N 47.66629 E013.81128 alt.1407m. This was looked at by Chas & Planc in 1983 and doesn't go: "big phreatic entrance further east up the valley" from the 1983 logbook entry 1983-07-27.
Many photos of this area in photo archive 2018/PhilipSargent.
Survey station lookfutile.23 is apparently in open air due east of cliff top (which extends N-S).
Water collection system at 115works well: decanted 3.5 litres of rainwater into bottles. About 6 litres now stashed in 115, plus a karrimat and one-man does of flapjack and another dose ofmuesli.; also large orange plastic survival bag. All other gear removed.
Walked back to Löser Hutte where I managed to catch the sunset drinking crowd and got a lift back to Staudnwirt at ~21:00. Lots of big open cliffs, no bunde, grass and camping areas.
Recent emails from very old lags on this:

On 18 July 2018 at 19:46, Charles Butcher  wrote:

    Philip

    Thank you. I'm sorry you had trouble finding it. Even the traditional route to the main entrance is quite a slog, 
    and if you don't remember it – I certainly couldn't – you could be in for a real epic. As you probably found. 
    I hope the server repairs went well.

    Thanks also for the GPS data in your previous message, and to Andy and everyone else who has worked to 
    preserve this stuff. I'm astonished that we still have good records of all those muddy survey pages 
    from so long ago. And to see it all connect with Google mapping is really impressive.

    Safe trip home

    Chas

On Sun, 1 Jul 2018, 10:31 Andy Waddington,  wrote:

    Sometime before sending, Philip Sargent typed (and on Sunday 2018-07-01 at 08:46:16 sent):

    > Any comments on the 115 entrances?

    I really can't remember any of this without reading the stuff on the website - but that stuff is available to
    everyone (unreliable memory is exactly why this stuff was all put there - but in the early days, which would
    cover the 115 period, we naively thought we would remember everything, that the same people would be
    going back, and that we didn't need to write everything down - though actual surveys were properly recorded).

    Where survey data was corrected for fridge north, that should be recorded in the survey notes. That was such
    a bizarre correction that I don't think it would ever have been done without explaining it. The Futility series survey
    had two compasses, Suunto 422903 and Chas' Silva 15T. Had there been a major discrepancy between them, I
    think they would have noticed. The bearings seem to be the same in the Survex dataset as in the notebook.
    ie. the first leg is 8.08 m on 320 at -11.5. That's from the dataset extracted from CVS in 2001 (which is the oldest
    I can find in a quick search here). I don't think corrections to fridge north would have been made more recently
    than that... 075 to Trisselberg cross is the same as the notes, and even if the 115 entrance wasn't located
    precisely, that ought to be enough to show if the error was more than the odd degree or two.

    Not sure if the scans of this notebook are on the site.
    Notes are a bit muddy, with no passage walls recorded.

    Did Arge not resurvey any of this ?

    Andy

Philip Sargent (Gmail) 	
to Charles, andrew, mary5waddington

Chas,

[and Mary, please pass on to Andy as I don't think any email works for him these days],

 
Update, as promised.

Through the miracle that is survex, and the diligent curation of data* over decades by 
Wadders and Wookey, I have recovered the survey points from your surface walk with Pete 
on 27 July 1983 and attach as a GPX file in modern WGS84 coordinates. You can plot this 
on top of a GoogleMaps photo using http://www.gpsvisualizer.com/map_input 
(or select "OSM (TF Landscape)" in the drop-down on the map to see contours).

I will be re-tracing this slog and looking for more entrances in a week or so. 
A bit lower than you went looks promising from the geology.

[snip]
 
I also attach the Futility series surveyed by us on 26 July 1983 (futility.svx)
and as resurveyed by Germans on 8th August 1999 (nutzlos.svx). But this is less 
useful as GPX on Google maps as it is inside the hill of course and you would need 
to use Survex/Aven itself to see it. They also seemed to have found another entrance 
in 2000 which drops eventually into the phreatic stuff which they called the 
Nebukad series (Nebukadnezar) and is now p115b (ent.) in the survey data.

I hope a find a cold draft coming out of rocks at least, even if I can't dig it out.

Philip
 
* http://expo.survex.com/repositories/home/expo/loser/shortlog/b6c8d59090c3 is an online 
look at the version control system used for cave data on Loser these days.

From: Philip Sargent (Gmail) 
Sent: 21 June 2018 17:28
To: 'Charles Butcher'
Cc: andrew@pennine; 'Wookey'
Subject: RE: Aha - futility series entrance search...

Chas,
 
Unbelievably, that surface survey you and Pete did ("lookfutile") is a standard part of the SMK dataset.

I can see that your final survey position was 11.7m above the drafting hole in Futility 
(contrary to Andy's notes in the file below), and 157m away horizontally. Maybe some 
fridge-north corrections have been done since then.

You were also spot-on the line where the bedding plane of 115 intersects the hillside. 
So going downhill from there, maintaining a heading of 118 degrees (if possible) would 
track further down that bedding plane. As I remember, the survey legs may have been 
ascending, but the passage roof was coming down to the sandy floor. So the draft 
connection  ("Utility Entrance" ?) would be lower down.

From: Charles Butcher 
Sent: 16 June 2018 23:11
To: Philip Sargent
Cc: andrew@pennine
Subject: Re: Aha - futility series entrance search...

Thanks Philip. When you told me about your plan the other day it brought back memories of 
thrashing around on the hillside, but I couldn't remember what we were looking for.

I do remember that it was harder work than being underground. I suppose a Laplander pocket saw 
would be frowned on in the Naturschutzgebiet, but useful all the same.

I assume those coordinates are relative to the entrance, or to whatever else we used as a 
main datum. So if you have an accurate GPS fix for that datum, wouldn't it be quite easy 
to locate the hole Pete and I made? Not that that is likely to be much use, since it's 
probably the one place we know there isn't an entrance…

Anyway, good luck and keep us posted!

Best
Chas

You wrote:
stumbled on this:
	http://expo.survex.com /years/1983/log.htm
	 
	1983-07-27 | Surface survey and Prospecting below 115. | Chas, Pete
	The aim was to find the end of the Futility Series popping out of the hillside below 115. 
	We surface surveyed down to a permanent station, marked with bolt hole and lots of red paint: P1983/1. 
	This was almost directly below 115 and on the edge of the big trees. 
	It was at E77.2, N-237.3, H -195.8, whereas the end of the Futility Series was at G30: E 139.7, N -54.2, H-187.8. 
	So we were (!) at the right place, but the cave end was 180m into the hillside. 
	We had a good look round but didn't find any signs of caves there.
	So we looked at a big phreatic entrance further east (up the valley) and ~50m higher.
	This was looked at in 1982, but a bit of proddling released lots of boulders + we were able to 
	follow up a narrowing bedding plane at ~60°, for 10m until it got too loose/small. 
	Very difficult descent on scree to the end of the Altausseer See + then the Schniderwirt for Weizen Bier. 
	Pete
 
and Wookey thinks some Germans had a look around there too in later years
Unfortunately we use WGS84 GPS lat./long. these days so I'm not sure I'll be able to find this 
35-year old red paint.
 
I'm hoping to use better geology and modern surveying to find where the bedding plane intersects 
the surface this year. I'm going out for 4-5 weeks.
Philip

T/U: 0 hours

2018-07-28

Philip Sargent

At basecamp - network nerding

Tested Wookey's TP-link 200 Mbps HomePlug devices between potato hut & mains socket above the washing machine in the gents' toilet at the Gasthof. It works: the 2nd green light lights up indicating communications OK.

Previously had tested between potato hut mains and socket in potato hut loft - also worked.

To do: repeat test with a laptop at each end (needs ethernet socket in laptop) to test actual useable bandwidth.

T/U: 0

T/U: 0 hours

2018-07-30

Paul Fox

At basecamp - expo laptop

mq extension enabled on mercurial by Paul Fox.

2018-08-01

Philip Sargent

Solo walking in Stumern Alm area

Attempt to reach Futility Series mythical potential entrance from below. Cycled to N.end of Altaussee lake (S.route). This took 1 hour from base camp.

Saw entrance in hillside 30m higher and about 1km on Loser side which might be a wet-weather resurgence.

Track up is very cyclable to a (locked)hut [Stumern Alm, 813m] where it stops & there is a steeply ascending rough path (signposted to Appelhaus) up the Trisselwand side of the valley. I parked bike.

I decided to go directly up the Loser side: "Oh Yes", I thought, "10-15 minutes and I'll be past those trees and into the clear grass/rock/scree area". 1 hour later I was in a rock shelter [wpt C05 in gpslog N 47.660271646 E013.804951357 942m], still in the trees, and I could now see that the track I should have been on was much higher, and I also had no easy safe way on up this side of the valley. The dry rock shelter is completely hidden by trees until you are close to it.

The geology is very promising though - at the hut the big face [Pfenningofen] is well-bedded with a couple of useful-looking faults.

I had got to within 600m horizontally of where I wanted to be to look for entrance, but also 600m too low.

Aborted cycle ride home in Bad Aussee for emergency ice cream.

Philip

PS Nettles! Flies !! aarghhh !!! PPS The better way to do this approach would be to take a jeep up the correct track (the one that says "No Bicycles") all the way to the road head at Oberwasser Alm at 1353m, and then traverse round to the right area above the tree line but below the bunde line.

Departed base camp 06:35, returned 13:05

T/U: 0 hours

2018-08-03

Philip Sargent

"Lookfutile3"

Walking and scrambling on the hillside/cliff below the main entrance to 115 (Schnellzughöhle) to try to find an entrance to the Futily Series (again).

Up at 6am with Luke and Rachel, hitched back to Bad Aussee at the end of the day and Wookey collected me from there.

On the mountain I finally got tot he right area where it was possible to explore and make progress: several limestone cliffs and benches - all below bunde level - with dappled shade of beeches and pine trees, lots of artfully arranged rocks & short grass & wild flowers.

Found several dripping slots but no sensible entrances in this area. I don't trust the altitudes (and sometimes the positions) from my GPS in this area - which on average is tipped 30 degrees from the vertical - i.e. it's really all just a broken cliff. Several game and hunters' tracks. Lots of rillen karren clambering.

After climbing up a little cliff - easy enough but something I didn't fancy reversing - I found myself in tick bunde. After a bit I tried going underneath the bunde and found myself looking at a tiny entrance which was giving a slight draft [N 47.66729 E013.80959 alt.1526m using my Garmin eTrex Venture Cx]. It is almost possible to get into it but it is only 15m east of cucc-ps01-2018. NB it's not the choked pit, it's 5m east of the choked pit, over the edge of a bunde-bedecked ledge.

I went into cucc-ps01-2018 for 6 minutes to get 20m in (it descends due west (270 M) at 30 degrees from the horizontal) vadose relic with lots of boulders. I got to a big rock I couldn't quite be sure of climbing back up. Needs surveying and tagging.

Removed water-collection poly-sheet from 115 ent. Now only has 9 litres of water and some flapjack & museli in it.

T/U: 0.1 hours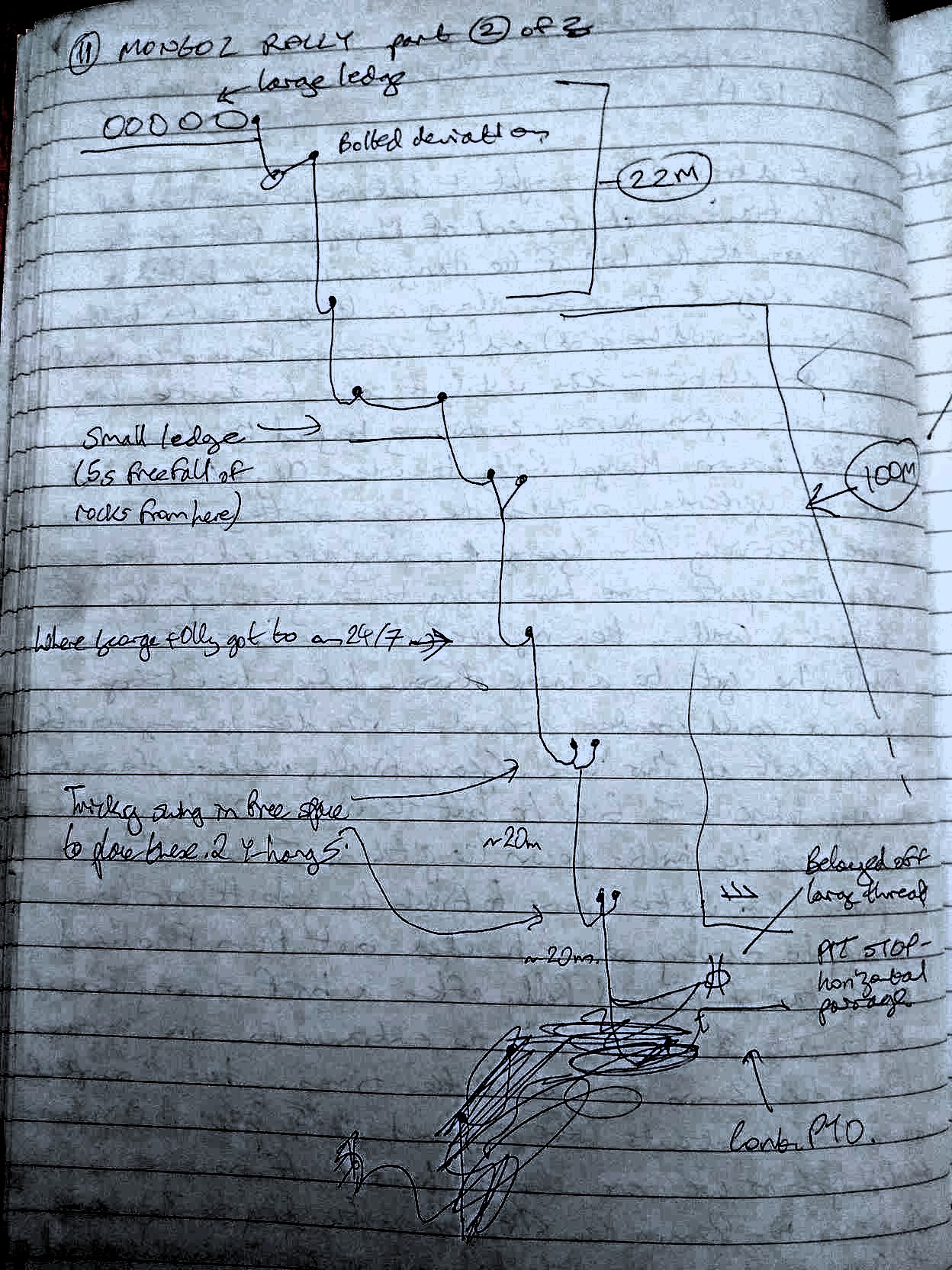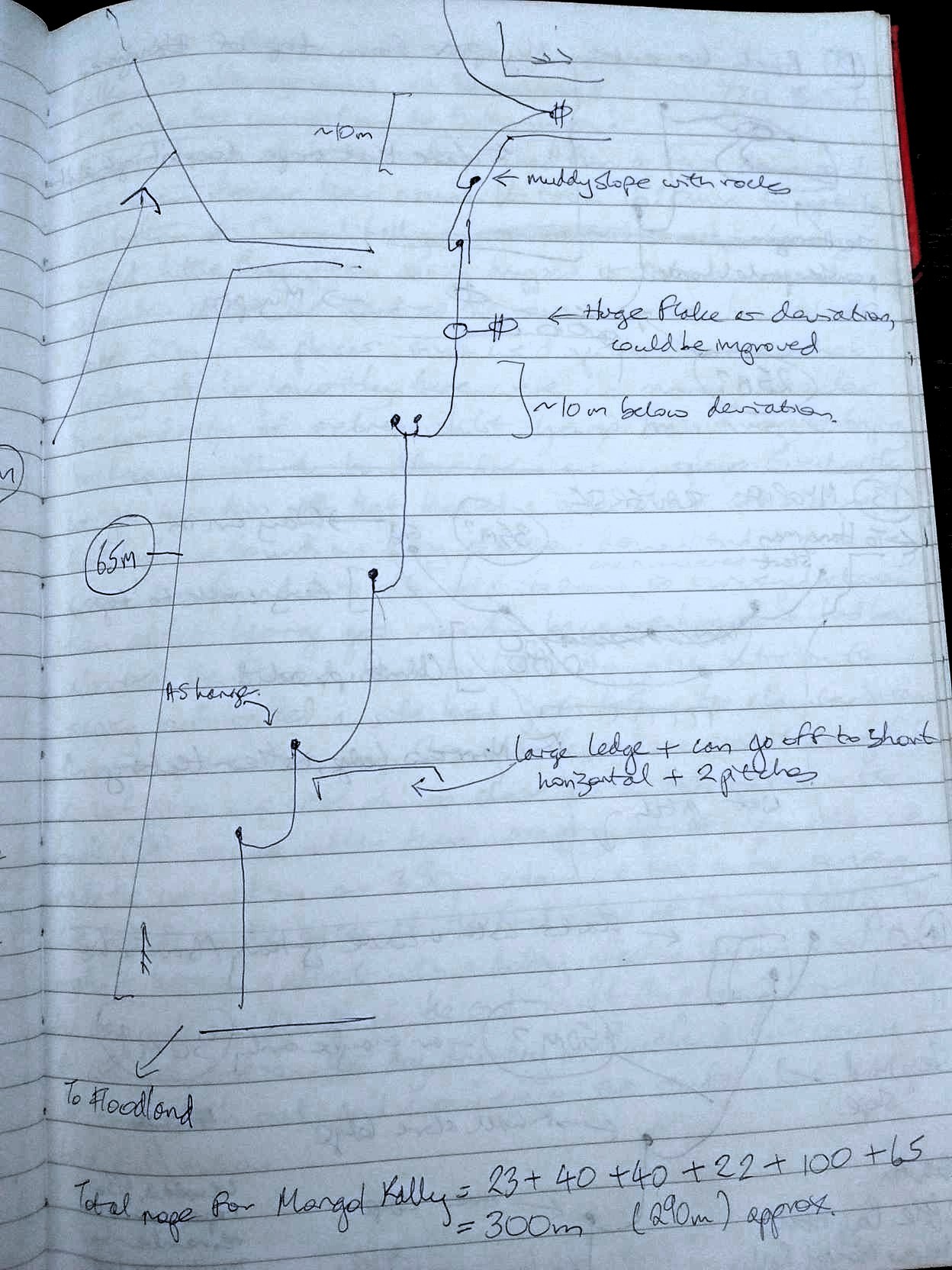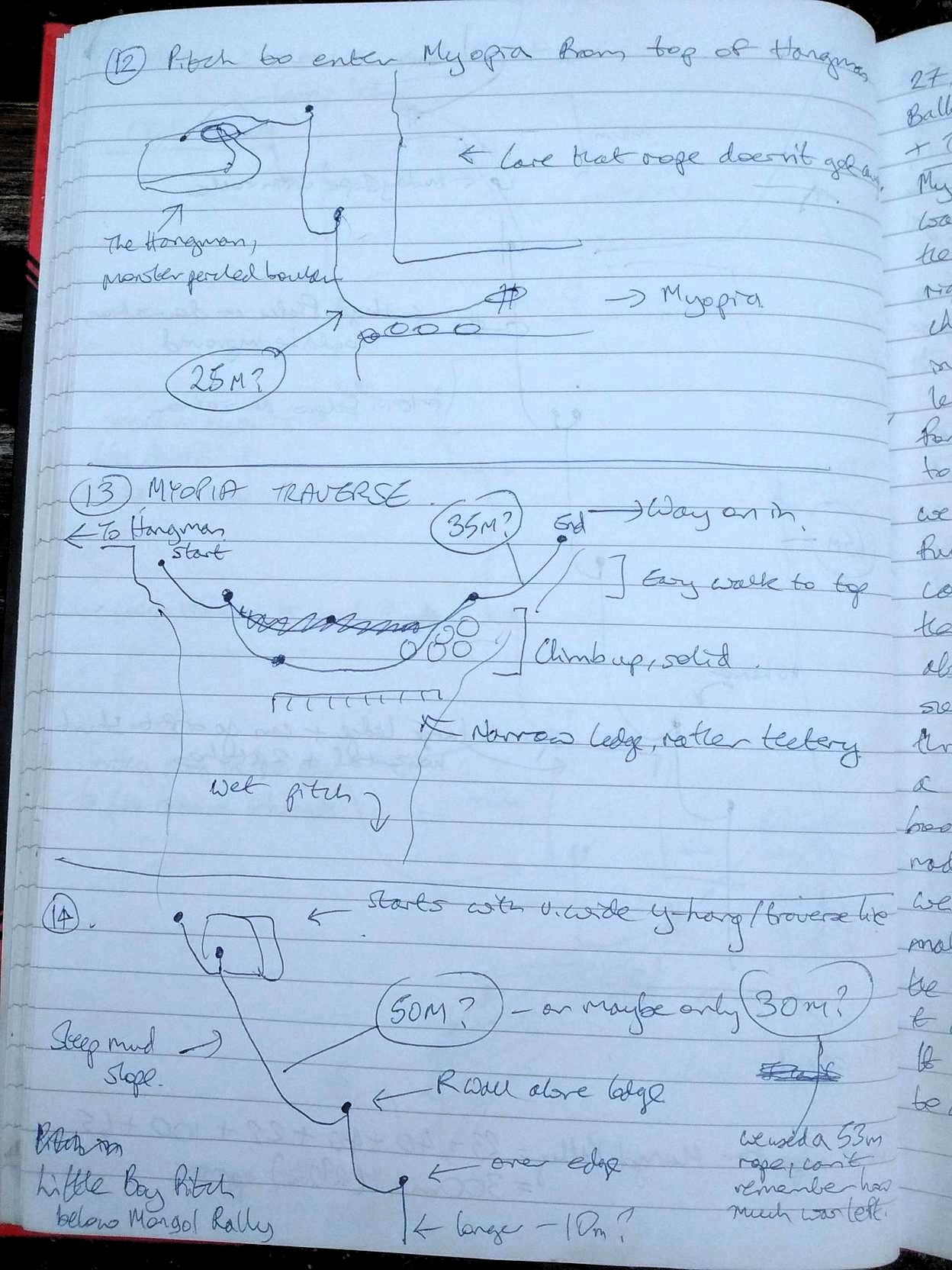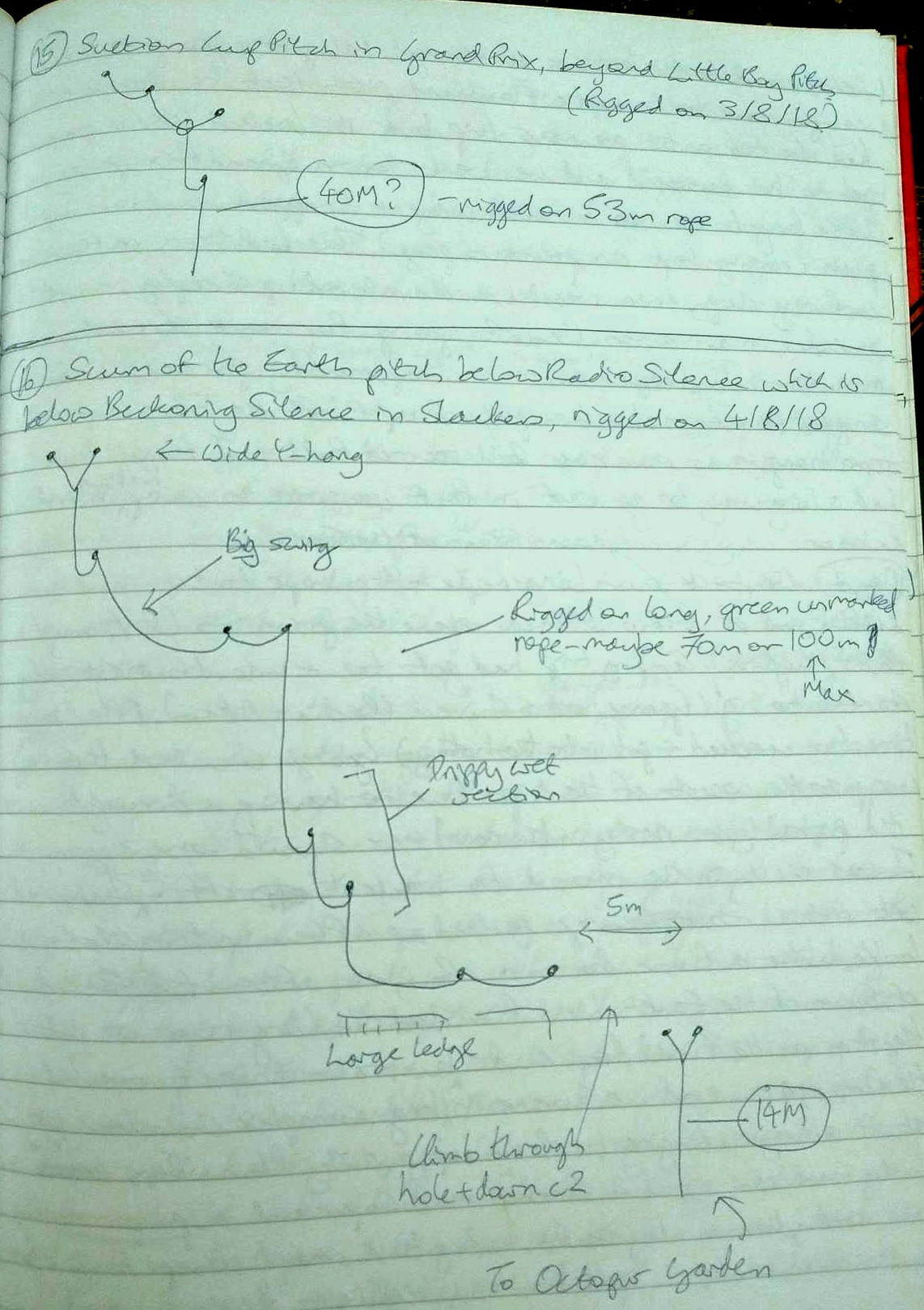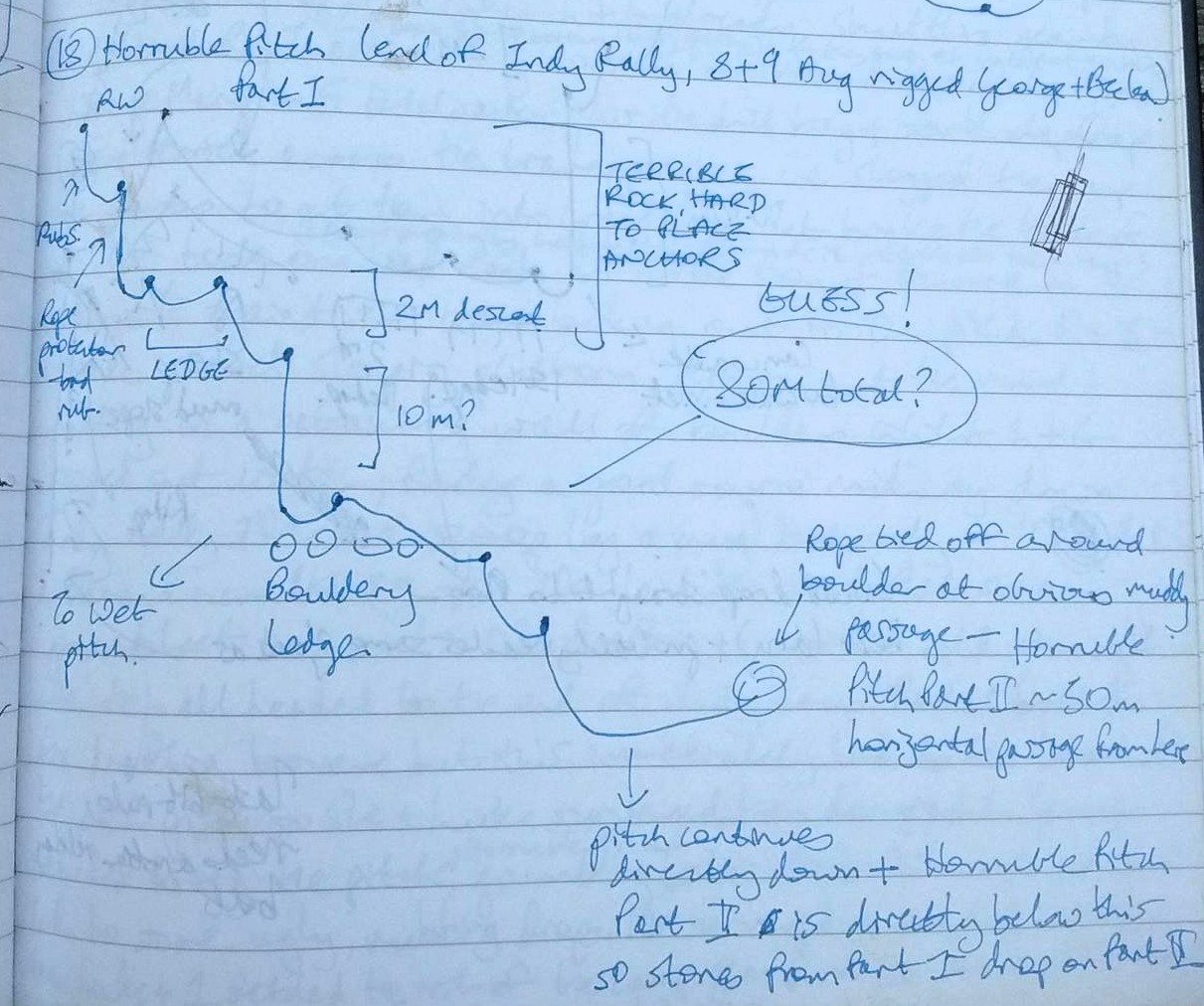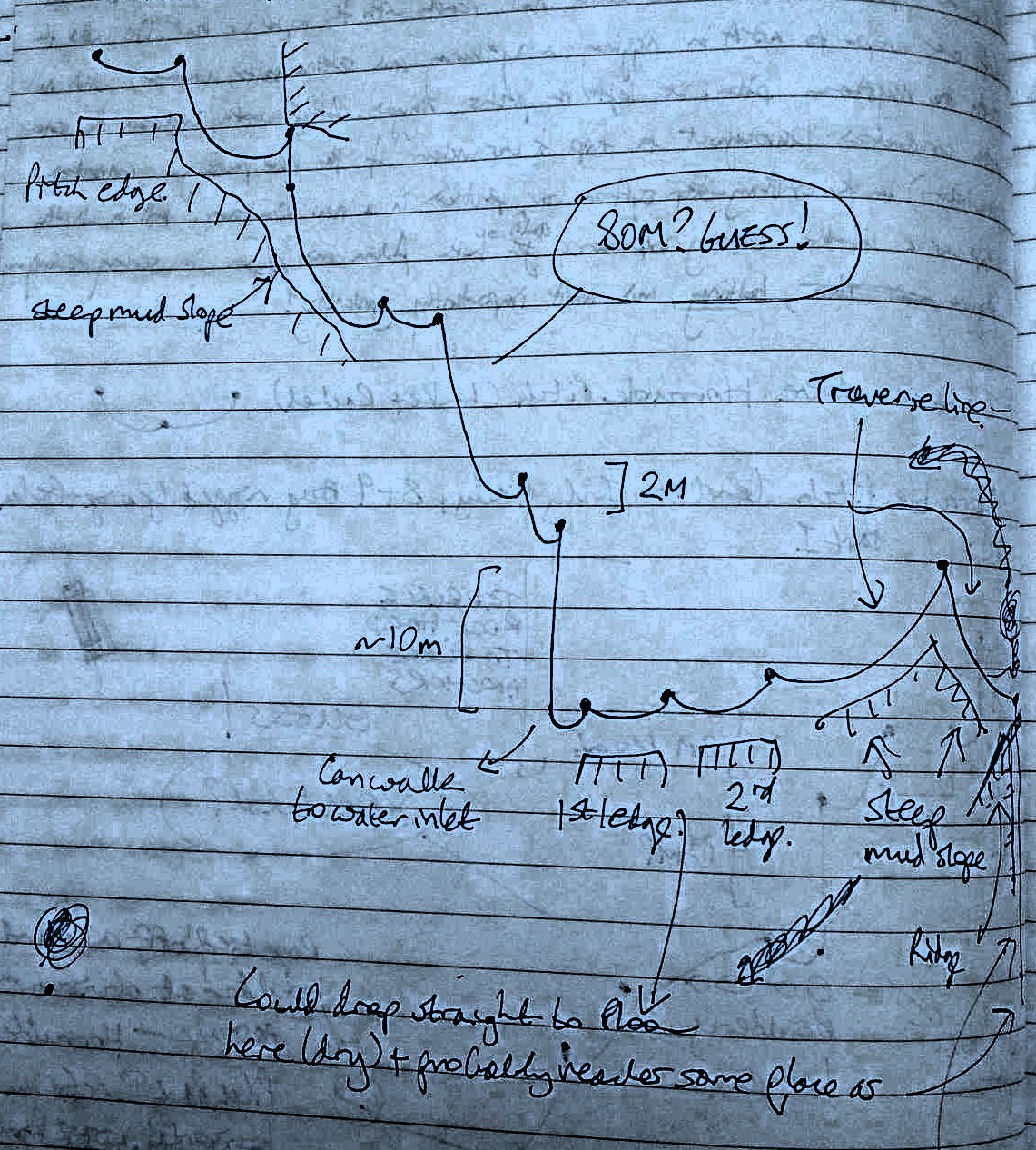 2018-08-13
Philip Sargent
"Local contact"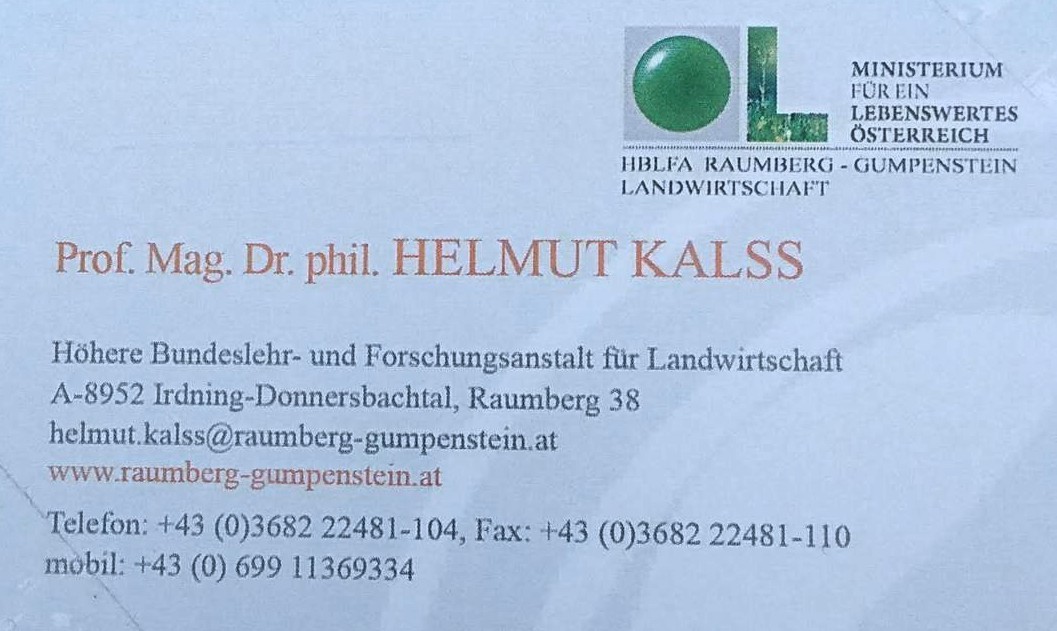 Hitched a lift down from the carpark with Helmut Kalss who lives in Altausee (we drive past his house every time we go up to the plateau). He is a local and teaches at the agricultural college. He knew about the SMK system but not what we had done - so he gave me a lift to the potato hut and I showed him the posters and aven. (He also has a hat with a feather in it.)
T/U: 0 hours
2018-08-15
Chris Holt, Radost, Luke, Max
"FGH Derig"
Derig was going to be a big job. Tonnes of rope still down several holes, and most people had already buggered off, and a fair few of those still around had buggered themselves in some fashion! So we had maybe 6 decent cavers to do maybe 20 bags worth of rope from 3 different entrances in two days. The real hard nuts had done most of Balkonhole on a camp/push/derig the day before, and half of that group were quite deservedly taking a day off. Ruaridh's broken arm had mysteriously 'Got better, honest' until we made him prove it by climbing into the Animal house, so he was out. Fishface/Fischgesicht was the next biggest project, with ~300m depth and vague rumours of a drill left at the bottom for the "unclimbable" leads.
I'd always known it was goin to be a little bit cheeky turning up just for the end of Expo and still hoping to get a chance to push something, but as it turned out I wasn't even the most jammy of the lot! I'd had a couple of days to acclimatise to camp life and reacquaint myself with the hypothermic delights of Alpine caving when Radost finally arrived (Actually, he had been there earlier, but was just showing his Dad around and wasn't caving), making two of us who hadn't pushed anything. So, the priorities for this trip were to be
Derig a metric tonne of rope.
Retrieve the drill
Check whether the sod who left the drill hadn't left other vital equipment too
Show me (Christopher) and Rad how to bolt, and do a little bit of surveying
Maybe do a rigging guide to speed things up next year
Anyway, after the standard intrepid hike across the plateau, all looking super-cool if I don't say so myself, we change and Luke and Rad zip down while Max waited for me to get changed. Max and I had already been all the way to Ulysses earlier that week, so he assumed I remembered the way and shot ahead. I have a terrible memory for complex junctions and my light casts a very sharp throw-pattern, so I still got lost a couple of times and found them all taking a leisurely rest at that nice picnic spot, below the free-climb pitchy thing, where left goes to the way on and right to that disgusting traverse across Ulysses (which Max had derigged two days before and left 70m in a pile in case people wanted to bolt leads below).
There was a brief discussion of what we should expect, and we settled on the priorities listed above. Luke declared 4pm(?) to be our turnaround time. He wasn't keen on taking more rope deeper into the cave, but given Rad's and my keenness to push the two of us decided to pack it anyway once Luke and Max went ahead. It was only ten minutes later that the shout was relayed to us "Guys! There's more rope down here anyway! DEFINITELY don't bring that other rope!" I duly returned the bag to its original position and retrieved the survey gear, which I had of course forgotten to put back in the bag.
The lower shaft of Fischgesicht is a truly marvellous black hole - One of those can't-see-the-bottom, can't-see-the-top ones. In stark contrast to the rest of the cave above, it was extremely poorly rigged. Well, I suppose it could have been worse, but even on the way down I was thinking "Should I retie that knot? It really looks like it rubs. No, it's probably just me being a wuss and it's like that for a reason". This was looking at a lop-sided, 2-metre wide Y-hang that required a sort of acrobatic climb down to access. New rope, at least, though it was quite dry and required a lot of patience to avoid glazing. Plenty of time to look around the blackness and ponder the geological mysteries of metamorphosed Carboniferous sediments.
We needn't have brought in a drill battery, as together with the drill there were 3 high-capacity ones already there. Rad informed me that Luke and Max had gone up the slightly more obvious (right turn at both junctions) of the labyrinthine passages in this new horizontal level to check that the dead end really was one - apparently the small climb Max did crapped out very quickly. We met back at a junction, I picked up the survey gear from the previous junction, and we headed off (left at second junction) to check the other end of this slightly-larger passage. Everyone agreed that this was a cracking horizontal level. Very nice walking-sized!
The previous group (whose identity remains to me as nebulous and vague as their cave descriptions) had apparently concluded that "you'll need bolts and rope to push any of the leads". Total bollocks. We did find a quite sketchy looking climb overlooking the virgin passage floor, but there were two different crawling ways to bypass it! After this initial reccy we reconvened and distributed survey gear. I was to get to grips with the CHECC disto, entrusted to me by Luke that morning. Rad wanted to do the drawing. I had forgotten to pack any station-marking stuff, but luckily Luke had some nail varnish in his pocket. We reckonned we had an hour and a half to push, and with no bolting necessary, the excitement of potentially hundreds of metres of 3x3m phreatic tube became evident in everyone's voices.
So, on to the description itself. The phreatic tube trends uphill, with a vadose trench in the bottom taking the water gradually deeper and out of sight and earshot. Where the passage jumps up a dodgy climb, the safer way on is through one of two little holes down and to the left - the leftmost a low crawl, and slightly to the right of that a narrowish slot. After these, a small chamber with boulders on the floor
Crawl. We managed to shoot the lazer straight through a tiny window, avoiding the need to survey the crooked oxbow crawl round the right. Now in another small chamber, but open both forwards/left up a slope, and vertically/right into the big tube, where we were later able to survey the loop (seems to be a near-oxbow of the phreas, which was undercut to make this 3-way big junction with a fourth crawly way that we had just come through). We progressed forwards up the slope, and the 3x3m tube meanders around for m. The floor of the tube is covered with sandy mud that seems to have a darkened crust. Very easy to follow the path established by the first person. About halfway along Luke dropped his nail-varnish, so we resorted to scratching in the mud on the walls. There is a bit of a climb up before a steep slide down a sandy slope. Take care to avoid falling in the hole at the bottom - it looks like a soft landing because of the pile of sand, but I've no idea how you would get out of that chamber - it looks a bit like the whole tube has a false floor in that area. Anyway, the tube continues, eventually changing in profile to more of a tall 2x5m elipse. The noise of the stream can now be heard again - far below, but I suppose cascading more steeply and so making a louder sound. Eventually we reached a sloping-sided hole in the floor, obviously wet at the bottom, QMc, with the same old tube heading up to the right, QMa, and a bottomless traverse on the opposite side of the hole, QMb. All of these will require either bolting of a traverse across the hole or a spiderman-like grip and balls of steel. I would prefer the bolted traverse option.
We still had over half an hour to go, so we returned ot one of the side passages we had noticed earlier. Climbing back up that steep sandy slope was interesting - everyone had a different method; running full pelt, desperate scrambling, chimping up the wall, etc. Rad was about to zoom off when I called him back - "You do know I won't be able to do anything from up here, don't you?" he observed. "Yes, but I don't want to die alone!". Cautiously attempting to disturb the sand as little as possible, I delicately levitated myself to a position of safety.
It was only a couple of legs into the side passage that it started going crazy. A-leads to the left, A and B-leads to the right, leads below - way too much to do any justice to in the time we had left. Clearly the polite thing to do was to leave it for some lucky bastard next year. There's enough down there for two simultaneous survey groups.
Derig - I was to go up the big pitch with one bag of rope, Radost to follow with the drill and batteries, then pass it to me to put in the top of the 70m bag at Ulysses. I was so mentally beasted from prusiking with a palpable twang on every bounce, at least until I passed the rub-point, and then He-Manning it past that rebelay, that I completely forgot about Rad's bag until I was about to go past Ulysses. I backtracked and hauled his bag up the little pitch for him, packed it in the top of the rope bag there, and with two heavy bags proceded up the free-climb. I had a bit of a sense of humour failure at the top, and having overheard Max "so how many bags do you have, Rad?" "At the moment, precisely zero!" I foisted the heavier one back onto him, selfishly thinking that it would be better for the first person to travel light and quick. Even one bag on that traverse was troublesome, and so when at the top of the next pitch I heard Rad swearing his way through with two, I decided to redeem myself and took back one of them.
It was slow progress up the rest of the cave, barely keeping ahead of the deriggers (Luke and Max). At another free-climb I reaslised after >10 minutes of struggling that it was much easier to just throw the bags up and then chimp up after them. At the surface, I debagged and lay looking at the stars for a couple of minutes, before returning to the first pitch to take Rad's bag. He was decidedly less talkative than usual, and had the look of a man who needs a break - "it's just quite a heavy bag for a first trip" - I was inclined to agree. I saw another 3 meteors in the space of 20 seconds before going back to sketch a rudimentary diagram of the entrance traverses and take one bag from Max, and then back again for another. Realistically, it was the easiest bit of the bag carry, but it was hard thinking of Luke and Max doing all that work and not rying to help out.
The decision to leave all the tackle sacks at the entrance was endorsed unanimously. I poured myself a large Schnapps and followed everyone in double-curry dinner and falling asleep immediately.
2018-07-30
Robert Seebacher
"Receipt for expo members of VfHO for 2018"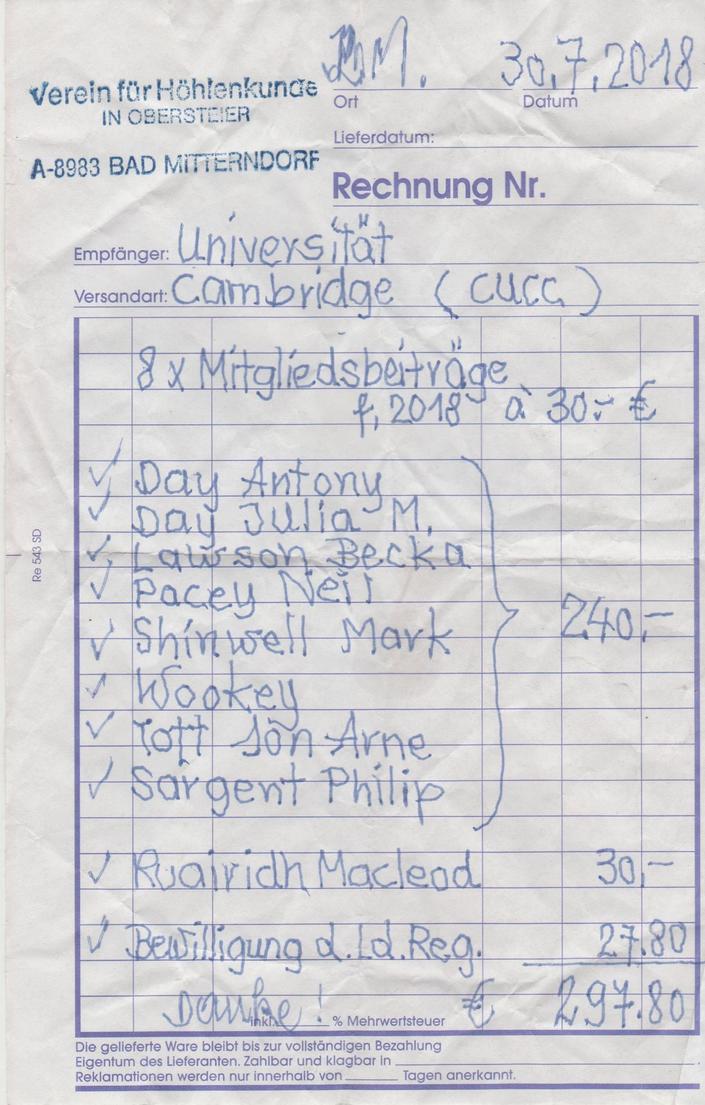 2018-08-08
Natalie Uomini, Paul Fox
Top Camp - Surface Prospecting - Old & New Caves - 8.5 hours
T/U 25 mins
New cave 2018-NTU-01
Paul had prepared a list of some caves found in 2004 which were within 300m of Top Camp. In the blazing heat of morning, Nat and Paul set off with packs full of SRT kits, 50m rope, hangers, drill, bolting kit, oversuits, helmets and lights. First we went the wrong way and ended up meandering through bunda above top camp. Finally we set a bearing towards one of the caves in question, and this took us on a scramble parallel to (east of, uphill from) the path to Tunnocks. We bumbled onto a small cave entrance which we named 2018-NTU-01 located in a gully filled with wild chives.
The entrance is below a large fixed boulder with the tag on its SW side
. I (Nat) squeezed down through some dodgy loose boulders at the entrance, but could not get further down safely. I could see beyond the boulder choke that there was a vertical shaft, smooth-sided, which we measured by Disto as 2.7m deep, probably landing onto a gravel floor as judged by the sound of throwing rocks down. This vertical shaft appears to turn a corner into a rift heading South-West (downslope).
No noticeable draft, but it was hard to get my head right in. The shaft is definitely big enough for a person to stand in comfortably. With a bit of tidying up the big loose boulders inside the entrance, one could get into the shaft and see where the rift goes.
Data from Nat's GPS (Garmin Oregon 650):
1834m, N47°41.518, E13°49.298
UTM UPS: 33T 0411579, 5282737
GPS accuracy not noted for this point, but the other points this day had 3m accuracy.
This cave was tagged by Nat & Neil a few days later on Aug. 13.
To reach this cave easily from Top Camp, just follow the Tunnocks path until the cave marked on GPS as "1623.p2001-02", then turn right (uphill) and go up a small chive & boulder-filled gully until you see the big boulder with the tag on it.
Rift hole to descend
Several meters downhill from 2018-NTU-01, in passing we waypointed on the GPS a "rift hole to descend", which looked like a promising hole that is nowhere near any already-catalogued waypoints. 1846m, UTM: 33T 0411511, 5282847. (no photo)
We finally rejoined the path to Tunnocks (which we should have used all along) and after a while, we waypointed on the GPS another hole that's most likely the same as catalogued 1623.p2002-07.
2018-PF-01,02,03
Arriving at the Big Cairn (GPS coords UTM: 33T 0411542, 5282881) which is on the Tunnocks path, we followed the 2005 instructions and veered left on an alleged heading towards the fabled caves 2004-18, 17, and 16 (unfortunately the instructions proved impossible to follow; see our updated writeup for the best approach to 2004-18). Directly off the Tunnocks path we got distracted as we came upon 3 shafts which were not on the GPS catalogue: we named them 2018-PF-01 (which we tagged; see our survey of the same day), 2018-PF-02 (which we tagged the next day with Wookey; undescended), and 2018-PF-03 (which Paul tagged some days later).
2018-PF-01 Tag: 1857m, UTM: 33T 0411526, 5282885
2018-PF-02: 1859m, UTM: 33T 0411540, 5282900
2018-PF-03: 1858m, UTM: 33T 0411530, 5282893
GPS with 3m accuracy for all.

2018-PF-01 is a 2m-diameter shaft with an easy climb down to a mossy slope. We surveyed it [see Paul's excellent digital survey].
2018-PF-02 is an impressive, open surface shaft about 3.5m diameter and 11.5m deep (as measured by Disto). It looks like it continues horizontally into a rift heading upslope. There is a good spot to drill bolts for rigging where we installed the tag.
2018-PF-03 is an open rift between PF-01 and PF-02 about 5.6m deep, 1.75m wide, 4.6m long (as measured by Disto). Paul climbed down PF-03 and found it was choked at the end nearest (heading towards) the big shaft PF-02. Thus, it dashed all our hopes of finding a free-climbable access to the big shaft.

2018-NTU-02
Afterwards we circled painfully through obstacles of larch and cliffs until we stumbled across another interesting hole, which we named 2018-NTU-02.

1861m, UTM: 33T 0411522, 5282905, GPS with 3m accuracy.
It is a window in the side of a surface shaft filled with grass. Nat climbed down into it using a handline tied with loops, which proved essential. The small shaft is vertical and has a depth of 4.6m (as measured by Disto) and a diameter of about 2 to 3m. A passage extends about 2m horizontally at the base of this small shaft, ending in a rubble choke which is the underside of the large surface shaft. [See scanned sketch in our survey notes.]

We drilled and installed a Hilti, but did not have any tags, and we were unable to return to put the tag in later. The tag has been made and is sitting in the Tags tub at top camp.
A big opening in the side of the mountain
Next we headed again for the mythical 2004-18, and reached the south-eastern edge of a huge steep-sided valley: Cubic Valley.
(Note: the next day we found a much easier way with Wookey, by going from the Tunnocks path round the northern edge of the valley, as recorded in our uploaded GPS track and described in the updated Approach to 2004-18.) Following the southern edge of the cliff, we found a way to climb down into the valley. From the eastern edge of this valley is visible a large opening in the opposite (north side) cliff, which I waypointed from my position. The opening should be investigated, as it seems to be below Tunnocks.
Freezer Hole
In the lowest point of the eastern bowl of Cubic Valley is a small hole in the rubble which emits freezing cold air. We measured the temperature just inside the hole as 9°C, compared to 18°C just outside the hole (in the shade) (- and the temperature in the sun on the plateau that day was about 30°C). This hole is choked with rubble, but it would certainly be an interesting digging project for future Expos.
2004-18 and Mystery Shafts
Finally, heading westward down Cubic Valley towards the Cube-Shaped Boulder, we reached the fabled cave. The whole section of valley is full of tantalising deep shafts which must be explored! Just beside 2004-18 we found another shaft with a tag marked "AA 1 2017" but there is no recorded survey, no database entry, no information anywhere about it .
,

Beside this shaft is another shaft with a snow plug and 2 spits well positioned for rigging, but no visible tag nor informations recorded.
Who could have been there?

2004-16 and 2004-17 and Maybe Hole
As it was getting late and our water bottles were empty and it was very hot, we left our heavy caving gear in a hole and tried to head back to top camp. On the way out of the valley we found the other 2 caves 2004-16 and 2004-17, which we waypointed on the GPS (1878m, N47° 41.594' E13° 49.150' and 1881m, N47° 41.608' E13° 49.150', respectively). Then we struggled on through thick larch and sheer cliffs, passing by a potential hole to explore (UTM: 33T 0411410, 5282786), in our dehydrated and grumpy state, until we saw someone walking on the Fischgesicht path in the distance, which we could eventually reach and thankfully followed back to Top Camp, arriving just 20 minutes before our callout time!

2018-08-09

Natalie Uomini, Paul Fox, Wookey

Revisiting 2004-18

T/U 2.5 hours

Surveying 2004-18 Eiskeller
The day after our eventful prospecting trip, Nat, Paul, and Wookey returned to 2004-18 to survey it. We recovered our gear left in a hole, and Paul rigged. Feeling hot, I went down in my t-shirt and trousers. But during rigging and surveying I got so cold that I had to ask Wookey to send my bag of layers down the rope. We landed on the snow plug which had blocked further exploration in 2005, and rigged a rebelay from which to climb down the snow plug. Our first ice climbing experience! At the base of the snow plug is a chamber with a side aven and a rubble floor and possibly a tiny gap round the western back end of the snowplug but we did not fancy squeezing into it [see photos]. We decided to name it Eiskeller (Ice House) as it looks just like one.

We surveyed back up the pitch [see our survey and notes] and emerged gratefully into the blazing sunshine, where Wookey had been sunbathing the whole time. Then we took the easy hike back to Top Camp, which we'd found on the way in [see our description in Approach and our GPS track].

Twin Caves
Along the northern edge of the valley approaching 2004-18 we waypointed two shafts with snow inside. UTM: 33T 0411527, 5282982.

Summary: go back to Cubic Valley!!
Given the number of deep shafts in this valley, it's the most exciting place to return to. The Cube-shaped boulder sitting above 2004-18 is an easy landmark to find [see our photos]. The hike to/from Top Camp is so quick & easy that it makes a perfect few days of rigging and surveying for Expo novices or for people who don't want to go deep. According to our GPS track, the hike is 670m and takes 23 minutes. Be sure to wear an oversuit and layers!

2018-08-13

Natalie Uomini, Neil Smith

Top Camp - Tagging 2018-NTU-01

Neil and Nat practiced hand-bolting and installed the tag for the cave Paul & Nat found previously.