Wookey
Wookey has been on expo in the following years:
Surveys done
Wallets and surveys mentioning
Wookey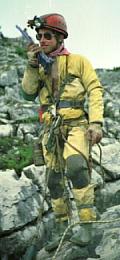 Wookey (Churchill 1987-90, Editor 1988-89, Lights manager 1989-90, Librarian a lot of the time since then...)
Expedition 1988, 1989, 1990, 1991, 1992, 1993, 1995, 1996, 1998, 1999, 2000, 2002, 2005, 2007, 2009, 2011, 2012, 2014 - one of the principal explorers and surveyors of Kaninchenhöhle, webmaster for the expo website, and sometime fettler of the expo computer.
Wookey also edited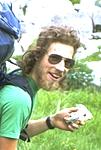 "Compass Points" the quarterly journal of the BCRA Cave Surveying Special Interest Group, from 1993 to 2002 and has caved all over Europe, both with CUCC and a variety of other groups, and in Mulu and China (Tian Xing).
Photo on left taken at the entrance to Kaninchenhöhle in 1991, photo on right near top camp, back when he still had some hair.
Wookey's home page
---