Stuart Bennett
Stuart Bennett has been on expo in the following years:
Surveys done
Wallets and surveys mentioning
Stuart Bennett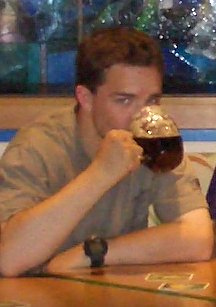 Stuart Bennett (Trinity 2003-, CUCC Tacklemaster 2004-, Expo leader 2005)
Expedition 2004, 2005 - during the Steinbrückenhöhle years. Involved in the exploration of the Subsoil level in Steinbrücken and in In Your Face cave in 2004, and of Hauchhöhle in 2005.
Photo taken in 2004 at the Gösser brewery.
---