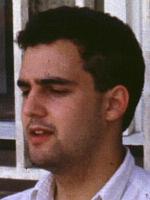 Mark Roddick, (Fitzwilliam 1983-86, Tacklemaster 1985-86)
Expedition 1985, 1988. Most famous for Roddick's dive, his discovery of the passage of the same name which, whilst narrowly avoiding killing Mark in an uncontrolled fall down a ramp, also proved to be the key route linking 1623/144 into the Stellerweghöhlensystem, providing its highest entrance in 1985.
Photo outside Bad Aussee Post Office.
---
---